Groupon Is In A Down Trend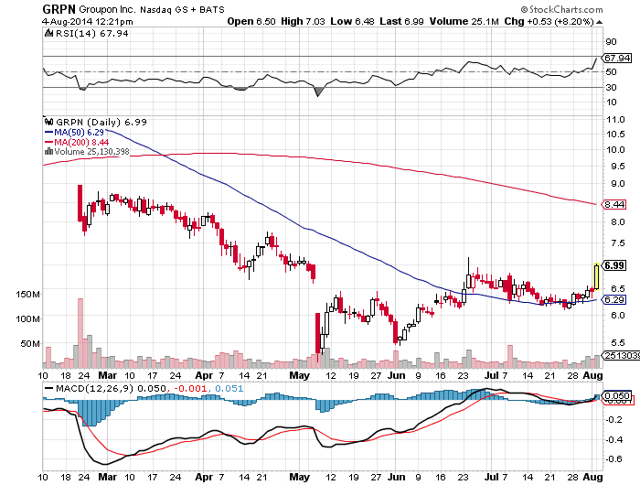 Groupon (NASDAQ:GRPN) is up over 8% today, at about $7.00, just prior to earnings coming out after the close of trading on Tuesday, 8/5/14. The pop is short covering (recently short interest exceeded 20%) by shorts as well as some bottom feeders playing the GRPN lottery ticket, click here. Someone contacted me asking if they should hold GRPN through earnings and I decided to post my response. I am not bullish this stock and consider today's rally a gift. If long from $6.28 like this person was and holding a very large position, I would be cashing out right now!
Looking at the daily chart, one will notice that the 50 day moving average is substantially below the 200 day moving average in this stock, showing a stock in a major bear trend. Today's pop to $7.00 is forming a double top. The gap left from the last earnings report is shown on the chart. On May 6, 2014, the stock price closed at $6.72 and then opened the next day, following aftermarket earnings, at $6.02, leaving a large gap. The gap was eventually filled in about 7 weeks, and now we are again forming a double top in the $7.00 area.
Now back in May, the stock was falling into the report, and the bad report caused a capitulation low in the stock. We have been in an upswing since. Since we have rallied ever since the last report and are strong just a day before the August earnings report, is this not a sign the earnings will be positive? No, not at all.
Check out this article, click here, written by Robert Weinstein. First let me say I think this man is brilliant and I agree with everything he writes because his name is "Robert" and the Roberts that I know are always right (or they think so, LOL). That was a joke. Anyway, he makes some very important points. First consider that the company is likely to report a 1 cent profit which is half of the 2 cent profit announced a year ago. The whisper number is 1 to 6 cents. The whisper number is very concerning because unless you have inside information that the whisper number will be beaten with a very large unexpected profit of 7 cents or something, there is a very high probability we get another smack down post report. Lets see what has happened on previous report weeks, going back over 2 years.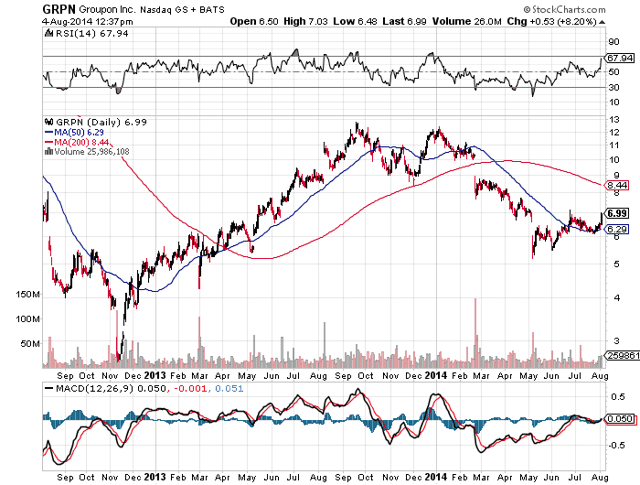 The chart is hard to read, but it clearly shows a February 2014 smackdown post earnings, that left a gap from $10 to $9, and that gap has never been filled. The November 2013 earnings report had little effect, but the August 2013 earnings report shows a gap from $8.72 to $10.62 post earnings. After hitting $11.22, the stock fell to the $9.50 area the following week, only partially filling the gap. Maybe because a year ago GRPN got a nice post earnings pop, the same should hold true now? Well, back then GRPN was in an uptrend compared with now that it is down. This time it will be hard to surprise the market because the whisper numbers are already quite elevated. There has been a lot of negativity related to the stock over the past year. The momentum a year ago was to the upside while now it is clearly to the downside. Even back then, the stock corrected back some and eventually the gap was filled in December 2013. If you miss a post report rally now, it is nearly guaranteed at some point you will be able to buy again at a lower price than $7. Owning this stock at $7 going into earnings is not a bet I want to make.
Especially important is the fact in August 2013, GRPN earnings trends were positive, with earnings increasing over previous quarters. Now the opposite is true. GRPN is going to report less earnings than a year ago, and the future trends are less positive than they were a year ago.
My Recommendation
Again, if I was in the stock (I am not) then I would take profits today and look to buy on a post earnings dip. If I was super bullish (I am not) then I would at least sell in the money calls to help cover at least half of a 19% post report smackdown. Yes, the previous article mentions that option volatility is pricing in a 19% up or down post report. In the money calls can easily protect the investor from half of that risk, while still allowing for some appreciation if the pop post report is to the upside.
Since the party who contacted me just bought a couple days ago at $6.28 and is making a nice profit, I would suggest cashing it all in now at $7 and then taking part or all of the profit and buying calls as a lottery ticket, if the party is so bullish. At worst they throw away part or most of the money they just made, with the chance they might score a big win.
One thing I also want to mention, is that in November 2012, when GRPN gapped down post earnings to the all-time low of under $3 , hitting an all-time low of $2.60, the stock then rallied off that low until the next reporting period which was late February 2013. Even though the stock was in an uptrend and had recovered to $6, after the next earnings report GRPN dropped to $4.24.
Now compare that low period of November 2012 to February 2013 to the recent period of May 2014 to August 2014. Now the stock is in a downtrend and has rallied since the last reporting period, but not as strongly as it did going into the February 2013 report. Look, if it fell post report back then, GRPN is most likely to fall post report now.
Again, I could be totally wrong. However, the odds very, very strongly favor a down move after they report tomorrow. Bulls need to protect themselves because it is not worth risking serious money on this stock.
Disclaimer:
The thoughts and opinions in this article, along with all stock talk posts made by Robert Edwards, are my own. I am merely giving my interpretation of market moves as I see them. I am sharing what I am doing in my own trading. Sometimes I am correct, while other times I am wrong. They are not trading recommendations, but just another opinion that one may consider as one does their own due diligence.