Groupon (NASDAQ:GRPN) Should Be A Short Term Buy Under $6
(click to enlarge)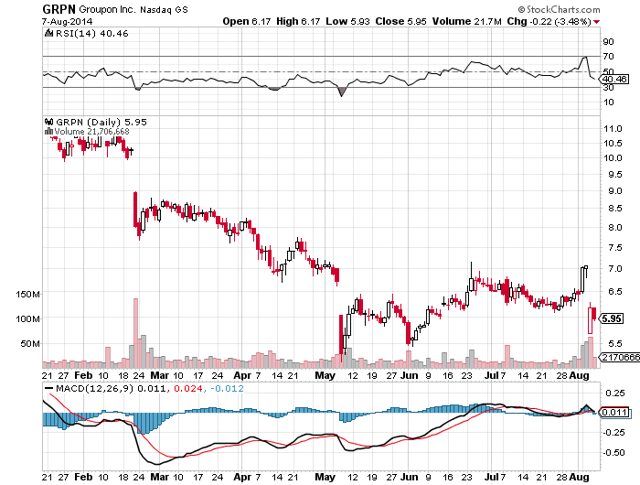 Click to enlarge
On August 4, 2014, I wrote an article recommending taking profits in Groupon Inc. (GRPN) prior to the Tuesday August 5th earnings release. click here. That turned out to be excellent advice. When earnings came out, GRPN sold off immediately from the $7.07 close, to under $6.00, to rally back to $6.30 and then to return to prices under $6.00. The following morning, GRPN would open on its lows ($5.68) and work its way higher during the day. I recommended on Stock Talk to buy the stock when I purchased shares at $5.78. Remembering that post earnings rally to $6.30, I took advantage of the rally to $6.28 on Wednesday and sold my shares at $6.24, again announcing the sale on Stock Talk. Today, August 7, 2014, I recommended buying the stock under $6.00 and GPRN closed down for the second day post earnings, two cents off the low of the day at $5.95.
When you look at the above daily chart of GRPN, you will see how the stock gapped down in February and in May. Both times were following earnings. In February the stock fell for 2 days but in May the low was made on the first day after earnings and the stock then rallied. This time the low was made on the first day following earnings ($5.68) and after two days we have settled on the second day about in the middle of the post earnings range.
I recommended buying GRPN today because I am looking for a similar move that we experienced in May. Back then GRPN rallied on the 3rd thru 5th days post earnings, and better than half of the gap was filled. Over the next few days, I expect to see a rally attempt back towards $6.30 and then likely $6.50. I am not bullish above $6.50 because the stock should within the next 3-4 days hit a high that will become difficult to breach. Anyone who is buying now or that held on through the earnings report, should consider selling on strength on Tuesday or Wednesday, August 12th or 13th. I believe it is worthwhile picking up shares below $6.00 now, to sell in the $6.30 to $6.50 range for a swing trade that should last less than a week. After a week post earnings, I look for GRPN to work sideways to lower and retest the lows and possibly even break down closer to $5.00. However, 1-2 months post earnings, GRPN is expected to bottom in the low to mid $5.00s and then work higher to fill the gap at $7.07 prior to the next quarterly earnings report.
Why Trade GRPN?
GRPN is a stock many traders would not pull out of the junk heap to trade. However, there are several factors that make this stock tradable. First, GRPN is closely aligned with the hot internet and social media space. Second, the company is not losing money, although the profits are miniscule. Third, the company has no debt, so the stock should not be going out of business anytime soon.
With those three positives I may still not trade GRPN except for the fact the stock was killed post earnings back in November 2012, hitting an all-time low of $2.60, and then climbed all the way back to $12.76 by September 2013, just 10 months later. I did not play that move from the $2s to the $12s, but I do want to continue to follow the stock after I liquidate my shares (hopefully in 2-3 days).
For anyone who wants to play this stock longer-term, one can scale into the stock using 10% of their tranche in the $5.50 to $6.00 range, 20% in the $5.50 to $6.00 range, 30% in the $4.50 to $5.00 range and 40% in the $4.00 to $4.50 range. Putting more cash in at the lowest prices greatly reduces your average price and greatly enhances your profit potential. Before we close, just take a look at the weekly chart of GRPN
(click to enlarge)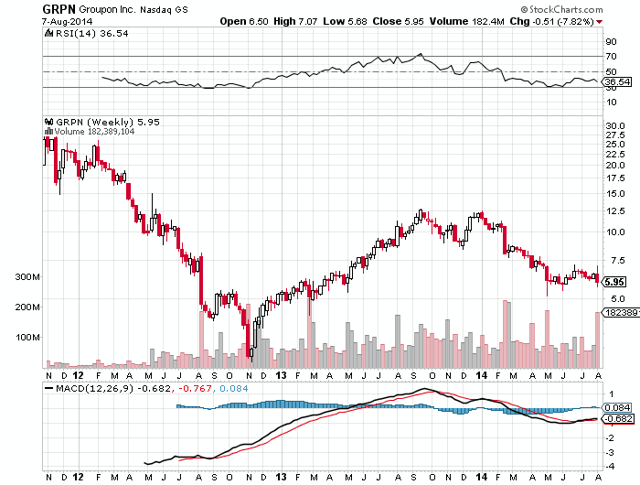 Click to enlarge
The above weekly chart of GRPN shows how the stock went sideways for about 3 months when it came public in late October 2011. Post earnings in February 2012, the stock began a 9 month selloff into the abyss, hitting bottom after just over one year of trading. Then the stock rallied for 10 months to score a high of $12.76, and then double topped at $12.42 just 3 1/2 months later. From that high in early January 2014, I am looking for a 9 month selloff, similar to the 9 month selloff from February to November 2012. Marking 9 months from early January 2014, I would expect for GRPN to bottom again somewhere around the 10th of October 2014. Although I should be liquidating my current swing trade shares in the next few days, I will be monitoring this stock for other future trading opportunities, especially beginning October 2014.
Disclaimer:
The thoughts and opinions in this article, along with all stock talk posts made by Robert Edwards, are my own. I am merely giving my interpretation of market moves as I see them. I am sharing what I am doing in my own trading. Sometimes I am correct, while other times I am wrong. They are not trading recommendations, but just another opinion that one may consider as one does their own due diligence.
Disclosure: The author is long GRPN.