Gold Should Work Lower This Coming Week
They say you "Buy the rumor but sell the fact". That might explain why gold rallied Wednesday and Thursday of last week, on rumors of escalating tensions in Ukraine and ISIS terrorism increasing in Iraq. However, when the bombs started flying, (well, at least air strike and humanitarian aid drops by the US in Iraq), December Gold would initially rally to $1324.30, but eventually closed down slightly on Friday. Maybe the market is relieved that the U.S. finally took some action against ISIS and should do more in the near future. Rumors that Russia may be in the early process of withdrawing from the Ukraine border, would help bottom the stock market on Friday and brought gold to the day's lows. Here is a daily chart of December Gold: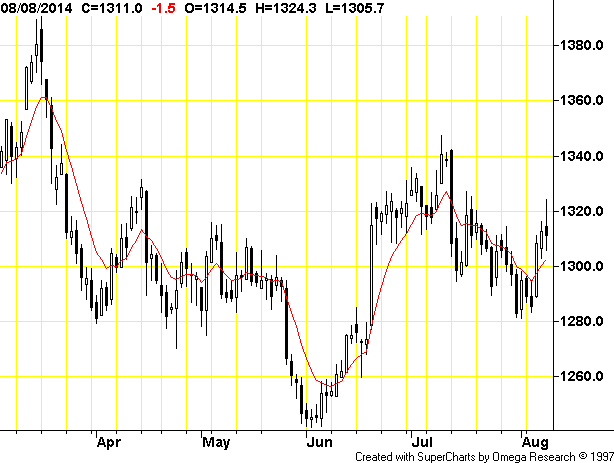 Even if we start out higher on Monday, August 11, 2014, and even if we close up, it would likely be an inside day up (which is bearish), as it will be difficult for Dec. Gold to overcome resistance at $1320 and at $1324. Staying within Friday's trading range (an inside day) and closing up, portends lower prices for Tuesday. We could also start falling from the get go, but either way we should test and eventually break under $1300 early next week, and begin a retest of recent lows.
For the beginning of the week of August 11, 2014, I favor short term trades on the short side of December Gold as well as the inverse gold miner 3X gold miner ETFs (DUST & JDST). Fundamentals are not supporting higher gold prices right now and I see potential for a $30 to $35 drop in gold next week.
However, should we get that selloff and again trade towards $1290 or lower in December 2014, I will likely again start scalping from the long-side. During the seasonally strong timeframe of August and into the first week of September, I am looking for gold to be well supported and feel we could hit $1368 or a bit higher in December Gold by the first week of September.
Once we get to the early to middle part of September 2014, and we rally into the $1365 to $1380 area, December Gold will have to choose between establishing a major bottom by rallying on up through $1400 and beyond, or turning down and falling for the remainder of the year, falling to $1200 or maybe $1150, as Goldman Sachs and others have predicted.
I saw an article posted today on Seeking Alpha by Tim Iacono, click here, where he was calling for a breakout of the tight trading range to the upside. I agree with this author, but only to a point. I feel that for now, $1325 will hold December Gold in the trading range, long enough to retest and successfully hold support in the $1280 area this week. I then see a break-out to the upside, into the $1368 area or higher in gold. But unlike Mr. Iacono, I believe that breakout could be a false breakout and before overtaking $1400, December Gold rolls over and drifts lower for the remainder of 2014.
Gold Is No Longer The Weakest Metal
For some time, gold has been the weakest member of the metals group but this week silver became the worst performing metal with the worst looking chart. Since silver is an industrial metal, maybe the weakness in silver this week is a result of recent weakness in the stock market. Whereas September Silver dropped 43 cents this week (2.1%), October Platinum rallied $17.50 this week (1.2%) very similar to December Gold, up $16.20 (1.2%) this week. Take a look at the daily chart of October Platinum: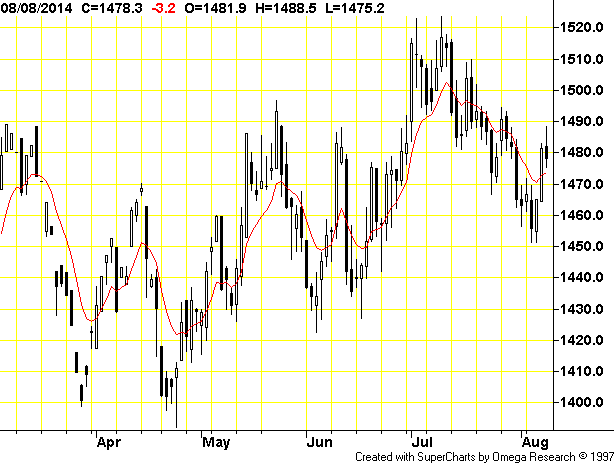 I noticed an amazing thing today about this chart. On July 2nd, October Platinum hit a high of $1523, and then fell for 4 days. Next was a 2-day rally and top again on July 10th of $1523.80. This was followed by a 3 day plunge, and 2-day rally again towards $1510. October Platinum then swung down for 5 days to under $1470, followed by a 2-day rally to above $1490 on July 28th. October Platinum then swung lower for 6 days to just above $1450, followed by another 2-day rally closing $1481.50 on Thursday, August 8th. On Friday Platinum closed lower and should fall for another 4 to 5 days, when I would again look for the usual 2-day rally of course. With October Platinum liking to fall for several days after a 2-day rally, I expect Platinum to pull gold lower this week.
Instead of rallying like Gold & Platinum, Palladium closed down this week by $4.50, but bounced over $20 off its lows. Profit-taking in the long Palladium/short Gold trades, and long Platinum/short Gold trades, helped support Gold. No matter what gold does for the rest of 2014, I plan to continue to buy Palladium on dips and may eventually start selling gold against it for protection and profits. If gold falls next week, I anticipate being able to buy Palladium in the low $840s or mid $830s. Here is a quick look at the September Palladium daily chart: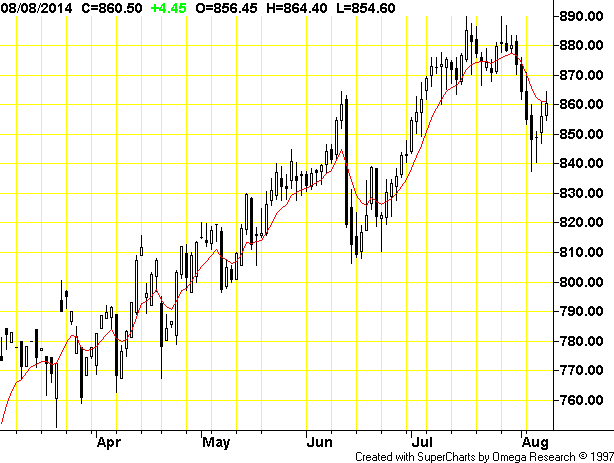 Conclusion:
I am looking for weakness creeping in immediately on Monday in Platinum, and by late Monday or Tuesday in Gold. I expect to see the weakness continue for the remainder of the week and allow December Gold to trade below $1300, down to $1285 to $1290 or lower. However, I anticipate that December Gold should stay above $1274 support in the short-term and eventually break out to the upside, and trade to $1368 to $1390. I anticipate that rally will fail prior to reaching $1400 and then we work lower for the remainder of 2014. I don't yet know how far gold would fall but don't believe gold stays below $1200 for very long.
Disclaimer:
The thoughts and opinions in this article, along with all stock talk posts made by Robert Edwards, are my own. I am merely giving my interpretation of market moves as I see them. I am sharing what I am doing in my own trading. Sometimes I am correct, while other times I am wrong. They are not trading recommendations, but just another opinion that one may consider as one does their own due diligence.