SeaWorld Entertainment Has Taken A 36% Haircut In Two Days
(click to enlarge)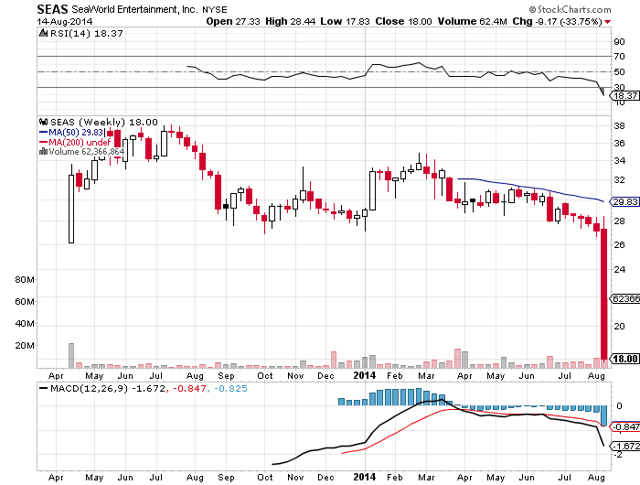 Click to enlarge
Since coming public 16 months ago at $27, SeaWorld Entertainment, Inc. (NYSE:SEAS) has had good support around that $27 level, as shown on the above weekly chart. However, in just two days following a weaker than expected earnings report and guidance, it has lost over 1/3 of its value, from $28.15 down to $18. On Thursday, August 14, 2014, several analysts downgraded the stock, and moved their price targets to the $20 to $21 range, click here. Normal average volume is less than 2 million shares, but volumes the last two days have totaled 41.5 million and 16.3 million. A lot of investors have fled the stock, but somebody is buying the stock at these reduced levels, and I think I know who. Cooperman and other smart money got out of the stock at higher levels, and the private equity firm Blackrock, who took the company public, has reduced their stake to only 22%. I saw one article that said, if smart money is getting out, you don't want to be getting in. However, buying at $18 is a lot different than buying at $28. Smart money could have been selling at $28, but other smart money could now be starting to buy at $18 and lower.
I consider SEAS a stable profitable company that was sailing along fine but just got caught in a storm of bad publicity, and has been blown off course a bit and landed on a sandbar. The company is already taking steps to repair its reputation, by coming out with an improved living environment plan for the orcas. SEAS is also working to fix its earnings picture problems by cutting costs and repositioning debt. Yes, management is working hard to right the ship and the company should be back on course with the stock price moving higher, shortly.
Why I Am Looking For A Bottom In SEAS Today
Take a look at the daily chart to see more closely where we are:
(click to enlarge)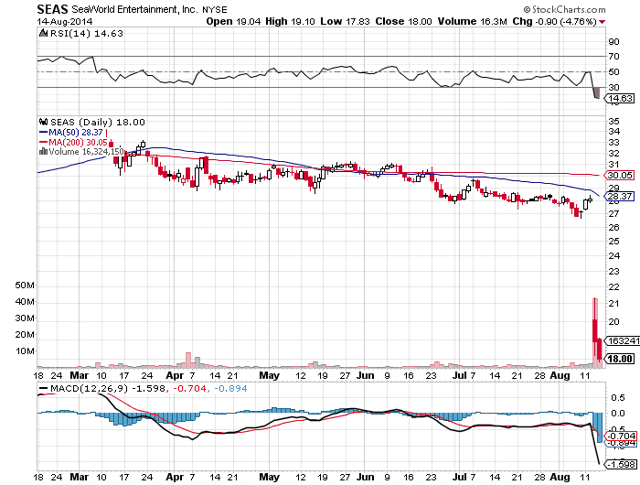 Click to enlarge
There have been two trading days for SEAS investors to digest the latest earnings report and guidance. Today, Friday, August 15, 2014, is the third day of trading post earnings, and is often the day that one can begin nibbling on stocks that have suffered a post earnings smackdown. On Wednesday, SEAS bottomed at 18.17 but was able to bounce in the afternoon to close at $18.90. On Thursday, the stock hit $19.10, but then fell back to retest and break the $18.17 low, running stops in the process. Hitting a low of $17.83, the stock closed at $18.00. You will notice that the Japanese candle formed on Wednesday, had a long lower tail, as the stock closed off its low, but that tail was filled in on Thursday when the stock closed near the lows at $18. Although I would have preferred for the stock to have closed above the $18.17 previous low, the stock was unable to make much more progress to the downside, and is showing some initial signs of bottoming. The high trading volumes should also subside in the next couple days. However, I am looking for SEAS to make a marginal new low today, and to then close off the lows, and likely close up. Today the stock could form a hammer or some other type of reversal pattern, and I plan to be buying aggressively today if a bullish chart pattern develops.
Briefing looking at the fundamentals, I believe that the selloff was justified to a point, but that the magnitude of the selloff has been extreme and the stock should soon bottom and make an attempt at filling the gap left above $21. At Yahoo.com, I noticed that the current PE has come down from over 60 to 39.05 with the selloff, but the forward PE is now reported at 11.76. Things could and should improve in the future. The only drawback that I see with the stock is that debt/equity is quite high at 279. However, the company remains profitable and should be able to manage their debt and to continue to pay an 84 cents per shares dividend (2.8%). It will probably take several months or quarters to get back to $28 in the stock, but a move from below $18 to $21 could occur within the next few days. They have stretched the rubber band pretty far to the downside and it should snap back up a bit, in the very near future.
Disclaimer:
The thoughts and opinions in this article, along with all stock talk posts made by Robert Edwards, are my own. I am merely giving my interpretation of market moves as I see them. I am sharing what I am doing in my own trading. Sometimes I am correct, while other times I am wrong. They are not trading recommendations, but just another opinion that one may consider as one does their own due diligence.
Disclosure: The author is long SEAS.