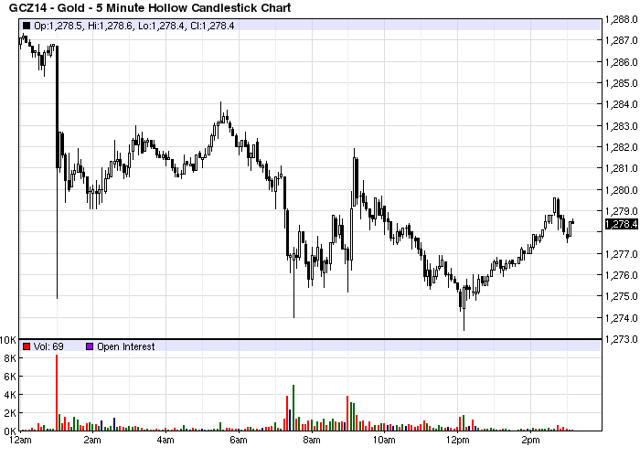 Looking at the above chart, one can see that December gold broke the $1274.90 low hit at 1:00 A.M. Chicago time, when we made a low of $1274.00 near 7:30 A.M. CST, and finally just past 12 noon in Chicago, a low of $1273.30 was scored for the day. However, each time gold bounced nicely off these lows. We now need to take a look at the daily chart of December Gold: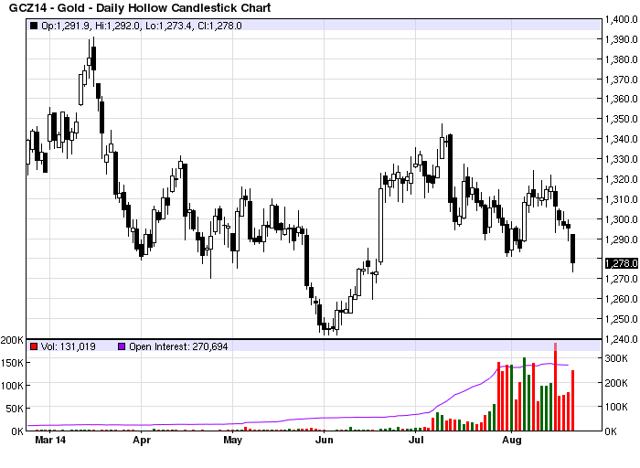 The above chart includes today's trading, August 21, 2014 but does not have the 1:30 EST close of $1275.20 but instead shows the price of $1278 where gold was trading when I ran the chart. Starting towards the left side of the chart and moving forward, one can quickly see how the price of $1280 has been a significant price support in December Gold futures since it stopped the fall in late March 2014, having dropped from a high of $1390. After falling $110 back in March, December Gold stopped falling once we dropped to the $1280 level. From there, the futures contract quickly bounced back to $1331.50 on April 14th. Five days later, December Gold dipped to a low of $1277.50, but closed back above $1280. Two days later Dec Gold dipped to a low of $1270, but reversed back higher to $1299.20 that very day and closed at $1291.10. The $1280 support level was rock solid as no closes under $1280 could be achieved. After topping out at $1306.40 on April 28th, we would return to hit a low of $1275 just 4 days later but reversed higher that very day to close at $1303.50. Again there was no close below $1280 to be found on the chart.
Gold would then oscillate back and forth in a tighter and tighter range until May 27th when December Gold finally closed under $1280, settling at $1266.40. The spell was finally broken. Bulls became so discouraged, they allowed December Gold to fall for 4 or 5 more days, until a low of $1241.70 was achieved. From there, December Gold worked higher off the low and finally on June 19th it would explode to $1322.70 and close at $1314.80. This one day of price action was so powerful, that the spell was put back on the Dec Gold market, and $1280 was again rock solid support (until today). On July 10th, December Gold would top out at $1347.50, only to drop to $1294.40 just 3 days later. We then got a $28.80 bounce to $1327.30. This was followed five trading days later, with a low of $1289.40. Another bounce to $1314.60, a pop of $25.20 off the lows followed. The next dip would stop at $1281.30 on July 31st. The next day, we hit a low of $1281.00 and bounced $17.40 off the low to hit a high of $1298.40. With a successful retest of the lows down to $1283.30 on August 5th, Dec Gold would bounce to $1324.30, a gain of $41 off that low in just 3 days. After going sideways for a week, Dec Gold has again fallen to today's low on the 5th down day, hitting $1273.30, and closing at $1275.20.
Since this is the 5th down day in a row, and Dec Gold likes to bottom after 4 or 5 down days, I would anticipate seeing a rally to begin on Friday, August 22nd, with a bounce of $17 to $25 off the low over the next 1-2 days quite possible. I spoke about this today in my StockTalk comments. You can follow me during the day through StockTalk on SA to see what my latest read is on this and other markets like natural gas.
I was hoping the spell to remain above $1280 would be strong enough to resist pressure by the bears to run the stops under $1280 and again under $1275 and $1274. However, regardless of the lows, my crystal ball (just kidding), my intuition tells me that we will stay above $1260 on this downturn and might not violate $1271 in December Gold futures. But even if I am wrong, and we continue falling to major support at $1240, I expect to see a near-term rally back to near $1300, even if we were to continue falling to new lows.
Despite the weakness in gold today, September Palladium futures were strong all day, making back a good portion of what Palladium lost in value yesterday. Palladium is right up there very near recent high levels. If there is profit taking on Friday, in the Long Palladium/Short Gold trades, it might depress Palladium a bit, but offer some support to Gold prices.
Let me also mention that Jeremy49 correctly pointed out how the bearish triple leveraged large gold mining ETF (NYSEARCA:DUST) was up 6 1/4% today while the bearish triple leveraged Junior Mining ETF (NYSEARCA:JDST) was only up 2%. JDST has been underperforming lately because the Junior Miner ETF (NYSEARCA:GDXJ) has been over achieving on both and down days recently. That is why I have been scalping from the long side in JNUG lately and doing so quite successfully. When the Junior Miners are strong, that is bullish for even the majors as well as the gold metal. I believe it is based on takeover rumors in the Junior Miner sector and just overall positive sentiment right now by many analysts who are starting to recommend hiding out in the value priced Junior Miners since the stock market is at all-time highs. The Junior Miners (GDXJ) are supposed to outperform the majors (NYSEARCA:GDX) on up swings. Typically for every 1% rise in gold, one can expect a 2% rise in GDX and a 2 1/2% to 3% rise in GDXJ. On downswings, the GDXJ usually falls more than the GDX as well. The volatility or beta of GDXJ is higher than GDX. But recently, GDXJ is outperforming GDX even on down days, by not falling as much as GDX. That is not supposed to be happening. The fact that it is, makes me quite bullish on GDXJ & JNUG, but also bullish on GDX & GLD. The GDXJ performance is often the proverbial "canary in the coal mine" (or should I say goldmine?). When GDXJ is outperforming GDX it is bullish, for gold along with all miners. And when GDXJ is underperforming GDX then it is bearish for not only the Juniors, but the Majors, and the metal.
Disclaimer:
The thoughts and opinions in this article, along with all stock talk posts made by Robert Edwards, are my own. I am merely giving my interpretation of market moves as I see them. I am sharing what I am doing in my own trading. Sometimes I am correct, while other times I am wrong. They are not trading recommendations, but just another opinion that one may consider as one does their own due diligence.
Overnight, December Gold fell first to $1285.20, and then just past 2:00 a.m. EST, a 6,000 computer sell order overwhelmed the market and drove prices down to a low of $1274.90. However, upon hitting the low, buyers immediately drove December Gold back to above $1282, and the contract stayed above $1279, for a few hours, as shown in the above 5 minute chart. The last price on the above chart is $1282.70 but a few minutes after capturing this intraday chart image to include in this writing, December Gold hit $1284.10. You might think that this action is extremely bearish, but I would beg to differ. History has shown that instead of being the beginning of a move lower, breaking support below $1280 as has just occurred, is more likely a mere running of stops to force out the weak hand bulls. Although we would retest the lows a couple times later in the day, and make marginal new lows, I was scalping in December Gold futures from the long side, and buying the triple leveraged Junior Mining ETF (NYSEARCA:JNUG). Here is an updated intraday chart of December Gold futures: