Formulating A JNUG Battle Plan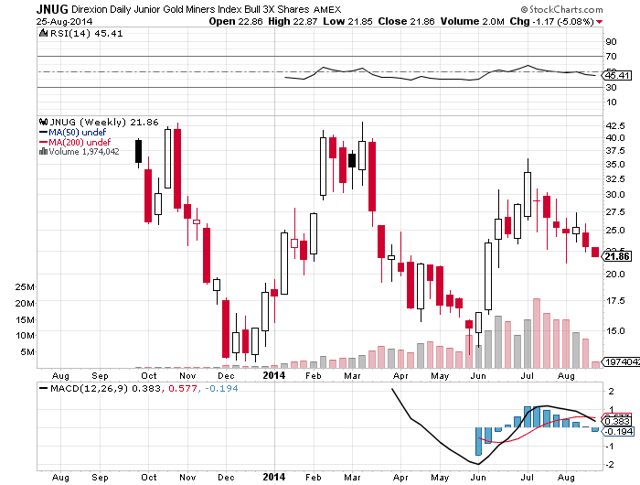 The Big Picture
The above weekly chart of the triple leveraged Junior Mining ETF (NYSEARCA:JNUG) shows all trading since this ETF began trading about 11 months ago. We started with a quick rally to $42.96, with a selloff to $13.10 just 6 weeks later. After going sideways between about $13 to $16 for three weeks, in less than 7 weeks JNUG again hit a high of $41.38 in February 2014, and was caught in a trading range from $30 to $40 for a month, before topping out at $43.14 in March. From that high, just 5 weeks later JNUG fell to just under $16, but then for 4 weeks played in a range from $16 to $21 before finally spiking to a low of $13.32 at the end of May 2014. From that low, JNUG would rally to $30.63 in just 3 weeks, followed by a high of $36.00 just 3 weeks later. JNUG has now fallen for the past 6 weeks and we are lower at the beginning of the 7th down week.
What does this all tell me. A lot. It tells me that since JNUG began trading, there were two previous selloffs. Most of the pain to the downside ended in 6 weeks and then in 5 weeks. Since we have now fallen for 6 weeks through last Friday, hopefully most of the current pain is exhausted. It is a small sample size, this now being only the 3rd selloff, but it should still be encouraging to the bulls. Also the bulls should take heart in the fact that the last three peaks in JNUG are $42.96, $43.14 and then a peak $7 lower at $36.00. It would seem logical to assume that no matter how low JNUG should fall during the current selloff, once we bottom, we should bounce quickly back to $29 (subtracting $7 from the last $36 peak). If we miss the last high peak by a similar 16.2%, it would project a high of $31.20. I will split the difference and say JNUG should bounce back to $30 in the near future, regardless of where it should bottom. And the bottom should happen now.
A Caveat
Well, what could go wrong with the above analysis. Plenty. You see, another observation I made in looking at this weekly chart, when JNUG swings to a high or swings to a low, it will consolidate for 3-4 weeks before reversing direction. This tells me that I don't have to be a hero and get too heavily invested too early trying to catch a bottom in JNUG, or picking a top in the triple leveraged bearish Junior Miner ETF (NYSEARCA:JDST). The position traders can wait for awhile and see a JDST bottom form and then buy 3 to 4 weeks down the road.
How could JNUG continue to fall? The implications of this 3 to 4 weeks of sideways action before a trend change, could mean that when we recently hit a high of $36 in early July 2014, one could describe the next three weeks as merely a trading range trade between $22.68 and $30.88 and not a downtrend. Breaking down the first week of August, to strike a low of $21.15 could be considered week 1 of the down move and that would make the current week just starting week 4. We could therefore fall for another week or two, before going sideways for 3-4 weeks and then start a quick rally back towards $30. But even in this bearish scenario, a recovery to just $30 from the current $22.50 or $21.86, would still be a gain of over 33%. I still don't want to suffer that much JNUG pain, and you don't either. So let us take a look at what could be ahead if JNUG chooses to continue to fall.
The Daily Chart Projects A Bounce Off $19.30 and again at $16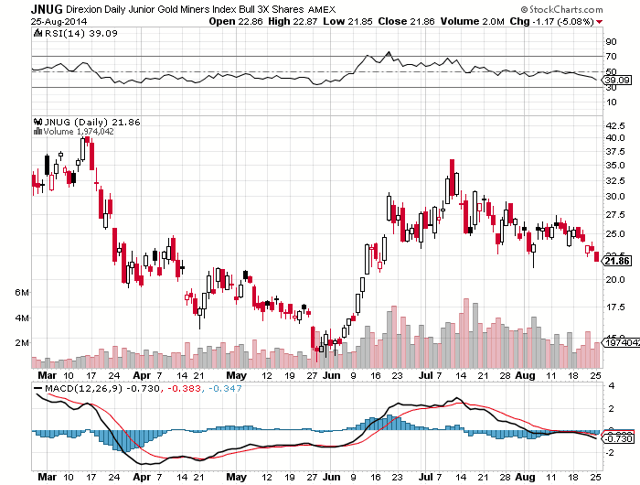 Back on March 24, 2014, JNUG fell from $30 to $21.50 in a single day, closing at $21.88, a price similar to today's close of $21.86. Back on March 24th, JNUG had fallen for 6 of the last 7 days, and the value was nearly cut in half from $43.14 to under $22. Comparing that to now, we have fallen in 9 days from a high of $27.34 to today's low of $21.85. If we should now continue lower, the first stop should be the $21.15 spike low of August 5th, or $20.50 to $20.70 where JNUG found support back in the middle of June.
One thing that is very comforting, is the fact that the March 24th close of $21.88, was followed by a small up day. The 2nd day to follow was another down day to $19.61 where the bleeding stopped. JNUG would then go sideways between $19.21 to $24.75 for two weeks. JNUG bounced several times from the low $20s to above $22.50 the following day. So now that we are presently in a similar value zone, one would expect that JNUG would also show similar resilience and bounce from maybe $20.25 to $22.50 or $23.00 for a couple weeks, should we fall a bit more. And even if JNUG should fall after that to $16, it should again be resilient enough to bounce to above $21 for another couple weeks. And don't forget, there is a rally to $30 likely in our future at some point.
Today's Trading
I started today with a few shares of JNUG left over from Friday, around $23.10. I added early today at $22.90, and $22.60, but bought again at $22.30 and $22.15. I bought bigger positions at the lower prices and my average today was $22.52 when we got a rally back towards $22.60 where I dumped out of half of my position at breakeven at $22.55, only to buy shares back again at $22.37 and $22.25. My average going into the close is $22.42. On a rally back to $22.50 in the morning, I will dump half of my position at breakeven to free up cash. NUGT has been down for 5 straight days and looking at the above daily chart, one can see how one can find 4 or 5 down day selloffs, but virtually never 6 straight down days. It is like an unwritten rule. The last time we fell for 5 days was back on August 4th. The next day NUGT slipped further down to $21.15, but reversed and closed up 77 cents on August 5th. If tomorrow, Tuesday, August 26th, trades in a similar fashion as August 5th, NUGT could fall to a low of $20.10, but would reverse and close at $22.60. Wednesday, August 27th, NUGT would trade to above $25.00. It looks like we just have to get through the morning.
Summary
I went through this scenario to show how I come to decide to catch a falling knife stock or ETF like JNUG. I look at what can go right, and what can go wrong, and decide if the odds are in my favor catching the falling knife. The current bearishness in the Junior Miners looks overdone and although there could be a bit of rough sailing over the next couple days or even weeks, as a bottom is formed, JNUG tends to be quite resilient and has great bounce potential, making buying of the dips usually quite financially rewarding.
Just looking at the recent peak of $36, JNUG fell $11 in 3 days to $25, but then bounced in 2 days to $30.88. Just 5 days later, it hit a low of $22.68, followed by a pop in 2 days to $29.30. Just 6 days later was the August 5th reversal day, with a low of $21.15, and a bounce on August 6th to $26.28, and 4 days later the high of $27.34. From that high of $27.34, we have fallen for 9 trading days to today's low of $21.85. Whether that is the low, or $21.00, or even $20.00 is the ultimate low on the current downdraft, we have potential to pop at least $5 in short order off any low. That makes the next swing high at least $25, even if we should fall to $20, which I don't believe we will see.
In case we should totally fall apart over the next couple weeks, I am very confident we should bounce off of the next support zone of $16. When you add $5 you only get back up to $21 or maybe $21.50. So you want to space out your buys so you have some cash to buy at extreme lows, so you can lower your average price enough to still benefit and make money on the $5 rebound, regardless of the actual bottom.
Hope this is helpful.
Disclaimer:
The thoughts and opinions in this article, along with all stock talk posts made by Robert Edwards, are my own. I am merely giving my interpretation of market moves as I see them. I am sharing what I am doing in my own trading. Sometimes I am correct, while other times I am wrong. They are not trading recommendations, but just another opinion that one may consider as one does their own due diligence.
Disclosure: The author is long JNUG.