(click to enlarge)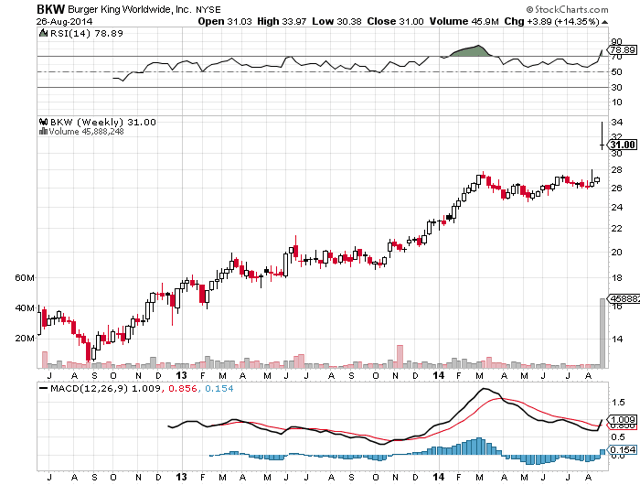 Click to enlarge
The above weekly chart of Burger King (BKW) shows a nice upward trajectory, as it has been a favorite of investment funds (think Bill Ackman's Pershing Capital's 10.8% stake). The chart shows a double top at $28 which was overcome this week when BKW announced they would like to buy out Canadian based Tim Hortons, a coffee/donut place (think Dunkin Donuts). For a good video that explains the challenges BKW faces, click here. Burger King fell back today a bit thanks partially to some negative feedback to the deal on social media sites. The tax inversion thing will probably just become a minor distraction as the impact will not be that great in the long run, even if the headquarters of BKW is moved to Canada. Because the deal has expansion and competitive advantage potential for BKW as it tries to compete with McDonalds and other rivals, I see the stock getting bought now on dips, and with today's selloff, it could provide some nice day trading scalping opportunities.
It is very difficult to actually effectively run a boycott campaign against a company. Several attempts have been made to hurt Walmart, McDonalds, and others, with little effect. Burger King is being proactive and should squelch the negative vibe pretty quickly I would assume which should remove or at least reduce the negative cloud hovering over the deal. Now lets look at the daily chart:
(click to enlarge)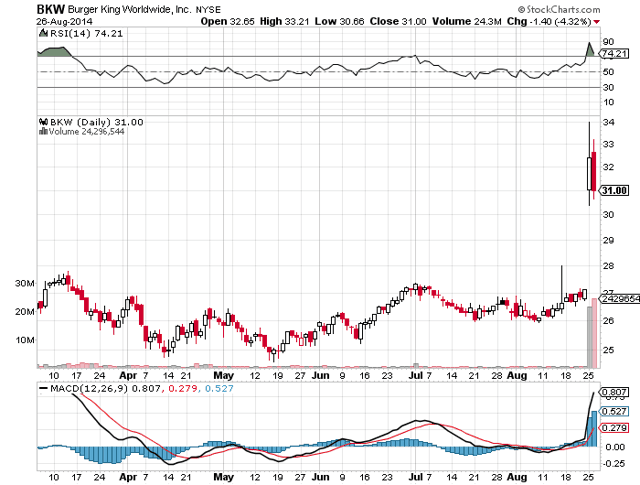 Click to enlarge
The stock popped on Monday from $27.11 to $33.97, but has now fallen back to close Tuesday at $31. $30.50 is about halfway in the middle and that is where I might try to buy a few shares with the intention to buying more on any further weakness. The large gap that was left on Monday should provide excellent support on dips. It will not be easy to fill the gap and traders should be buying the stock any time it dips into the gap area.
As a long time day trader, I can say that breakout situations can be great places to make a quick return. Volumes are elevated as the stock is in the news, and volatility can provide great movement. I am looking forward to playing a positive breakout story as opposed to buying a falling knife stock on negative earnings/news/events, that I typically play.
It is too early to say how exactly I will play BKW but generally, one can begin scale-in buying at say $30.50 and then do incremental buys every time BKW dips 50 cents lower. I would expect that the stock should stop falling somewhere between $29 and $30 and then attempt a recovery. If things work out well for the company, I can see BKW eventually overcoming the $34 resistance and trading to $37 or even $40, despite the current nosebleed P/E ratio of 43. You have the various funds involved like Bill Ackman, and $3 billion of financing by Warren Buffett, along with the tax inversion thing, etc., so trading should be volatile with plenty of zigs and zags. Day traders like movement and there should be plenty of movement in BKW in the short term and long term.
Disclaimer:
The thoughts and opinions in this article, along with all stock talk posts made by Robert Edwards, are my own. I am merely giving my interpretation of market moves as I see them. I am sharing what I am doing in my own trading. Sometimes I am correct, while other times I am wrong. They are not trading recommendations, but just another opinion that one may consider as one does their own due diligence.
Disclosure: The author has no positions in any stocks mentioned, and no plans to initiate any positions within the next 72 hours.