For long and short investors in NQ Mobile (NYSE:NQ), the question arises as to what investors should expect next and how to spot warning signs as they develop. If you are a long investor, is there a pathway available to NQ in order to emerge successfully as a viable long term growth story? Are they on that path? If you are a short investor, what multitude of potential events may qualify as a sufficient catalyst for a material devaluation or delisting? Is it already happening? The purpose of this article is to examine prior examples of alleged and actualized fraud / business wrongdoing, predominantly those uncovered by Muddy Waters (MW), and attempt to lay out a framework for investors to determine the likelihood of an outcome positive to their respective investment thesis. This article will not address valuation, accounting concerns, nor any of the issues raised by Muddy Waters. Until the audit results are produced, the long and short argument will continue to be a he said / she said exercise and can be argued elsewhere. Instead, we will look at management actions in prior cases of alleged fraud or business wrongdoing and attempt to understand the decision making process of the rightly from wrongfully accused.
Typical Responses to Accusations of Fraud / Wrongdoing
For most Chinese companies accused of fraud and listed on US exchanges, the standard responses to allegations of fraud / wrongdoing can be lumped into the following general categories.
Response 1. Company ignores allegations and refuses to comment on allegations. If the share price impact is minimal, business goes on as usual. If the share price impact is material, the company may continue to ignore those allegations, experiencing material price declines or see Response 2.
Response 2. Company addresses allegations in a short letter or series of letters / responses to allegations and attempts to carry on as usual. If the share price continues to be impacted, the company may promise a more detailed rebuttal but instead goes dark, senior management / directors leave, and or the company fails to maintain listing standards, or see Response 3.
Response 3. Company address allegations in a series of letters/presentations and conference calls. Special committees are formed, audits are performed. Return of shareholder value may be enacted through buybacks, dividends or sale of company. The Company continues to vigorously defend its reputation until facts are revealed via audit or allegations of fraud are realized as the company is unable to continue its obfuscation.
Case Study Parameters
The universe of potential examples is significant. In order to simplify this analysis so that it's as relevant to readers as possible, this article focuses acutely on management responses exhibited in Response 2 and Response 3 categorizations and will draw heavily on cases involving Muddy Waters and their efforts in attempting to identify and expose fraud. Additionally, the case studies will focus on the period between initial allegation and ultimate audit result or delisting / trading halt, whichever comes first. Please note, due to the small sample size and focus on Muddy Water cases, there is a significant risk of selection bias. As such, this exercise is by no means meant to be a definitive resource.
Case Studies
Response 2, selected case studies - China MediaExpress Holdings (OTCPK:CCME), Duoyuan Global Water (DGW), Rino International (OTC:RINO), Longtop Financial (LGF)
CCME Case Study


Observations - After the initial allegations by Citron and MW, the company's response and actions to defend legitimacy were fairly weak. Within 6 weeks of the initial MW allegations, CCME trading is halted and eventually delisted.
DGW Case Study
4/4/11 MW initiates coverage with a Sell rating
4/6/11 CFO resigns, Board of Directors forms special committee to investigate MW claims. Skadden, Arps, Slate, Meagher & Flom LLP (Skadden) appointed as counsel. Shares never recover and trade as a penny stock, from a pre MW allegation price of ~$7.00/sh.
5/4/11 Four (of six) directors resign, and new members to the BOD, board committees and special investigation committee appointed. Departing directors raised concerned w/management's level of cooperation in the special investigation. Skadden withdraws from special committee as of 4/21/11. Baker & McKenzie appointed as new counsel
5/20/11 SAM Sustainable Asset Management AG discloses liquidation of position (previously owned 10.25% of company)
7/02/11 DGW announces delay in filing for 20F
7/20/11 DGW announces further delay in filing for 20F
1/25/12 DGW delists from NYSE
Observation - As soon as senior management departs, share price never recovers. Special committee auditor resigns within a month of allegations.
RINO Case Study
11/10/10 MW initiates Sell
11/11/10 RINO to provide detailed response upon internal review. Still expects to release 3q financials on 11/15/10 and conference call on 11/16/10. No Q&A will be provided on MW allegations
11/15/10 RINO releases 3q financials
11/16/10 RINO postpones 3q conference call
11/17/10 RINO shares halted until Nasdaq satisfied with additional information requested
11/18/10 RINO BOD determines 2008 & 2009 financials as unreliable.
12/2/10 Nasdaq delists RINO due unreliable financial reports, failure to enter certain previously disclosed contracts, and failure to respond to Nasdaq staff requests for information

Observation - Responses by management were practically non-existent. Allegation to delisting took less than a month. Shares permanently collapse within 2 weeks of allegations as RINO delays earnings conference call and is unable to address Nasdaq concerns
LGF Case Study
4/26/11 Citron initiates sell rating
4/27/11 LGF announces it will release 4q and FYE financial results on May 23, 2011. Declines to comment on market rumors
4/28/11 LGF announces doubling of previously announced repurchase plan to $100M, hosts conference call to dispel rumors
5/9/11 Citron release additional report on LGF
5/10/11 LGF releases brief response to Citron claims
5/17/11 LGF Shares halted pending announcement
5/19/11 LGF announces delay in 4Q and FY financials
5/23/11 LGF Announces Resignation of Independent Auditor (D&T) and CFO, Initiation of Independent Investigation, SEC Inquiry and COO Appointment. Auditor resigns due to discovered fraud and interference by management during audit process

Observation - LGF response to Citron claims were delayed and generally weak. Trading in LGF shares halted 3 weeks after initial allegations. Delay in announcing financials and interference with auditors by management key to auditor departure and share halt. Auditors depart within 3 weeks of allegations.
Response 3, case studies - Orient Paper (NYSEMKT:ONP), Sino-Forest (TRE), New Oriental Education (NYSE:EDU), and Focus Media Holdings (NASDAQ:FMCN).
ONP Case Study


Observation - ONP offered a spirited and immediate response to MW allegations. An independent investigation was not instituted until a month later, but was welcomed by the market. Share price climbs as high as pre-MW levels prior to releasing audit results. Audit takes ~3.5 months from start to finish. Interestingly enough, the last negative written report by MW was released on 7/22/10. A full 4 months before the completion of the audit. There have been no MW reports since.
TRE Case Study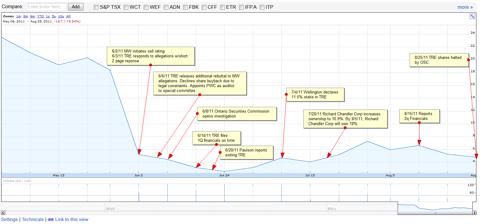 Observation - Initial response by TRE was spirited and included multiple responses and conference calls to address investor and MW concerns. A lack of a share buyback (company or management) was seen as disappointing. An investigation by the OSC and the subsequent loss of confidence by Paulson was a critical blow to TRE's share price. E&Y continued to be TRE's auditor for an additional 9 months before resigning. Fraud allegations to share halt took 2.5 months, due to the difficulty with auditing TRE's physical assets and the lack of cooperation by management.
EDU Case Study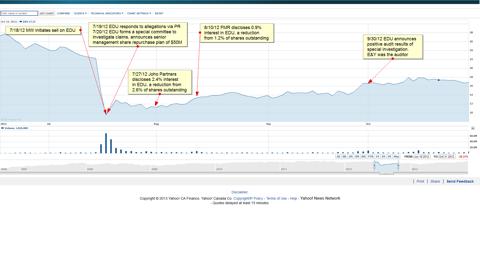 Observations - EDU's defense was fast and furious. Immediately after the allegations, EDU responded to MW's allegations with a short rebuttal, formation of a special committee and auditor (E&Y) and a management repurchase of $50M. In addition, a special dividend declared on 4/17/12 was paid out on 9/29/12 as planned. Shares recovered as much as 74% of their value prior to disclosure of audit results. The audit itself took 2.5 months from announcement of special committee. There have been no more MW reports since the original report.
FMCN Case Study

Observations - Similar to EDU, FMCN adopted an aggressive response to MW with lengthy rebuttals, a conference call to directly address the allegations, a management buyback (as a block trade no less), and a special committee to investigate MW's claims. Share price recovery was rapid, with FMCN trading as high as pre-MW allegations for brief periods of time prior to the audit results. The audit itself took 1.5 months to complete and was an audit of their screen placements, not an accounting one. MW research updates post audit have been minimal.
So what are some of the common attributes of Frauds vs. Wrongly Accused?
Based on the sample of case studies presented, it appears that most frauds collapsed under scrutiny within 1.5 months, if not weeks. All share halts and de-listings were precipitated by weak responses to allegations, failure to respond to regulatory inquiries and or a fairly rapid departure of senior management or special committee members. The sole exception to this trend appears to be TRE, which might have been able to maintain its fraud longer due to the difficulty of auditing its assets, but was ultimately unable to respond to repeated OSC demands. In contrast, exonerated companies responded aggressively to allegations with detailed responses and / or conference calls to address fraud allegations as well as engaging in share repurchases (company and or management) / dividends, continuing normal business operations and filing financials on a timely basis.
While the formation of a special committee to audit the company's financials and business practices was considered a positive, the retention of those board members and positive cooperation with senior management, auditor and regulatory inquiries appeared to be the biggest factors in terms of a company maintaining its equity listing and standing. Interestingly enough, investments by major stakeholders as a vote of investor confidence appeared to be generally positive although slightly mixed due to TRE's institutional interest and subsequent collapse and EDU's institutional interest reductions by major stakeholders. It is notable that with exception to TRE, all realized frauds had zero participation by institutional investors.
It's worthwhile to note that as time passes and no company specific flags emerge, the share prices of accused companies generally stabilize within the first few weeks - month of trading, and slowly climb back to pre-MW levels. Specifically, during the pre-audit completion phase of investigation, share price recovery of innocent companies rose to as high as 75-100% of their pre-allegation prices. Even LGF and TRE (the longer lived frauds), saw recoveries of as much as 90% and 50% of share price respectively, before ultimately succumbing to exposed fraud.
Below is the infamous playbook characterized by MW and utilized by all Chinese frauds and exonerated companies. Interestingly enough, the playbook NQ seems to be playing follows more closely to those companies exonerated of fraud / misconduct, than busted for fraud / misconduct.

What does it all mean for NQ?
The Long Case:
While the jury is still out in terms of whether or not NQ will ultimately be cleared of all wrong doing, the actions the company has taken thus far have overwhelmingly placed it in the camp of the wrongfully accused. The level of transparency and cooperation NQ has exhibited by inviting investors and banks comprehensive access to diligence the company, verify channel relations and vendors, and provide an open canvas for anyone curious about the Chinese and Global mobile market have been unprecedented. In addition to such openness, the company is currently exercising its $35M repurchase plan, with management committing itself to purchasing an additional $3M in shares from personal funds. This $3M is on top of the $2M that management purchased in 2012 as well as the voluntary lockup management has been engaged in since last year. Lastly, the company continues to maintain the trust and confidence of its auditor, PWC, as evidenced by NQ's recent 3q earnings release, cash verification efforts, and pre-MW bond offering.
While the critical timeframe for guilty companies unraveling appears to be within the first 6 weeks of allegation, completion of the audit is still the gold standard for a clean bill of health. Based on the case studies presented, it appears that results from the audit may take as little as 2 months to as long as 4 months to complete. Assuming no flags are raised there is a strong possibility of share price appreciation to the $18-$25 range (75%-100% of Pre MW allegation share price) in the next 1-3 months (ie pre-audit). Until the audit is complete, the key things to look out for are the retention of senior management and board members, and continued transparency and cooperation with investors and auditors. Failure to maintain any of the above actions would be a major red flag for long investors and a likely rapid descent in share price, with little (if any) advance warning to investors. Lastly, even if fraud or business wrong doing is discovered, it's difficult to say what the economic impact, if any, to the company will be. Will it be penalties, a complete unwinding of the company or a simple requirement for more disclosures? It's impossible to say and beyond the scope of this discussion. I will note however, if none of the red flags emerge before the completion of the audit, it typically signifies management belief that the company is innocent of all wrong doings or at worst, guilty of a survivable infraction.
Please note, I specifically excluded the following cases from this discussion: Spreadtrum Communications - MW issued a negative letter on the company instead of a full report. Olam International - the impact by MW was minimal and short lived. Qihoo 360 was only a negative tweet by MW and quickly dismissed. Including any of those 3 cases would significantly bolster the Long argument.
The Short Case:
The short case is fairly straight forward. Should any of the red flags identified as warning signs materialize, you should maintain your short bias. If the company appears to be nearing completion on its audit, you may want to consider covering your short position and possibly re-entering your short position post audit results, depending on outcome. In both ONP and EDU, there were material run-ups in share price just prior to audit announcements. Additionally, as discussed in the Long Case, it is unclear what damages, if any, could arise from the audit. It's worth noting that delisting and bankruptcy in many of the fraud cases occurred in part due to the existing leverage in those companies and subsequent lack of assets to sustain that leverage. NQ's leverage can still be supported by the verified cash balances at Standard Charter. The excess cash on the balance sheet alone would imply a floor valuation in the low single digits. Lastly, any short bias post audit should be closely monitored. It is not clear how long MW maintains coverage post initial allegation. ONP's written coverage ended before the audit results were even released. EDU's written coverage consisted of only 1 formal report. FMCN written coverage effectively ended 1 month after the last audit.
Note: Charts and historical prices per yahoo finance, google finance and quotemedia.com. Historical events based on company press releases, sec filings (sec.gov), prnewswire.com, Muddy Waters Research muddywatersresearch.com/research/ and google searches. The events listed in the case studies are meant to be indicative of corporate actions but not comprehensive due to a lack of information available for many of the delisted and foreign entities.
Disclosure: I am long NQ. I wrote this article myself, and it expresses my own opinions. I am not receiving compensation for it (other than from Seeking Alpha). I have no business relationship with any company whose stock is mentioned in this article.
Additional disclosure: Please note, due to the small sample size and focus on Muddy Water cases, there is a significant risk of selection bias. As such, this exercise is by no means meant to be a definitive resource but more of a guide as to potential outcomes to your investment.