As we predicted yesterday, the market was looking very top heavy and ready to roll over. This morning Greece's problems started to rise to the surface again and the market opened slightly down. Then came the news that Consumer borrowing fell $11.5 billion in February. reflecting weakness in auto loans and in credit cards. This shows that the consumers are still worried about the weakened economy and that consumer spending will remain weak.
This could be the start of the pull back that we have been talking about for the last few days.
Lets take a look at our free pick of the day and zoom in on the 5 min chart of the "DIA" and look at the price action and when we jumped on board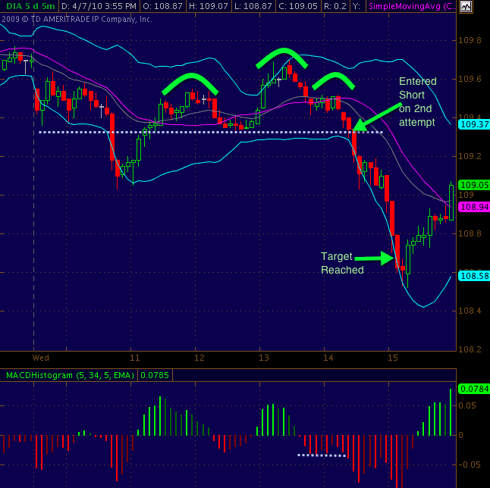 Click to enlarge


Our call yesterday was to enter DIA at 109.33 with a stop at 110.12
This could have entered within the first 90 min of the day. But our traders sent out an alert to hold off for better confirmation.  Around 2:10pm EST our trader sent a trade idea alert out to confirm and place your trade at 109.32. What our team saw was a couple of things that made this a very nice setup. 
Notice The Head & Shoulder pattern as well as the base drawn at 109.33. A break below this will propel the DIA down because not only was this a great head and shoulders but this was the line drawn in the sand. The people that were long were trapped.  We took this trade off 40 minutes after entering the trade at our target for a quick $188 profit.
So what should we expect for tomorrow ?
Lets take a look at the technicals of the "DIA" ...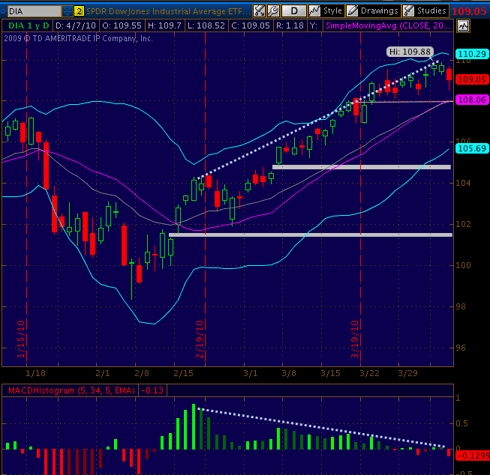 I
n the image above you will notice that price has been rising while the mojo has been dropping.  The longer the divergence, the greater the correction to be expected.
If we break 108 (10,800 on the $DJI) then watch out below, because the open gaps below as noted in the graph will act as magnets to fill those gaps.
See our Trade Ideas page at our Web site
http://www.tradinghighprobability.com/Trading_High_Probability/Home.html


Disclosure:
QQQQ