61.8 Retracement Soooo Close but watch out for Void Below 
Good morning traders.  We start off with the realization that we are soooo close to the 61.8% Fibonacci Retracement. As we sit as of 4:00pm yesterday were were at 1211.67. Just 19 points from that 61.8% retracement, the line in the sand that separates the bull market from a bull run in a bear market.
Surprising that we held today after receiving news that we had an unexpected jump in weekly unemployment claims by 24,000 more than expected to a seasonally adjusted 484,000.
We also had an announcement by American Electric Power Co. (one of the nations largest power generators) that it will be cutting its work force by 10% or 2000 employees.
AP-Associated Press that if we count  people who have given up looking for work and part-timers, who would prefer to be working full time, then the underemployment rate is really close to17% (See yesterdays blog for calculations of how this percentage is calculated).
Then at 2:00pm this afternoon a report that a record number of homes were lost to foreclosure in the first three months of this year, a sign banks are starting to go through the backlog of troubled home loans at a faster pace. So why did the market hold up with all this negative news....
Good question. But our job is not to figure out the market but to trade the market technicals.
Lets take a look at where we are and where we might travel and what we mean by the Void below.
Lets define "VOID": Containing Nothing (Space), not occupied, not inhabited.
Now lets take a look at the SPX daily chart below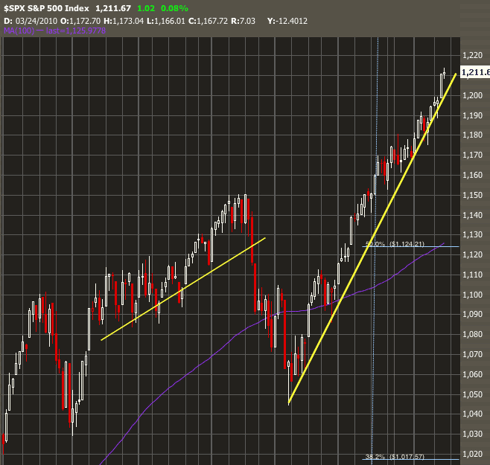 Click to enlarge

In our technical analysis of creating "Voids" is when the market moves without its ebbs and flows and not abie to create any real support / resistance levels while the bars are moving up at a greater incline of 45%. 
Notice during the period from January thru February we were in a nice uptrend at approximately a 30 degree incline, nice and steady as the market went up and down with its ebb and flows.
When markets drop or rise at a steep incline/decline, it creates whats call a void (to fill).  So far this bull run has been rising at an incline of 60%.  Just like the void that was created when the market dropped from October 2008 thru March 2009 was at a 72% decline, the market fell to quick to hard. The drop was unsustainable on the way down just like this rise will be unsustainable on the way up. 
We are not saying that today was the top or if 1230 on the S&P will be the top if it will fill the 61.8% retracement, but whatever the news that comes out, and something will happen soon and when it does, watch out below.


Trade Ideas
Go to our site at our Trade Ideas tab and you will find several trade ideas for: POT, CI, WLP, MEE, OMC, JOYG, MRO, HAR




Yesterdays ( April 15, 2010 ) Model Portfolio Results:
Note: Yellow highlighted area are open positions



Click to enlarge

To see all our daily and monthly model portfolio performance, go to the performance web page


Disclosure:
No positions