Vertex Pharmaceuticals (NASDAQ:VRTX) soared more than 61% last Friday, after announcing favorable Phase 2 trial results for its third cystic fibrosis drug. The company announced that combination therapy with VX-661 and its drug Kalydeco (Ivacaftor) resulted in statistically significant improvements in lung function in people with cystic fibrosis who have two copies of the F508del mutation.
These favorable mid-stage 2 trial results were an important validation of the company's strategy of using combination drug therapy, combining its already approved drug Kalydeco with other therapies to treat various subsets of cystic fibrosis (NYSE:CF) patients.
Cystic fibrosis is a common genetic disorder caused by a mutation in the gene for the protein cystic fibrosis transmembrane conductance regulator (CFTR). The life-shortening disease affects approximately 30,000 people in the U.S. and 70,000 people worldwide. According to the Cystic Fibrosis Foundation, about half of those born with the condition do not live past their late 30 s.
Mutations in the CFTR gene disrupt the function of the chloride channels, preventing them from regulating the flow of salt and water across cell membranes which is necessary for the production of thin, freely flowing mucus. As a result, cells that line the passageways of the lungs, pancreas, and other organs produce mucus that is unusually thick and sticky. This mucus clogs the airways and various ducts, causing the characteristic signs and symptoms of cystic fibrosis.
Vertex Pharmaceuticals has created several drugs to treat cystic fibrosis patients. The first drug, Kalydeco (formerly known as VX-770), approved in January 2012, only targeted the cause of the disease in 4% of the patient population. Those patients have a G551D genetic mutation in a particular protein that sits on the surface of cells. Kalydeco, a CFTR potentiator, is designed to improve the protein's function once it moves to the cell surface. It binds to the protein and works to restore improved regulation of salt and water to produce thinner mucus.
As a next step, Vertex has developed CFTR correctors, to target the most common cause of CF: the mutation in the F508del gene. The first drug VX-809, targeted patients, in combination with Kalydeco, with one copy of the F508del gene. In phase 2 trials, there was an improvement in lung function seen as compared with placebo, but these improvements were smaller than those seen in people with two copies of the F508del mutation. The general perception of the VX-809 results was that it was positive, but somewhat ambiguous.
Late last week, Vertex announced the phase 2 results of a 128-patient trial for VX-661, another corrector to be used in combination with Kalydeco (ivacaftor) targeting patients with two copies of the F508del mutation and the results were very promising:
-Treatment with combination of VX-661 and ivacaftor for 28 days in two highest dose groups resulted in mean relative increases in lung function (percent predicted FEV1) of 9.0% (p=0.01) and 7.5% (p=0.02) versus placebo
-VX-661 was generally well-tolerated alone and in combination with ivacaftor
These results have given investors increasing confidence that the drug therapy will hit its primary endpoints of relative FEV1 (maximum air you can forcefully exhale in 1 second) improvement through 24 weeks and validates the company's research effort developing combination treatments for the disease.
But there is still a long road ahead, even with fast-track approval. Cowen & Company analyst Phil Nadeu stated in his analyst note: In our opinion, the data was solid and provides proof of concept. Nonetheless, the combined treatments being tested still must succeed in late-stage clinical trials with longer durations and larger patient bases. The chances of FDA approval have risen, but only about 50 percent.
Vertex has a third corrector in the pipeline, VX-983 which should enter phase 2 development in the second half of this year.
Here is a link to all the CF-related drugs in the pipeline according to the Cystic Fybrosis Foundation:
Competition
Vertex's cystic fibrosis drug franchise really has little competition at this point. Current cystic fibrosis treatments such as Gilead's (NASDAQ:GILD) Cayston and Novartis' (NYSE:NVS) Tobi, are both antibiotics that treat bacterial infections in the lung that occur as a result of the non-functioning CFTR protein. There is one other CFTR mutation drug, Ataluren, developed by PTC Therapeutics, that is in late stage 3 clinical trials. It is currently being investigated for use in nonsense mutation cystic fibrosis (nmCF). However, that drug only saw a 3% increase in lung function after 48 weeks, so the results appear to be inferior.
The company's limited competition in the cystic fibrosis space is particularly important given its past experience with its Hepatitis C (HCV) drug Incivek (telaprevir). The once blockbuster treatment for HCV approved in May of 2011, saw first year sales soar to over $1 billion. But newly available treatments, in particular Gilead's oral hepatitis C drug Sofosbuvir, have hurt sales. In its latest earnings release, the company revealed Incivek Q4 2012 revenues declined to $223 million versus $457 million in Q4 2011, for a year over year decline of almost 50%. Also not helping sales is the new FDA label placed on Incivek last December warning of fatal skin rashes in some patients.
Revenue Potential
According to RBC Capital Market's analyst Michael Yee, Kalydeco's sales are expected to hit the $1 billion mark by 2016. The adding of "corrector" treatments could boost sales by more than three times, giving combo therapy a revenue potential of $4 billion. Driving that revenue potential is the fact that Vertex's combination drug therapy is quite expensive at a cost of $300,000 year. But again, Vertex's drug must still succeed in later stage trials with longer durations and more extensive patient populations. This process could take a long time and is not without risk.
Still, the favorable results demonstrated by Vertex's cystic fibrosis come at a good time for the company. Just as sales have peaked for Incivek, its prospects appear to be rising with Kalydeco used in combination with its new correctors.
Based on the price reaction of the stock last week, analysts and investors appear to banking on the company's new cystic fibrosis drug franchise succeeding. Analysts are raising their price targets and several firms also upgraded the stock. The company currently has a Zack s average brokerage consensus recommendation of BUY and an average price target of $86.71.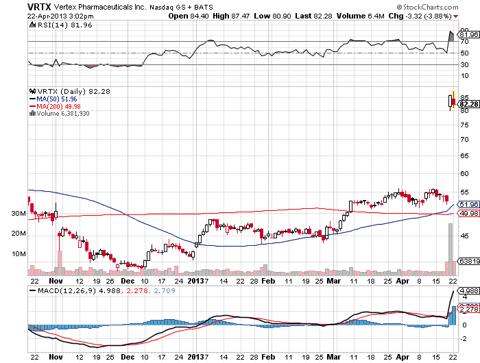 HCV Franchise
There might also be upside to the stock's valuation should the HCV franchise demonstrate any resurgence. Earlier in April, Vertex entered into an agreement with Bristol Myers (NYSE:BMY) for Phase 2 All-Oral studies of VX-135 in combination with Bristol's Daclatasvir for treatment of HCV. This latest collaboration comes after Vertex in November teamed up with rivals GlaxoSmithKline (NYSE:GSK) and Johnson & Johnson's (NYSE:JNJ) Janssen unit to develop a HCV "cocktail". In addition, Vertex also has another HCV candidate in the pipeline, VX-222.
About the Company
Vertex Pharmaceuticals was founded in 1989 and is headquartered in Cambridge, Massachusetts. The company is engaged in the development of small molecule drugs to treat serious diseases. Vertex was one of the first biotech companies to use an explicit strategy of "rational drug design" rather than combinatorial chemistry. The company was profiled in the 1994 book The Billion Dollar Molecule, about the stresses and marketing pressures of funding research into drug design.
Disclaimer
The opinions expressed above should not be construed as investment advice. This article is not tailored to specific investment objectives. Reliance on this information for the purpose of buying the securities to which this information relates may expose a person to significant risk. The information contained in this article is not intended to make any offer, inducement, invitation or commitment to purchase, subscribe to, provide or sell any securities, service or product or to provide any recommendations on which one should rely for financial, securities, investment or other advice or to take any decision. Readers are encouraged to seek individual advice from their personal, financial, legal and other advisers before making any investment or financial decisions or purchasing any financial, securities or investment related service or product.
Information provided, whether charts or any other statements regarding market, real estate or other financial information, is obtained from sources, which we and our suppliers believe reliable, but we do not warrant or guarantee the timeliness or accuracy of this information. Nothing in this article should be interpreted to state or imply that past results are an indication of future performance.
Disclosure: I have no positions in any stocks mentioned, and no plans to initiate any positions within the next 72 hours. I wrote this article myself, and it expresses my own opinions. I am not receiving compensation for it (other than from Seeking Alpha). I have no business relationship with any company whose stock is mentioned in this article.