Lynas is having another court proceeding in regards to its operations in Malaysia. This is happening on the 7th of December, Fri. They have been in court prior to this recently and was given a temporary license for their rare earth operations in Malaysia. There is a fairly large group of people in Malaysia who is dead against this company from operating and will try all their best to prevent it from existing. Nevertheless, being their neighbours for such a long time, the country has a reputation and chances are Lynas will win this court battle. There is huge money circulating in this and unless the operations are right at the doorstep of the Prime Minister, I doubt there is any hope of stopping Lynas processing of the rare earth in Malaysia. This is probably one of the best risk to reward trades I can find in terms of a company this size and optimal time given the circumstances. First we should take a look at the rare earth industry as a whole. The whole industry is pretty much sold down hugely after all that constant marketing of "china controls 95% of the world's rare earth supply" bullshit. The industry was pushed into a bubble and like all bubbles, it burst into flames. Burning in the trenches of hell right now, it pretty much should leap out of the furnace anytime soon.
Take a look at the Market Vectors Rare Earth ETF. It might have bottomed given a morning star like candlestick pattern on the daily together with healthy insider buying and plenty of other supporting reasons on the macro bigger picture.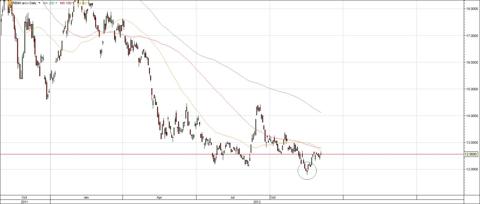 Now take a look at the Lynas Chart. When the temporary license was granted on the 6th of September, the stock gapped up from $0.595 to $0.9. Pretty much a 50% rise in a day. During that period was also coincidentally the whole rare earth industry was rallying up like a bull. With the appeal overthrown in this case, I believe a similar gap up will happen and looking at the majority of the stocks in rare earth recently rallying(look at the price action of REMX for reference), this might just mean that Lynas is lagging at the moment.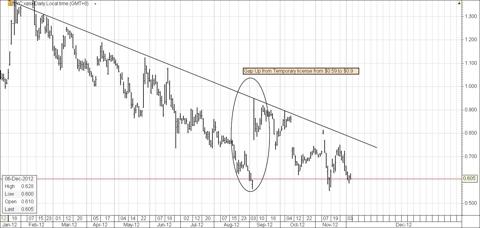 Disclosure: I am long OTCPK:LYSCF.