In today's investing universe, there are many choices. ETFs have become the standard for investing in a group of securities. Many individual investors still invest in mutual funds. I hold a combination of both ETFs and mutual funds. A large percentage of my fund holdings are low-cost index funds. It has been shown that outperforming an index over a long period of time is very difficult.
I do reserve a small portion of my fund portfolio for "active" funds. I try to find funds that have outperformed the market over a long period of time and have stable management (performance can be judged only back to last manager change). I would like to review my most recent research into Weitz Partners Value (WPVLX), which is such a fund.
As of December 31, 2013, the fund had approximately $1 billion in net assets. Using the AAII 2014 Mutual Fund Guide data, Weitz Partners Value is in the 67th percentile of the U.S. stock funds in terms of size, so it is a medium-size fund. In regard to actively managed funds, I do prefer mutual funds on the smaller size in terms of net assets. Larger funds are less agile, which can degrade overall returns (source).
PERFORMANCE
Comparing past performance with a benchmark can be a dangerous game. Annual returns can be very sensitive to start and end dates. For that reason, I like to look at multiple time frames. I did most of this research earlier in the year but waited until the end of the first quarter to ensure the performance metrics would stay intact, and they did.
With the exception of the most recent year, WPVLX has outperformed the investable S&P 500 (NYSEARCA:VOO).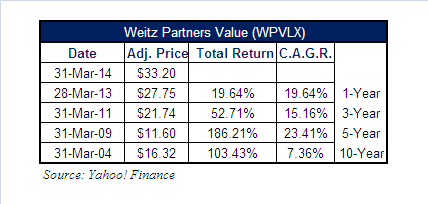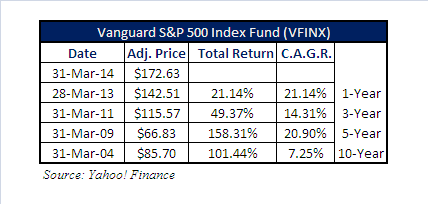 This is very good performance, especially given the higher expense ratio of Weitz Partners Value. What is impressive is that this performance is obtained with less overall volatility. For 1-, 3-, 5- and 10-year time frames, WPVLX has beta values of less than 1.0 when compared with the S&P 500.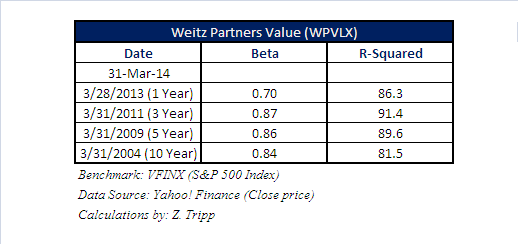 EXPENSE RATIO
As of March 31, 2014, the expense ratio was 1.18%, which was down from 1.21% back in 2010. According to Morningstar, the average large-blend fund had an expense ratio of 1.12% in 2010 and 1.09% in 2013. According to the August 2013 prospectus, 1.0% of the expense ratio was for management fee(s). The fund does not have any sales charges or any redemption fee.
MANAGEMENT
The Weitz Partners Value is comanaged by Wallace Weitz (President / Portfolio Manager) and Bradley Hinton (Director of Research / Portfolio Manager). Weitz was the sole manager since the fund's inception in 1983. Hinton became the comanager in 2006, which does not quite meet my 10-year requirement, but it comes close. Both hold CFA designations.
Company philosophy:
At Weitz we don't focus on broad diversification or predetermined asset allocations. Instead, we use a common-sense, fundamental, bottom-up, one security at a time, value-based investing approach. Decisions are backed by thorough research, logical strategies, extensive debate and our personal commitment to long-term results. We search for companies that are in control of their own destiny that have honest, intelligent management. We estimate a company's business value, and then we look to buy shares at a significant discount. This gives us a potential margin of safety, which may limit downside risk and optimize the potential for growth.
Specific to the Partners Value fund, the company describes the principal investment strategy this way (emphasis added by author):
The Fund's investment strategy (which we call "value investing") is based on our belief that stock prices fluctuate around the true value of a company. The Fund is a "multi-cap" fund and may invest in securities of any market capitalization. We seek to identify the securities of growing, well-managed businesses of any size which have honest, competent management. We then estimate the price that an informed, rational buyer would pay for 100% of the business. At the heart of the process is an estimate of the value today of the right to receive all of the cash that a business will generate for its owners in the future. The valuation may focus on asset values, earnings power and the intangible value of a company's "franchise" in its market or a combination of these variables, depending on the nature of the business. The Fund then tries to buy shares of the company's stock at a significant discount to this "private market value." We invest with a 3-5 year time horizon. The Fund anticipates that the stock price will rise as the value of the business grows and as the valuation discount narrows. Ideally the business value grows and the stock continues to trade at a discount for long periods of time. We generally will sell these stocks as they approach or exceed our estimate of private market value. We do not try to "time" the market. However, if there is cash available for investment and there are not securities that meet the Fund's investment criteria, the Fund may invest without limitation in high-quality cash and cash equivalents such as U.S. Government securities or government money market fund shares. In the event that the Fund takes such a temporary defensive position, it may not be able to achieve its investment objective during this temporary period.
PORTFOLIO ACTIVITY
Between June 30, 2013, and December 31, 2013, the Partners Value Fund added Oracle Corp (NASDAQ:ORCL), Range Resources Corp. (NYSE:RRC), and TransDigm Group, Inc. (NYSE:TDG). It eliminated Coinstar, Inc. (NASDAQ:OUTR) and CVS Caremark Corp. (NYSE:CVS). In the most recent quarter, ending March 31, 2014, it added the ADT Corporation (NYSE:ADT) and Brown & Brown, Inc. (NYSE:BRO). It eliminated Southwestern Energy Co. (NYSE:SWN) and Liberty Ventures (NASDAQ:LVNTA).
As of June 30, 2013, it had 29.3% of cash equivalents and on December 31, 2013, it had 28.7% of cash equivalents. For the most recent quarter, ending March 31, 2014, cash increased back to 29%.
CONCLUSION
Weitz Partners Value holds a large amount of cash currently, which hurt last year's overall performance and could drag on performance in the near term if equity valuations remain high. Even though the expense ratio is on the high side, the fund has been able to overcome that added expense, which means investors are getting what they pay for. Can't help to think if they lowered the expense ratio a little, performance would improve, maybe offsetting the cash sitting on the sidelines.
If you are looking for an actively managed fund that has strong management, a track record of outperformance, and the flexibility to invest in any market capitalization, consider adding Weitz Partners Value. WPVLX can be added as either a complement to a portfolio of index funds or as a complement to a more aggressive, more volatile fund. Given the nature of the managers' investment style, this should be considered a long-term investment.
One strategy would be to start a position at the current levels. Once the next market downturn occurs, add to the position. Weitz Partners Value is sitting on a good-size cash position that will be put to work once the overall market valuation drops. This should be considered a good buying opportunity for new or existing investors.
Weitz Partners Value has a minimum investment amount of $2,500.
DISCLOSURE
I do not currently own any shares of Weitz Partners Value. I may consider starting a position over the next quarter.
Disclosure: I am long VOO. I wrote this article myself, and it expresses my own opinions. I am not receiving compensation for it (other than from Seeking Alpha). I have no business relationship with any company whose stock is mentioned in this article.