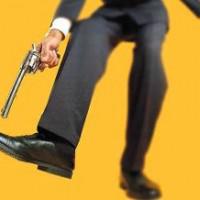 It's funny, but in financial markets there are permanent doom mongers. It doesn't matter how good the trading conditions, how strong the performance in a market, there is a sizable portion of investors who constantly expect the world is going to end.
Within this group, one of the most vocal and aggressive sections are the gold buyers.
If North Korea is going to launch a missile, a coconut or a balloon, their forecast is always buy gold. The end is always just around the corner.
Last week, I mentioned the downside risks in gold. I got a frantic response from investors who are pinning their retirement on an every lasting appreciation in the commodity.
I am not forecasting the end of the world. I do not have a short position in gold.
However, I would not be buying it here. The metal has fallen to within reach of last weeks lows. It is also near the base of the past twenty months at 1522. But more importantly, its approaching the 175 week moving average, which has underpinned every dip since 2002.
A break beneath the 1493, 175 week average, would make me bearish on gold. It may also be a sign of a larger positive shift in dollar sentiment. I continue to believe euro-dollar is stretched above 1.3100.
BRIAN KIELY
WWW.FOREX FOR ANYONE.ME