CME Group
CME Group (CME) was downgraded by Zacks to an "Underperform" on February 27th. Zacks cited Y/Y revenue declines and decreases in analyst earnings expectations for 2013 and 2014 as reasons for the rating. Zacks noted lower trading volume and lower transaction fees as the cause for the analysts' reduced projections.
News also came out last week about the CME Group approaching the Deutsche Boerse about the possibility of a merger. However, Deutsche Boerse said that it was not in deal talks. A merger does make some sense as they have some overlapping products.
CME traded up $1.61 on the week to $59.92.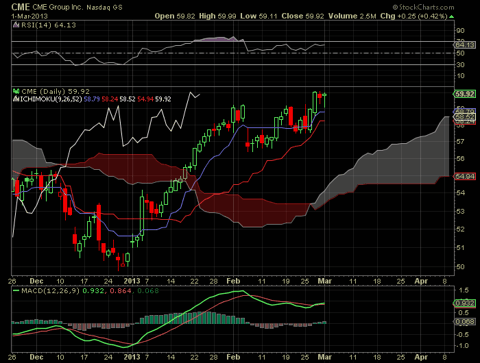 NYSE Euronext
NYSE Euronext (NYX) stated that it will announce Q1 earnings on Tuesday April 30, 2013. The news release will come out at 2:30am ET and a conference call will occur at 8:00am ET.
NYSE Euronext announced that it will review whether mandatory testing and backup facilities should be implemented to withstand natural disasters. This was prompted by issues surrounding Hurricane Sandy last Fall. It is not clear how much implementation of these back-up features would cost.
NYSE Euronext closed the week down $.32 to $37.16.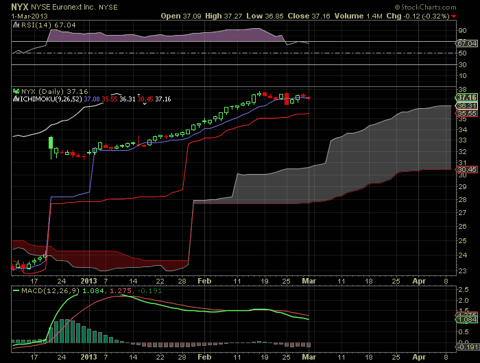 CBOE Holdings
CBOE Holdings (CBOE) announced that the cost to settle a probe with the SEC may amount to $10M. The probe concerned whether the CBOE was properly regulating itself. The company said that in addition to a monetary fine, it may also have to change compliance procedures.
Also last week, CBOE reported that February trading volume was up 3% over January trading volume, but was down 15% compared to February 2012.
CBOE traded down $.12 on the week to $35.42.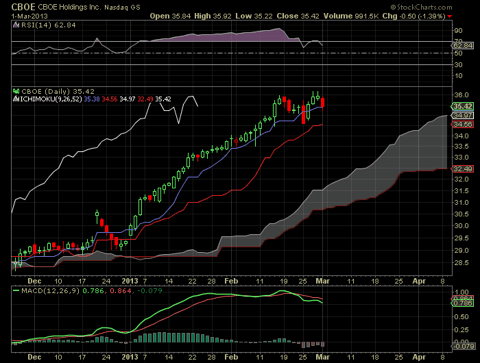 Nasdaq OMX & Intercontinental Exchange
Nothing newsworthy happened to Nasdaq OMX (NDAQ) or Intercontinental Exchange (ICE) last week. Nasdaq OMX traded up $.22 on the week to $31.58. Intercontinental Exchange traded down $1.98 on the week to $154.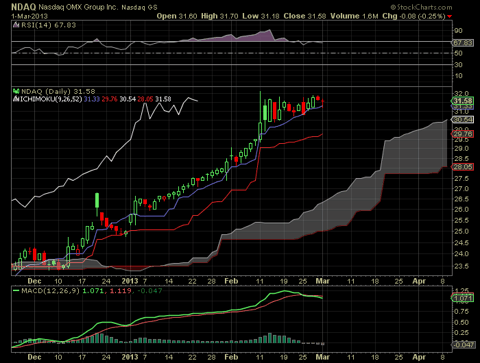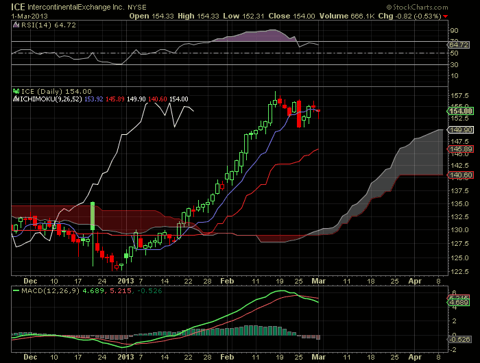 Industry News
The task force set up by the International Organization of Securities Commissions to investigate how to improve LIBOR oversight stated that it will publish its findings and plans by this Summer.
The CFTC Chairman said that the Overnight Index Swap (OIS) Rate could be an alternative to LIBOR, which he obviously is not a proponent of. He stated that LIBOR is to easily "fixed," whereas OIS is based on transactions in the marketplace. He also listed other options including "benchmark rates based on actual short-term collateralized financings, and benchmarks based on government borrowing rates."
LIBOR remains a reference rate for 70% of the U.S. futures market.
Disclosure: I have no positions in any stocks mentioned, and no plans to initiate any positions within the next 72 hours.