Tiffany & Company (NYSE:TIF) has had a strong 12 months, up ~23%. It reported blowout Q1 earnings- up 50% year-over-year (41% if you exclude one time charges incurred last year), beating analyst estimates by 25% and sending the stock on an upward tear. But its sky-high Q1 growth looks to be more of a fluke than a trend. Several clouds are threatening to rain on TIF's march higher.
TIF's insider activity indicates I'm not the only one who thinks now is a good time to get out. According to Nasdaq, in the past 12 months 88% of insider trades have been sales. If you judge by dollar value rather than the number of trades, insider sales jump to a staggering 99.3% of insider transactions. I don't know about you, but I'd be hard-pressed to hold onto any stock with that kind of insider activity.
Now looks like good time to head for the exits for a couple of reasons. The first is Japan. Last quarter, Japan was TIF's shining star, with same stores sales up 30% yoy vs a 11% increase for overall same store sales. But an increase in the Japanese consumption tax starting April 1st is weighing heavily on the Japanese consumer this quarter. TIF's profit margin in Japan is significantly higher than its overall profit margin, so a blow to Japanese sales will have a disproportionate effect on earnings.
Second, TIF is now in the deceleration phase of a fairly aggressive expansion plan that has been contributing to top and bottom line growth the past few years. Finally, TIF is an expensive high beta stock in an old bull market making it vulnerable to a poor quarter and/or a broader market correction.
(1) Q1 boom in Japan set to turn to Q2 bust
TIF is disproportionately dependent on the Japanese market for its earnings. Japan contributed 30% of TIF's earnings in Q1 2014 and over 23% in Q2 last year on just 17.2% and 14.7% of revenue respectively.
Last quarter, Japanese sales were up 30% on a constant currency basis. However, this was less a sign of healthy demand as it was revenue accelerated into Q1 from later in the year as consumers rushed to buy ahead of a 60% consumption tax increase imposed April 1. According to a Wall Street Journal article published in the middle of this month "Japanese PM Advisor Calls Sales Tax 'Significant Blow' for Consumers", consumer spending has plummeted 18.7% in Japan in the second quarter on an annualized basis. The weakening yen will reduce Japan's contribution by another 5% in Q2 2014 compared to 2013.
This does not bode well for TIF- at least in the short run. It's hard to determine the exact impact lower-than-expected Japanese sales will have on overall earnings because the variable cost of stores, staff and raw materials are not broken down by region. This is information you'd need to determine the impact under different sales scenarios. Plus most analysts do not project earnings for each region- and the market reacts to quarterly results relative to expectations. But given Japan represented 30% of earnings last quarter and one fourth of earnings a year ago, Japan is capable of inflicting a double-digit hit to overall earnings relative to expectations for the quarter. That would hurt.
(click to enlarge)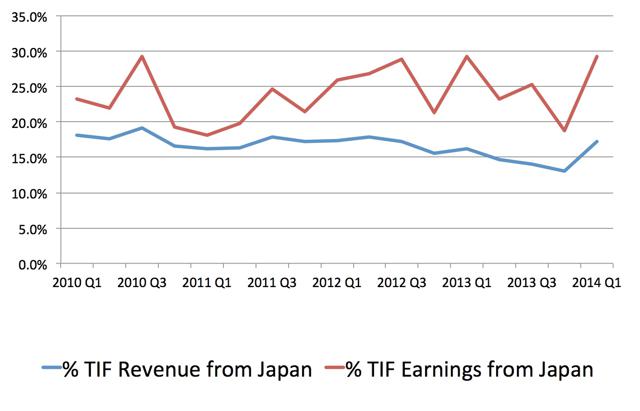 Click to enlarge
Source: sec.gov/Edgar
In addition, there are reports Q2 Hong Kong/Chinese jewelry sales are down significantly. China has been an important engine of TIF's growth.
(2) New stores tapering
Another headwind TIF is facing is a deceleration in the number of new stores it's opening. TIF is on the back-end of an aggressive store expansion plan, an important contributor to top and bottom line growth over the last couple of years. In 2012, TIF opened 24 net new stores, 14 in 2013 and will only open 9 net new stores in 2014. That represents a decrease of ~33% relative to last year.
On the plus side for TIF, these new stores will still contribute to TIF's top and bottom line growth. On the downside, the expansion slowdown will be a drag on the rate of growth after boosting it for the past few years. And that's something investors pay a lot of attention to. Especially for stocks trading at a 50% premium to the market, like TIF is.
Lower sales growth will be amplified by the fact that new stores typically drive more business than existing stores.
(3) TIF is a high beta stock with a rich valuation in an old bull market vulnerable to a market correction and/or rising precious metal prices
TIF is an expensive high-beta stock in an old bull market, though its current P/E of ~57 is very misleading. TIF took a $500m hit this year due to a legal dispute with Swatch. Their normalized P/E is in the much less egregious, but still pricey, 25-30x range- roughly a 50% premium over the market. If earnings disappoint, P/E compression could compound the pain of lower-than-expected earnings.
A beta around 2 implies TIF is twice as sensitive to market movements as the market average. And the S&P500 has had a very nice run. It's up 40% from 2 years without a single double-digit correction. In that same time period, TIF is up close to 65%. Going back 5 years, the market has doubled and TIF is up over 200%.
(click to enlarge)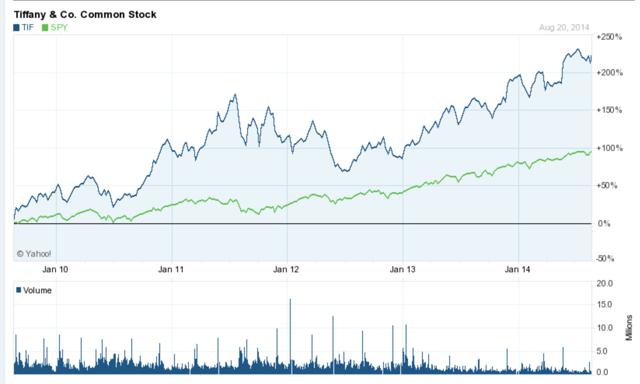 Click to enlarge
Source: Yahoo Finance
Guessing near term market directions is generally a dicey proposition, but this is bull market looks long in the tooth. Barring a change in Fed policy, QE is nearing its end and interest rates are set to rise early next year. These factors could cause a sharp market correction, which would put TIF in a very challenging position.
Luxury stocks have been so strong for so many years that people take the inelasticity of rich consumers for granted. But when the market is falling, luxury demand can dry up very quickly. A stock market correction could mean a few very weak quarters for TIF, which would translate into a huge blow to its stock. Markets don't tend to go straight up uninterrupted for years on end- especially against this macro and geopolitical backdrop.
Europe is putting out weak data, the US labor market and median consumer is still under a lot of stress, the worldwide housing market looks like a serious bubble, China's local and infrastructure debt looks very troubling (in addition to/in conjunction with its real estate market), derivatives and gross credit are higher than 2007 and the US stock market is very vulnerable to the unwind of debt-financed stock buybacks and the end of free money/newly created money being ploughed into the system by the Fed. There are a few bright points also, but the overall picture is of a sick financial system and world economy.
Meanwhile, geopolitical risks abound between Iraq, Russia/Ukraine, Israel, Syria, etc. If these situations hit a boiling point, not only could that catalyze a stock market correction, but it could simultaneously spark increased demand for precious metals, sending prices up. This would create a nightmare scenario for TIF- increasing its raw materials costs at the same time demand was drying up.
Even without a spike in precious metal prices, TIF's earnings growth may suffer as a year of incredibly favorable comps for precious metal prices comes to an end. In Q1 of this year, gold was down ~26% and silver was a down a whopping ~37% compared to the same quarter in 2013. In Q2, they will only be down 4% and 5% respectively. It's much easier to grow earnings at an impressive rate (which TIF investors are now expecting) when the price of your primary raw material is falling rapidly. While TIF does hedge to some extent, it's hard and expensive to fully hedge and to hedge much into the future. It's also hard to gain clarity into precisely what TIF's hedging strategy is and how different precious metals price scenarios would affect earnings.
Conclusion
TIF has had quite a run over the past several years. But its trajectory and current level look tenuous at best. A challenging quarter in Japan will weigh on TIF's Q2 earnings and more generally it looks very vulnerable to a mediocre quarter and/or an overdue market correction in the coming year.
I find playing the devil's advocate is often a valuable exercise, so I peeked at the logic behind articles advocating buying TIF. I found a recent article on Seeking Alpha titled "Power Breakfast at Tiffany's; Initiating with $115 Target", which based its argument on a DCF analysis.
In order to get to $115, ~15% above TIF's current price, the author assumed accelerating sales- from 6.2% growth last year (the most recent year with actual, as opposed to expected, data) to 9.3% growth in 2015 and 13.1% in 2018 as well as EBIT margins increasing from 19.7% last year to 22.2% in 2015 to 25% in 2018. Those are some mighty rosy assumptions. The fact that they only get you to a $115 valuation makes provides comfort TIF's upside is limited.
I believe we are coming to the end of a golden opportunity for owners of TIF to get out of the stock while the getting's good and pocket a handsome profit. At these levels, I would go even further and say I think TIF is an interesting short. This is doubly true for anyone who believes there's a good chance of a significant market correction in the coming year or is looking for a good hedge in case such a market correction occurs.
Disclosure: The author is short TIF.