Just only one day left for 2013, one day left for the fiscal cliff, one day left for the breaking of the next triangle (the blue one).
At this moment, they have one day left to replace the tension and distress with the joy of celebration. Celsion (NASDAQ:CLSN) has a lot of energy accumulated ready to explode.
(click to enlarge)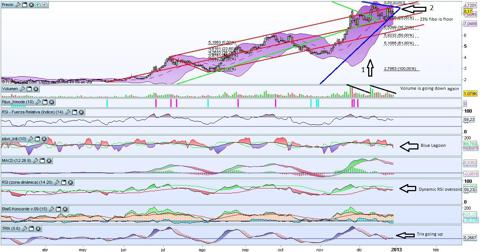 Click to enlarge
As we can see in the number one area, the previous triangle (the green one) was broke when volume was decreasing and the KDJ indicator show a small blue lagoon. That was the end of the pull back.
Now (the two area) we notice similar signs and the possibility of a sweet ending in the fiscal cliff problem can end the actual pull back and catapult the share to new highs. The main condition to confirm this hypothesis is the breaking of the triangle.
In God (and the Congress) we trust!
Disclosure: I am long CLSN.