This article expresses my technical view for the more important companies that maintain battles in one of the major wars that mankind has fought: The war against obesity.
Experts cataloged the situation as epidemic, placing the U.S. at the head of the problem with two thirds of the population suffering from overweight. In America, many people are comfortable with their weight and level of physical activity but struggle with diet and exercise often loses out to conveniences in food, transportation, and sedentary works. Meanwhile, in this context, three companies are fighting their war helping us to win the battle: Arena Pharmaceuticals, Orexigen Therapeutics and VIVUS.
(NASDAQ:ARNA)
With Belviq already approved this company is in the first position. While awaiting the results of Belviq sales, I see a loss of interest from investors, which is reflected in the decline in volume on the weekly chart. Daily indicators are not bullish, but near $8 can be a very interesting option looking for good sales. Open interest in options markets for $10 strike calls is 19.270, and for $15 strike is 15.507. It sounds very good.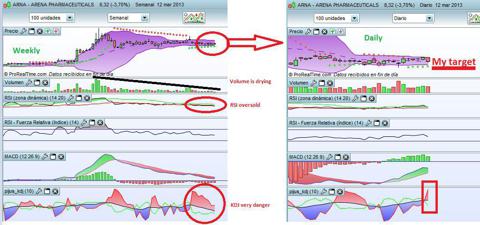 (NASDAQ:VVUS)
The company received approval for its anti-obesity drug, Qsymia. However the gain was short lived and the stock price came down. Now with this milestone passed (after the approval of the drug) come the process of the drug launch, the same problem than Arena. Market thinks Vivus is disadvantaged due to a restrictive label therefore the best way for Vivus to penetrate the market is exceptional performance of Qsymia. While this performance come, technical movements will guide the stock price. In weekly chart, MACD shows how bulls are hoping for good news and KDJ is finishing danger zone. However in daily chart it is possible we will see an approach to $10, where it is buy point due to the floor formed there.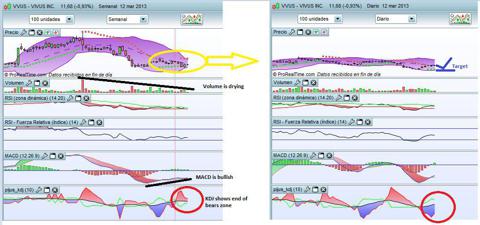 (NASDAQ:OREX)
Orexigen Therapeutics is the most bullish of three companies and now it is trading at $6.5X. Stocks end 2012 in $5.25, more than 20% in three months. Orex is not yet FDA approved and this is the reason we can see more interesting to be positioned in order to surf a speculation phase. However in daily chart I see price will stop growing, and goes down looking the SMA 20, near $6.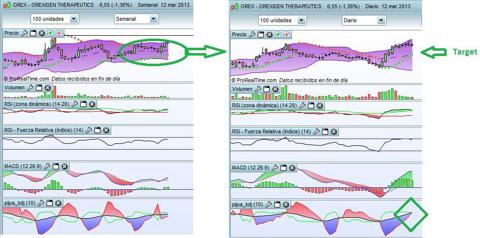 Summary
Nowadays, obesity drug market is one of the sectors with most potential in future. We will see huge catalysis in companies of this areas. It is very interesting to be positioned in companies before they start running and this three companies are leading the championship!
Disclosure: I am long OREX. I wrote this article myself, and it expresses my own opinions. I am not receiving compensation for it (other than from Seeking Alpha). I have no business relationship with any company whose stock is mentioned in this article.
Additional disclosure: and have no positions in the other stocks (ARNA and VVUS) mentioned above.