Facebook (NASDAQ:FB), met analysts targets on revenues and earnings per share. As we all know Facebook stock traded down after earnings. Facebook did not provide any future guidance about revenues or earnings for the next quarter. I do not view this as a positive for the stock and i am not optimistic about Facebook's short term future over the next few quarters for the reasons below.
I view Facebook as a pharma company that is hanging by a thread. As the number of Facebook users utilizing mobile devices to access Facebook continues to grow, revenues from advertising will continue to be negatively impacted by mobile users. Not unlike a pharma company whose blockbuster drug is coming off patent. Couple that with increased spending on R&D to develop new revenue streams and welcome to "Facebook Pharma Inc.".
There may be significant R&D expenses associated with developing and implementing a mobile advertising platform. I believe those expenses will grow in the future. I also believe this may be one of many reasons why Facebook has not provided forward looking guidance, as this is a big unknown to Facebook's bottom line. It may take a combination of R&D and future acquisitions at a currently unknown expense to successfully monetize mobile Facebook users, if it can be done at all.
Facebook stock post earnings continues to make lower highs and lower lows,as evidenced by the chart below. I for the short term will remain bearish on Facebook stock and will continue to short it.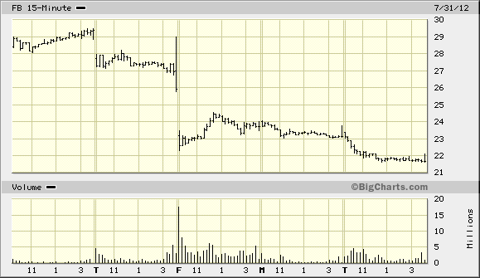 Disclosure: I am short FB.
Additional disclosure: This article is also posted on my personal blog www.stocktradingidea.com