This chart from Fidelity Investments shows the challenge that bond investors face moving forward.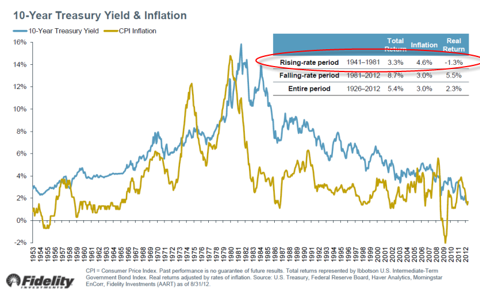 High quality bonds have consistently produced positive real returns during the past three decades. But with the Federal Reserve's efforts to keep nominal rates low while reflating the economy, Treasury yields have fallen below the current inflation rate, creating a challenging environment for bond investors.
Note that during periods or rising rates, the Real Return (Total Return minus Inflation) is actually negative. This means your money loses purchasing power.
The answer is to incorporate more equities into your portfolio as they tend to do better in a rising rate environment. We might also suggest you give your adviser permission to be short treasury bonds as yields rise. So far these yields are trading in slow moving upward range, but for how much longer will the Fed be able to keep rates from rising from these historic low levels?
Our guess is you will start to see rates rise even as the global economy enters a recession in 2013-2014. This may seem counterintuitive, but on recent market sell offs we have seen inverse treasury ETFs hold up pretty well. This may be nothing or signal of continued institutional buying on weakness.
What are your thoughts? Maybe bonds are ok as long as they are corporate bonds, high yields, emerging markets, etc. Leave us a comment.