I am reading more and more articles about the disruption the internet has been having on traditional businesses. I am sure by now you have noticed that if you go to your local Target to look for a CD or DVD that the selection is declining. The online providers, such as iTunes or Netflix, are eating them alive.
When is the last time you went to a bookstore? Yes, they are still there, but they too are changing. The 200 pound guerilla is now Amazon.com and chains like Borders and Barnes and Noble are closing brick and mortar stores and trying to play catch up online.
How about the newspaper business? It is being devastated by the digital revolution. As an example, just last week the Financial Times said it would eliminate 35 editorial jobs. Now when niche papers, like the Times suffer, things are really in flux.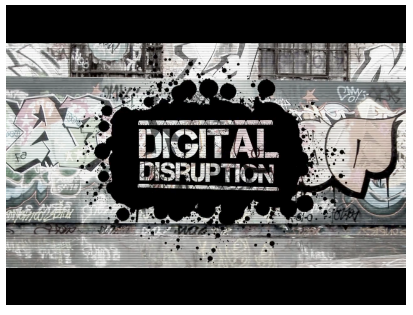 This internet disruption is also affecting the investment and financial advisory businesses.
In one recent article called Digital Disruption in Investment News, Ric Edelman, whose firm manages some $9 billion, was quoted as saying "He thinks technology platforms offering financial advice could be the preferred option for younger Americans who will eventually inherit trillions of dollars from their baby boomer parents."
He went on to say "technology advances over the next three to five years will have a radical, disruptive impact on financial advice and how it's delivered." Research firm Cerulli Associates, in the same article, suggests "that wealthier investors have already diverted a significant amount of assets to low-cost, self-directed accounts since the financial crisis."
So what are the implications of this?
First, the average adviser had better learn to do more than just construct passive portfolios and deliver middling advice. Cerulli Associates is just confirming what we have already seen, the wealthy got burned in 2007-2008 and reevaluated the value they were getting from their so called experts.
Second, money is such a personal thing that even talking to an advisor is a tough thing for many. I think more and more people will become do-it-yourself investors and planners using these tools.
Third, these financial advisory tools will become loss leaders to the real gem….managing money! This is where the money has always been.
Finally, the big guys will crowd out the little guys who do not have a specific, defensible niche.
So you may be asking "what does this have to do with Stock-Signal, trend trading or my investments?"
Simple, this technology migration is the reason we developed Stock-Signal.com. It is why we believe that our unique and simple investment approach will gain steam over the next few years….especially when the next 2007-2008 happens (and it will)!
It is also why we think you (as early adaptors, trend followers and/or trend setters) might want to consider telling your friends (including your adviser friends) about Stock-Signal.com. It is certainly the low cost alternative to your local advisor and I think you will see a much better performer in the next Bear Market.
Where have you seen a disruption in your business or revolution in your business as a result of the internet? We want to know, please chime in by leaving a comment below.