Stocks moved up dramatically in January as near record fund inflows came into the equity markets. Investors on the sidelines seemed to have all gravitated at the same time into the equity markets driving markets into overbought territory by month end. However, this is a seasonally strong time of the year for equities and stock markets have a tendency to ignore traditional measures of market breath and excess enthusiasm during such periods.
If you recall this same thing happened last year. It began in Mid-December and despite my feelings that markets were too rich in January, the rally lasted all the way to the end of April. Quite frankly, as I learned last year with in our advisory firm, if you are sitting on the sidelines waiting for the right time to get in, you may never get it. I also learned to follow the trend until it ended, don't try to pick a top. These moves tend to go further than anyone would imagine!
As I reviewed this current period in comparison to that period, here is what I see. This current rally began earlier than last year's by about 1 month (mid-November 2012). Last year's rally lasted four full months. Assuming history repeats, that would give this one the possibility of lasting through February and into mid to late March.
So how did the markets do in January?
Well the S&P 500 finished the month up 5.04%. Not a bad way to start the new year! The Nasdaq finished up 4.06%, while the EAFE index finished up 3.73%.
Our Stock-Signal index signals generally performed in line with market indexes. The significant exception was the Nasdaq index model which started the month net short (inverse) before finally moving net long at mid-month. This needless to say was a drag on performance for that index and for any sample or actual portfolios holding the Nasdaq signal model.
You can see this drag's effect in our sample Equal Weighted Portfolio of the Nasdaq, S&P 500, EAFE and High Yield indexes (below). This portfolio returned 1.98% vs. the 5.04% you would have received by buying and holding the S&P 500. However, lest we forget, this same portfolio beat the S&P 500 over the last quarter of 2012 by +1.5%. So it was due a period of underperformance!
Our sample Global Opportunities Portfolio returned 1.38%. The portfolio holds 15% of all our indexes excluding the U.S. dollar (a 10% holding). This portfolio's returns were held back by positive, but lower returns for gold, the U.S. dollar and commodities in January.
Please note the disclaimers related the sample portfolio and index returns below and remember that past performance is now always indicative of any future returns.
Stock-Signal Performance
Here is the performance by index and sample portfolio for the period: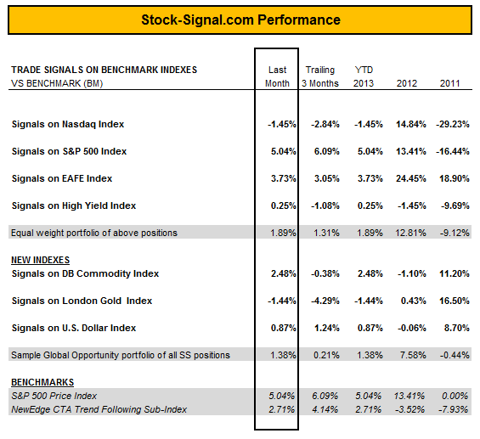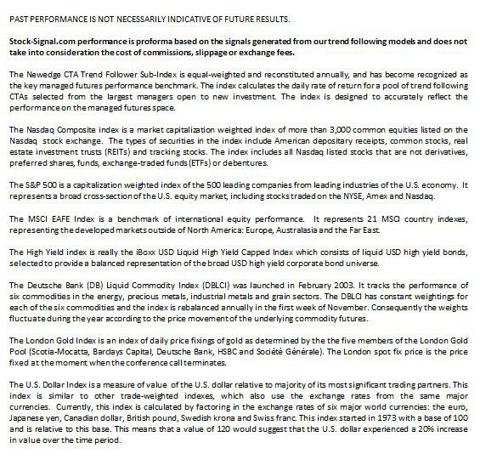 Market Forecast - February
I think I already hinted at what I expect in February and March above. As much as it pains me to admit, we could well see a continued melt up over in February and March. Why pain? It just means that traditional indicators (other than price) become less dependable.
Now having delivered the possible good news, here is the bad news. I do envision is much greater volatility of returns during this period. In fact, I would not be surprised to see the market string together periods of decline only to miraculously recover to even higher highs.
This possible rally continuation also lines up with the likely period in early April where Congress has to again take up austerity, budgets and the debt ceiling. This now annual right of Washington is traditionally a drag on the markets. If you factor in strong seasonality that traditionally ends in April, you have the makings for a rally continuation (like last year).
The Stock Trader's Almanac tends to back up this possible bullishness with its statistical case for a strong 2013 based on a strong January, three consecutive January gains and the fact the market returned north of 5% for the month. You can read their analysis called the Curse of Round Numbers if you want more information.
I would caution you to not just "set it and forget it" as Ron Popeil says about his now famous Ronco roaster. You need to stay vigilant!
I still believe we could see a top for the market in late April or May and as I said earlier, the easy money has been made in the short-term. Any additional returns from here will likely carry a few more sleepless nights and a more volatile trend.
If you are subscriber of Stock-Signal.com, you have it easy. Just sit back and wait for the signals. We will keep you out of trouble.
If you are not a subscriber, why not give us a try? We offer a free 30 day trial!
So now it is your turn? How long do you think this current rally will continue and why?