Our subscribers have recently been treated to the wonderful prognostications of the Amazing Jeffnick (yours truly). You know what? I have been on quite a roll lately as you can see below"
Week of April 12th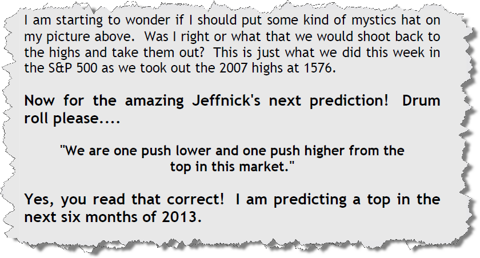 Week of April 19th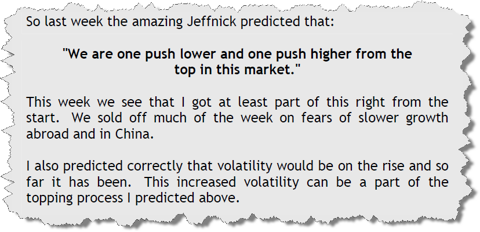 However, even the Amazing Jeffnick is occasionally wrong. One such case in point was last week where I thought for sure we would form a lower high in the market averages and then head lower for a more sustained correction. I certainly had seasonality on my side!
Even as I reviewed the stock charts this morning, I still believe my base case for a correction could still come true, but it is far from a certainty.
However, one of the things that any investor must do well, even the Amazing Jeffnick, is knowing when to change their based assumptions. One of the most costly things you can do as an investor is to hold to one thought process of where markets are headed and not be continually challenging that initial base case. Failure to do so can cost you money!
That is one of the great things about trend following (how we deliver our stock-signals signals). Since trend followers look for an initial entry after a trend has already been developed and then only look to exit on a confirmed reversal of that trend, they are never taken in by faulty base assumptions.
Sure a trend may not continue and reverse quickly causing a small loss. However, the trend follower is a man of fact. A typical trend follower will say "I have a trend and I will hold this trend until it ends."
So besides trend following what else can an investor do to make sure they stay flexible and on the right side of the market?
Might I suggest a routine that changed my investment life. Yes really!
That routine is simply that I sit down once per week and I look at my trend following models, stock charts and my current positions. Each week I draw a new conclusion about where the markets and my positions may be going. I totally throw out the prior week's assumptions.
So this allows me to stay flexible, keep my ego out of the equation and stay on the right side of market and positional trends.
I can remember when Wayne and I first started more actively trading in our sister wealth management firm (see www.intrustadvisors.com) we would form a market consensus and then broadcast it to the world as gospel. I think we fancied ourselves as Captain Morgans of the investment world. You know the commercials where they always act so confident and then strike the Captain Morgan pose with one leg in the air.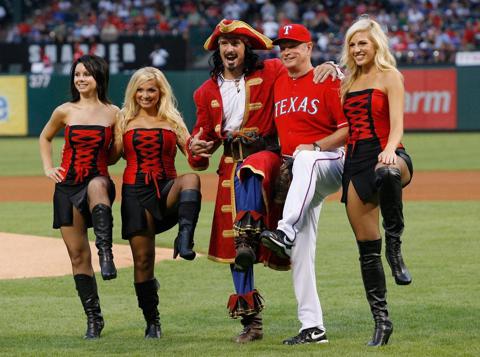 Funny thing happened. We were wrong more than we were right. Markets have a tendency to humble even the most astute investors. What also happened is that by sticking to our original consensus, we lost money (lots of money at the time).
So don't be a Captain Morgan! Instead be a flexible investor who is willing to admit he/she was wrong and go a different direction. This simple change in your investment philosophy will yield you significantly better returns and isn't that what we are here for anyways.
Fyi…in case you are wondering, I do this once a week market review on Saturday mornings. I find that if the markets are closed, I am calmer and can see what is really happening with greater clarity. Try it for yourself and let me know how you do!