The month of May proved to be a very good if you loved U.S. equities and were in a broad index fund. If you were trying to actively trade or manage a portfolio, it was a very tougher month.
Although you may not be able to tell from the pure performance numbers (see below), May was a month of extremes. First, there were extreme market moves to the upside. Stocks exploded higher in early May riding on the coat tales of Japanese Quantitative Easing and a feeling by the market participants that developed market Central Banks had to do likewise in stealth currency war between the world's largest economic markets.
Then someone almost overnight flipped on the sell signal in Japan. We woke up to an 8% down opening here in the U.S. Japan is the largest component of the EAFE Index and continued weakness in this country really weighted on the overall index during May. By the way, there still is no economic reason for the destruction in the Nikkei, literally someone decided to sell big on this index in thin overnight trading over several days. This index has had historically low volatility, but I would say an 8% opening decline on the index puts the whole "safe haven" thesis to rest.
About the same time came conflicting stories between what the Federal Reserve Governors were saying in speeches before various groups about further Quantitative Easing and what the minutes to the recently completed Fed meeting stated. In truth with borrowing down and economic activity up in the U.S., the Fed was already planning how it would taper back its QE to infinity. This sent bond yield rising and bond prices plummeting in one of the biggest move in years. The carnage even included high yield bonds, which typically trade with equities. Of course, historically small yield spreads over treasuries didn't help the high yield sector.
The result, a very bifurcated market as you can see below.

Stock-Signal Performance
The Stock-Signal individual index and sample portfolio performance really mirrored the market activity highlighted above. As an example, our equal weight sample portfolio had flat performance despite the NASDAQ and S&P 500 indexes having fantastic months. Unfortunately, the EAFE and High Yield indexes completely offset gains in those two indexes.
Our Global Opportunities sample portfolio was again the better performer this month due to big profits in our short (inverse) positions in gold and commodities. The dollar even chipped in for the month with a modest gain.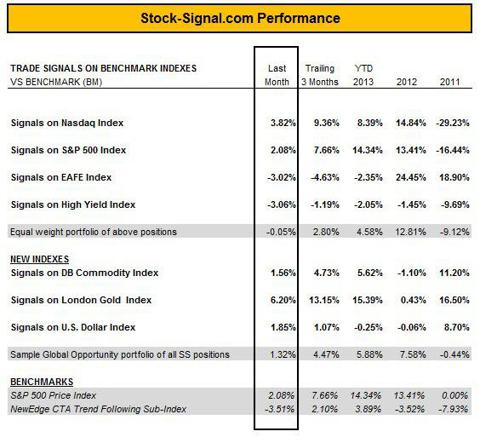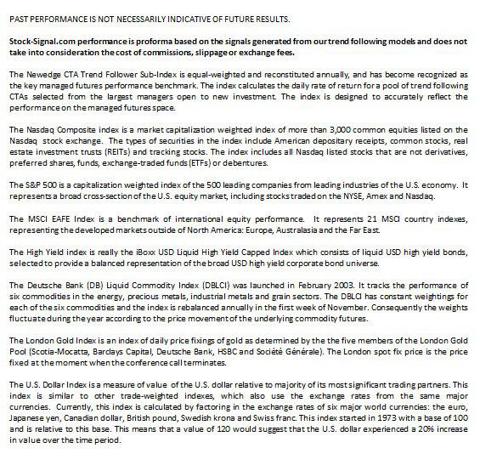 On a year-to-date basis, the Stock-Signal sample portfolios continue to make money. However purely buying and holding the S&P 500 index continued to be the big winner for 2013. Note, however, that Stock-Signal.com continues to outperform the CTAs trading similar trend following strategies.
Markets like these drive active managers crazy as they do not adequately compensate us for our risk process and any Tom, Dick or Harry can look like a genius just by holding the broad market index. The truth however is that markets rarely go straight up and at some point you will be happy that risk management is important to active managers and to Stock-Signal.com.
Market Forecast - June
So with so much action in May, what does June have in store?
First, let me remind you that my forecast is just an educated guess and should not be relied upon. It is just for educational purposes (and fun).
So enough with the disclaimers, here is what we see. First, this market and the U.S. market in particular is very extended. Markets tend to move up and down above and below a simple moving average. If you looked at the S&P 500 relative to a simple 20 period moving average on a weekly chart, you would see it is very extended relative to the moving average of price. This doesn't mean that price cannot become more extended, but chances are there is a reversion to the mean for the S&P 500 in June. My target is a drop to at least 1600 on the S&P 500 in the month of June.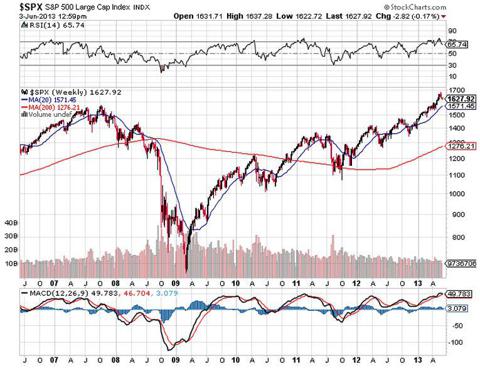 Longer term, we would not be surprised if stocks took the summer off. I could easily see a repeat of past summers where we decline in June, rally in July and August and get hammered in September or October. So strap on your "big boy pants" because this summer could be a wild one!