On Wednesday last week, the Fed shocked the markets by not tapering its Quantitative Easing (QE) program. The markets had expected a $10-15 billion cut in monthly bond purchases, but was not prepared for "no tapering." The result was an immediate jump in equities, gold and bonds prices and a much lower dollar.
However, over the next few days, much of this bounce has been undone.
Why?
For one, the market was overbought even before this bounce and was very much in need of a rest post bounce.
Second, I think the markets also wondered what does the fed know that we don't. Is the economy really that weak that the Fed cannot ease back on the gas pedal by even a mere $10-15 billion per month. We are not even talking about an end to QE or rate increases, just an easing of the money printing.
I think this slapped many market participants squarely in the face. "If the Fed cannot even slow the pace of QE, this thing must really be in bad shape."
David Mann of RMG Wealth Management in London also pointed out in his weekly email update.
"The Fed is also changing the goal posts on the unemployment front. Having originally told the market that QE would be finished by the time the unemployment rates reached 7%, and interest rate rises would be considered when 6.5% was reached, they have now discarded the 7% threshold and told us that the 6.5% trigger is no longer important. They are worried that the unemployment rate is falling because fewer people are in the workforce. We simply do not see how printing more money will encourage someone back into the workforce, especially when welfare payments are quite generous."
"So, with the Fed having no direct control over the creation of private sector jobs nor the number of people in the workforce, no control over fiscal policy, and so far no success in lifting their preferred measure of inflation above 2%, they now tell us that the shift to higher yields, itself a result of their communications strategy, is a new headwind that encourages them to keep printing. What happens when bond yields come down and the Fed tells us they are ready to talk about tapering again? Bond yields will rise and the Fed then flips back and says the tightening in financial conditions will be too much of a headwind and so they must keep on printing. All the while, the equity market keeps bubbling higher even when many Fed Governors seem to be worried about QE leading to bubbles in financial markets."
Two well know wealth managers had this to say.
Marc Faber said, "This will end in total collapse, but from a higher diving board".

Stanley Druckenmiller (a George Soros acolyte) said that there has never before been such a "re-distribution of wealth from the poor to the rich". These two highly credible individuals clearly do not think the Fed is running a prudent policy. The FOMC is most filled by academics that believe that they can twist a few knobs here and pull a few levers there, and they will be able to skillfully determine the outcome of an economy with over 300 million people without incurring any real costs. This is ridiculous to say the least."
For our subscribers on Friday, I provided several video links for Mike Maloney's videos on the History of Money, part 1 and 2. In the series, Mike explains that every fiat currency throughout history has been inflated and then gone to zero. A fiat currency is one without the backing of a real asset, like gold or silver. In case you did not get those links, here they are again: Silver & Gold - Hidden Secrets of Money Part 1, Silver & Gold - Hidden Secrets of Money Part 2 and finally don't miss Silver & Gold - Debt Collapse.
I recommend that every investor watch these videos. They are excellent and capture the real hurdle the Fed and other central banks now must overcome. One that has never been overcome in the since the beginning of fiat currencies.
With global central banks around the world printing more and more currency in a race to debase their own monetary supply relative to other developed market currencies, this is not going to end well!
Now, I am not a gold bug! Gold and silver for a high net worth investor has a place in a well balanced portfolio. We do trade gold and Stock-Signal.com provides buy and sell signals on this index. However, I agree with Mike Maloney that this crisis will create the opportunity of lifetime as wealth is redistributed.
Our view, somewhat biased, is that this is shaping up to be the opportunity of a lifetime for those who follow trend following signals, our subscribers, or manage money in this manner. The reason is simple. The trend will either be markets moving strongly to the upside as an inflation hedge. Or inflation will eventually spiral out of control and markets will tank. Either way, we anticipate the trends will be strengthening.
All one needs to do is look at how trend followers have faired in recent bear markets to get an idea of the opportunity. See how the IASG Trend Follower Index performed relative to the S&P 500 and a MD or multi-disciplinary portfolio with equal weight holdings of these two indexes.
(click to enlarge)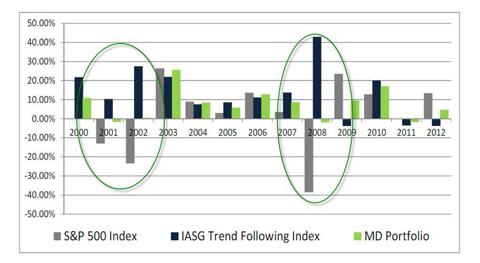 Click to enlarge
So whether it is a bigger trend to the upside due to inflation or a spiral to the downside, all I can say is bring it on! Why not be prepared and sign up for a free trial of Stock-Signal.com today!
Please remember that past performance is not indicative of future returns.
The S&P 500 is a capitalization weighted index of the 500 leading companies from leading industries of the U.S. economy. It represents a broad cross-section of the U.S. equity market, including stocks traded on the NYSE, Amex and Nasdaq.
IASG Trend Following Strategy Index: For the purposes of this index, established CTAs are defined as having a minimum 3 year documented performance history. The index is not weighted and new managers are added when they reach the 3 year performance requirement. The IASG Index does not represent an actual portfolio which could be invested in, and therefore the index performance results should be deemed hypothetical in nature and for comparative purposes only.
MD or Multi-Disciplined Portfolio is a hypothetical portfolio meant to show the impact of mixing trend following strategies, like those used by the managers in the IASG Trend Following Strategy Index, with more traditional strategies like buying and holding the S&P 500 Index. This portfolio has not been adjusted for management fees, commissions or slippage.