There has been one constant since the March 2009 market lows and that is change. This market has been one of constant rotation between "risk on" and "risk off" trades.
This trade has even become so prevalent that a number of ETF providers have even fashioned ETFs to provide coverage to one or both trades. The first provider to do so was PowerShares with the S&P 500 High Beta ETF (NYSEARCA:SPHB) and their S&P 500 Low Volatility ETF (NYSEARCA:SPLV).
The high beta ETF (or high volatility) includes the usual suspects including financials, technology, consumer discretionary, industrials and material stocks. The low volatility portfolio includes health care, energy, utilities, and consumer staple stocks.
Prior to the introduction of these two ETFs, the best way to get a handle on risk on vs. risk off was to compare consumer discretionary to consumer staples on relative basis, as you can see below.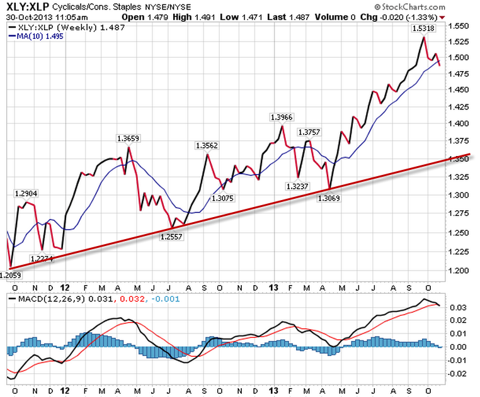 When this chart shows rising prices, consumer discretionary is leading and risk is on. When price is declining, consumer staples is leading and risk is off.
With the introduction of these two risk on / risk off ETFs, that comparison is even simpler! Here is a chart of the High Beta (risk on) ETF relative to the Low Volatility (risk off) ETF.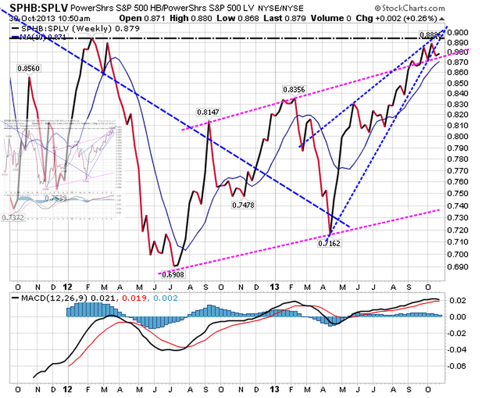 So what are these charts telling us today?
Let's start with the consumer discretionary / staples price relative chart. As you can see, risk has turned down and it appears that risk off will be the place to be until we reach support at the red diagonal trend line. Based on the past, this could be a period as long as three - six months.
The second High Beta / Low Volatility price relative chart is telling us that the risk on trade is at 2012 resistance (black horizontal line). It is also telling us that much of the past 6-7 month's climb has been within a wedge pattern that is usually a bearish pattern (blue dashed lines) and ultimately resolves its self to the downside. Finally, this chart is telling us the former pattern has been broken and we are now hanging around in "no man's land" between prior channel support (pink dashed lines) and 2012 resistance.
A break of channel support would likely mean a move to the bottom of the channel. Since risk is usually associated with rising markets, this would likely mean a corrective or sideways market would ensue.
If the risk on relative to risk off can break 2012 resistance, we will likely see further market gains. However, given both price relative charts, I see this as a slim possibility.
This is probably what all the hedge fund managers are seeing and why they have been and continue to pull money out of this market.
Hedge Funds Just Unloaded The Most Stock Since December 2008 http://t.co/L7fJluVMAS via @themoneygame
- Stock-Signal.com (@Stock_Signal) October 30, 2013