November continued the recent equity market trend of higher markets as the Federal Reserve's continued Quantitative Easing (QE) program continued to flood the markets with liquidity that had no place to go but into equities.

I have stated for months that this is a bubble that will end badly, but as a trend follower you have to go with the trend, which at this time is up. How do I know it's a bubble, easy healthy markets correct from time to time. Unhealthy markets just shoot to the moon with little economic rational or earnings to back them up.
Welcome to the bubble!
Of course I am not alone in my feelings. Just this morning Nobel Prize winner (Robert Shuler) warned of a U.S. stock market bubble. He nailed the last housing bubble, so I tend to listen when his research flashes trouble ahead.
So what is a good trend follower to do? I already answered this one, ride the bubble for all its worth and follow the signals closely when they do flash sell.
Stock-Signal.com Performance
Stock-Signal.com did very well in November. We were long the major market indexes the entire month and captured 100% of the upward move. We also profited nicely in the move down in gold prices, but stumbled a bit in our long position in commodities and our short of the U.S. dollar.
Here are the results for the month and trailing three month, year-to-date and prior year periods.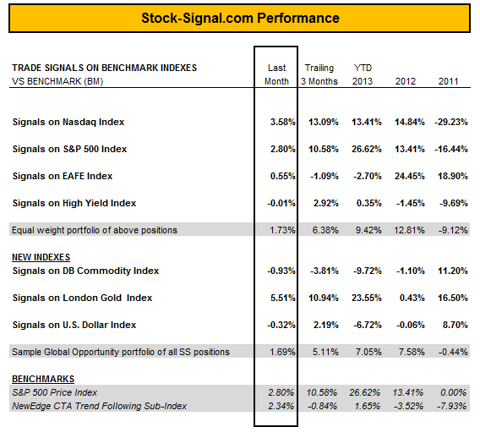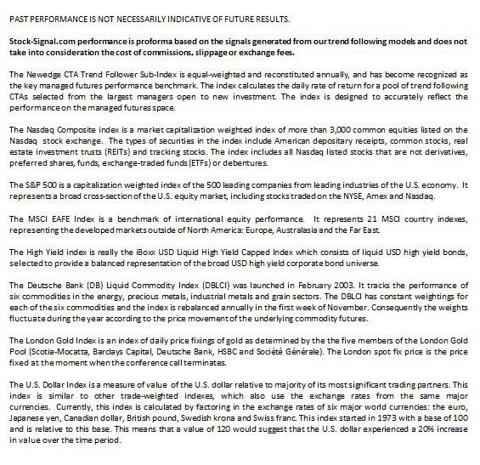 Market Forecast
Just in case you are wondering why we are trailing the S&P 500, please realize the above sample portfolio returns are diversified. Diversification smooths returns but can reduce relative returns during certain periods where one index, in this case the benchmark S&P 500, is outperforming most indexes.
Also realize that the Central Bank's meddling in the markets has created havoc with our trend following models over the past several years. The have intervened time and again just when appears trends have changed and we have recommitted capital. This quick reversal of fortunes has been hard on our trend following models since they tend to react slower than the underlying benchmark indexes to changes in direction. This then has costs us returns.
Luckily Central Banks are running out of bullets and options which should benefit our strategies with smoother index movements. Our models tend to do extremely well in Bear markets so this will also help us over the longer term.
In the short-term, however, we expect global stock markets to continue to trend higher with shallow periods of consolidation. This trend could continue all the way through May of 2014 when seasonality trends turn more negative.
In our recent post entitled, The Bull is Now 55 Months Old!, we made the case that this bull phase is getting old. Now another month older and closer to the average Bear Market length of 67 months, we believe we could see the next Bear Market start sometime in the third quarter of 2014.
Make sure you are ready! A 30 day trial of Stock-Signal.com is free.