In February, the markets staged a "V" shaped recovery from the January correction lows. This kind of accelerated recovery on declining volume used to be quite rare, but it seems more the order of the day today.
For trend followers, like Stock-Signal.com, this kind of market action is the kiss of death! Why? Because just as our models are shifting buy to a sell following the declines, Mr. Market puts it in overdrive in the opposite direction. This then requires time for our models to adjust again while we are usually sitting on the wrong side of the trade and losing money.
Luckily for us, the January damage was shallow enough that we did not get hurt too bad on the equity indexes, but we did get hurt on the alternative indexes (more on that later).
So here is how the month finished for the broader equity indexes:

Now before you get all giddy, let me burst your bubble a bit by looking under the hood of this past month's performance.
First, these big gains for the most part just offset losses in January and most market averages are just above flat for the year. With Monday's sell off, we are probably back to flat or negative for the year depending on the index.
Second, the whole move (see below) up off the lows was on lower volume. This my friends is not typically a good sign.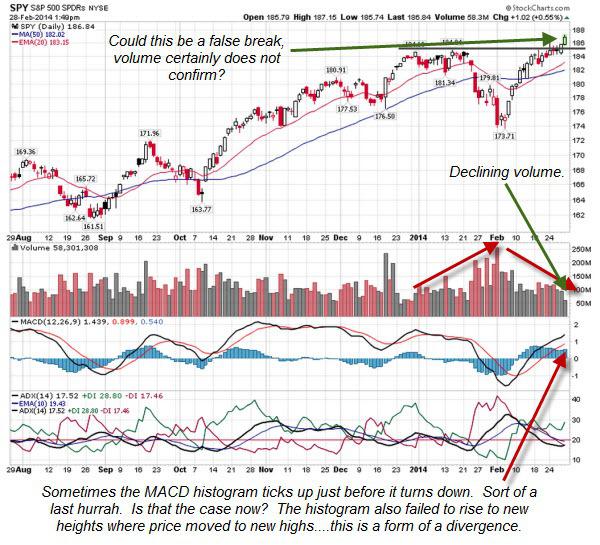 Third, Monday's negative price action if it holds will reverse the Friday breakout. Please note that the above chart was printed at around 1:49 pm and its Friday volume is not complete.
Fourth, leadership was primarily in defensive sectors. Again, if this bull market is to continue it must be lead by the financials, technology and consumer discretionary sectors, not the defensive sectors.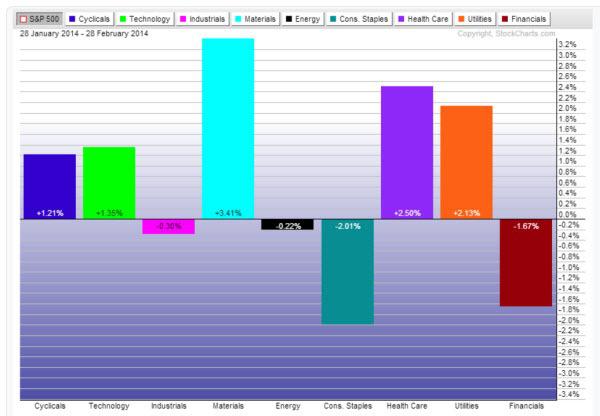 Now I will be the first to admit that this rotation is far from conclusive, but it bears watching!
Fifth, there was a lot of volatility inter and intra day and a lot of reading the tea leaves about future Central Bank involvement. I think Les Jepson got it right in a recent YouTube video post entitled Bonds Reveal A Darker Federal Reserve Plan that a bear market is coming and it has must come for the U.S. Government to have a ready source of buyers for its treasury bonds.
Who else will buy them if markets keep heading higher? However, if markets start to move lower, a natural flight to safety (perceived safety!) creates natural bond buying interest. This makes perfect sense to me!
Professionals are seeing that the Central Bank is backing off and that is why we see the rotation to defensive sectors of the market starting to occur!
Finally, we are running out of real estate. Check out the monthly chart of the S&P 500 Index.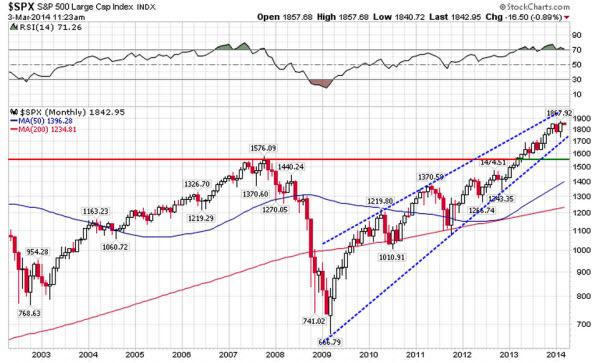 The S&P 500 is in a rising wedge pattern, which is ultimately a bearish pattern, and it is running out of real estate. This usually means something must happen. What usually happens with this pattern is a break to the downside.
Also check out the chart of the EAFE vs. the U.S. S&P 500 Index in my post entitled U.S. or Foreign Markets: Which Is A Better Bet? This even gets scarier if you take a look at the pattern the daily EAFE index is putting in (see below).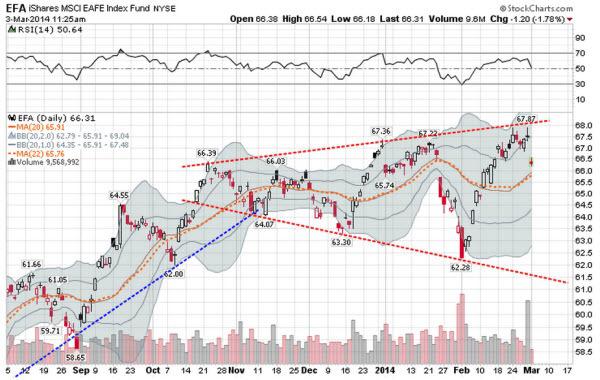 This pattern is called a broadening pattern. You typically see it in charts where the underlying security is about to come under great pressure. Think of it as a car wheel about to come off its axle. Not a good thing!
Stock-Signal.com Performance
So why did I give you such a detailed list of reasons this market is about ready to move and move down. So that you will understand one thing, trend followers do poorly on the turn in markets or stocks (tops or bottoms). At tops, we give back returns until our models give us the next signal in the opposite direction. At bottoms, we give back short side gains while we wait for confirmation to go long again.
Tops are traditionally choppier and last longer than bottoms and we tend to get bounced around some. That has been the case the past few months in several indexes.
I cannot tell you for sure, but this market has the feel of one about ready to change direction. Our returns in the EAFE, Gold, DB Commodity and Dollar indexes reflect this uncertainty as you can see below. Not a pretty picture overall!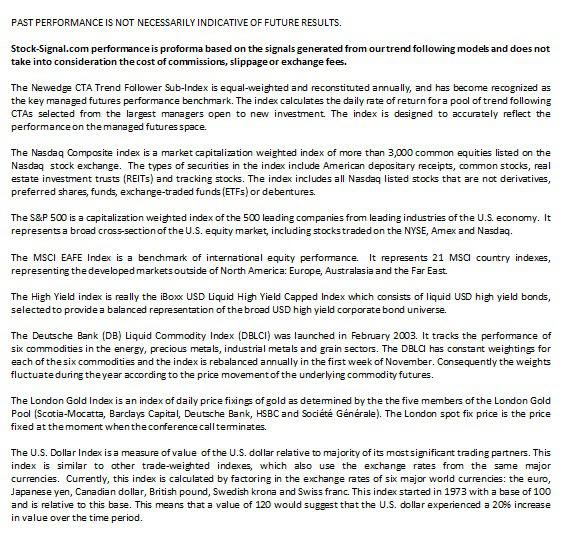 However, I want to remind you that if the market is indeed transitioning, that means the mother of all trends is about to start. So lick your chops and start to get excited because if I am right, this is the market we have been waiting for!
2014 Market Forecast
I am not going to rehash it again here. Just read the commentary above.
I will go on record with this prediction, the next bear market will start this year. However, I believe the real fun will not come till 2015 in terms of the next worldwide financial crisis.
So strap on your big boy pants and get ready!