The month of March continued the theme of 2014 so far…… the churning and consolidation of 2013 market gains. On the surface, that can be frustrating, but it is a natural process for the markets following tremendous gain years, like we had in 2013.
Here is how markets performed for the quarter: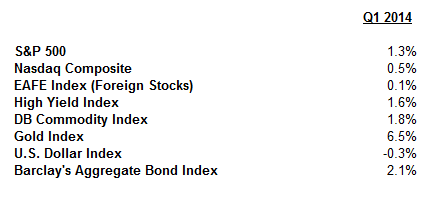 During periods of consolidation, markets move up and down in a range while the weak hands sell and institutional buyers add to their holdings. Eventually equilibrium is reached and then demand outstrips supply and stocks explode higher.
This of course can also work in reverse where weak hands buy, while institutional sellers liquidate their holdings. Eventually this equilibrium is broken and supply outstrips demand and stocks move lower. It is this latter consolidation type that most worries me as stocks are priced for perfection!
With the second best calendar month of the year approaching (April), according to The Traders Almanac, let's see if our fortunes change in the new month. So far as I write this, the markets are up and risk is back "on" in this wild Central Bank driven market.
For the month of March, the Dow Jones Industrials and S&P 500 indexes gained, while the more volatile NASDAQ and EAFE Indexes finished in the red.

I must admit I am not totally sure why the Nasdaq under performed other than a flight to safety.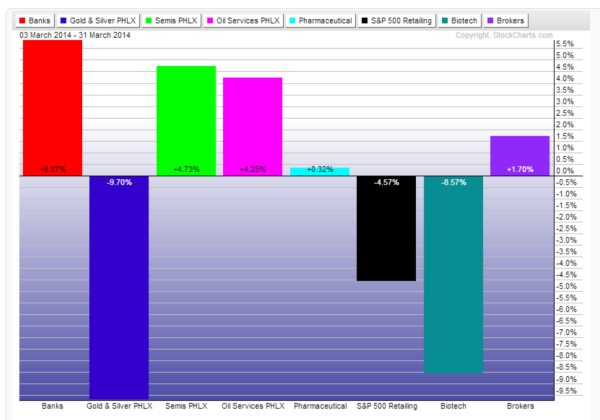 The culprit may have been the performance of the Biotech sector. The Nasdaq has 10.13% exposure to Biotech. The S&P 500 by comparison has just 2.40% exposure. Energy also did quite well in March and the S&P 500 has a 8.21% exposure to this section. By contrast, The Nasdaq has virtually no energy exposure.
Stock-Signal.com Performance
So how did we do? Not too well, honestly!
As I explained in prior months, trend followers by nature need a trend. When there is no real trend, it actually works against this strategy.
Early gains in our strategies as markets declined were eroded and offset by market losses as the major indexes just as quickly rallied back to breakeven at month's end. The result looks something like this: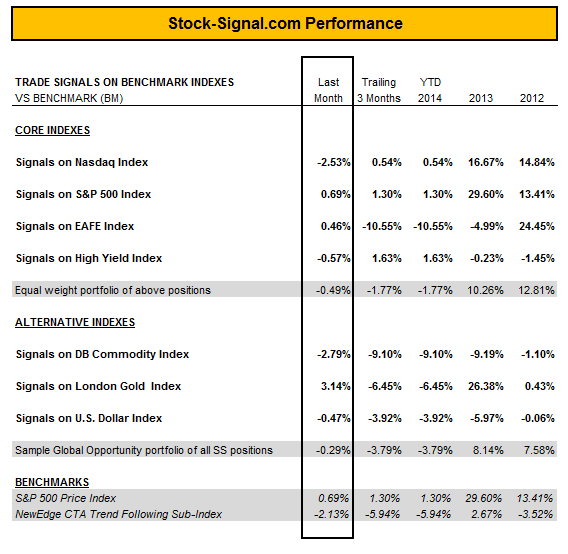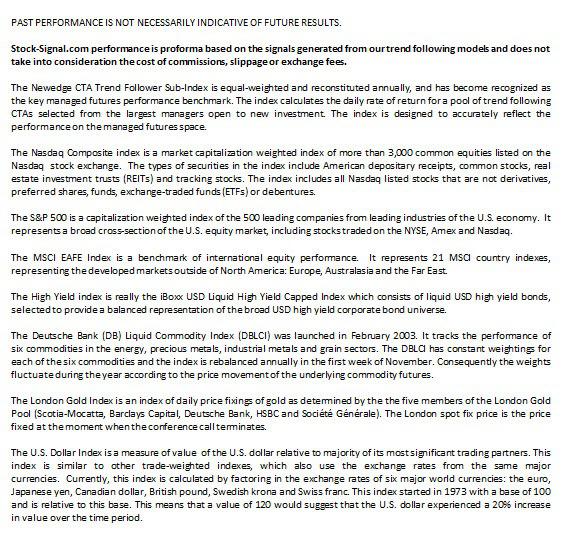 There is no way to sugar coat it other than on a relative basis verses other managers of similar style (the NewEdge Trend Following Sub-Index), we continue to outperform in our sample portfolios. We also got some of our losses back in gold for the year and continue to hold significant long-term gains in our short of the shiny metal.
It's also pretty obvious that the more volatile and higher risk the equity index, the tougher the month we had in general.
Our Market Forecast
So where are these consolidating markets heading?
While many are bullish, I think they are missing the bigger picture and it's not really hard to see (see chart below).
We are in a rising wedge technical pattern (dotted blue lines) and at some point we will run out of room in this pattern. The time may be be months away, but its definitely fast approaching.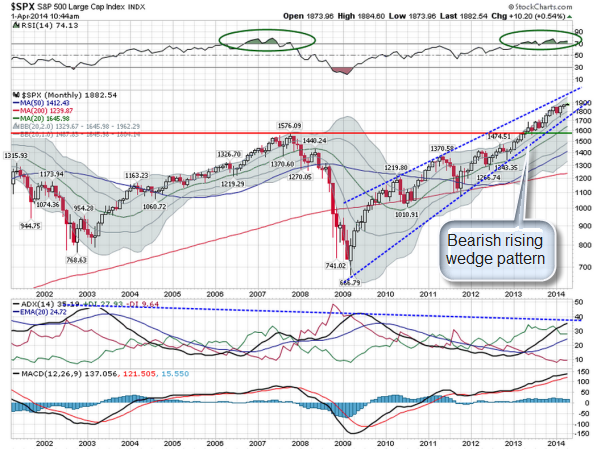 Our ADX trend indicator (second indicator window just below the price chart) is approaching trend line resistance (diagonal blue dotted line). We have already put in three moves above the 70 RSI line. That same pattern marked the end of the past bull market.
So the bottom line is that I think we are in the 8th or 9th inning of this current cycle. I believe sometime in the next three quarters we will enter the next bear market. I am hopeful when that happens that we will at least help you protect your capital, if not generate timely signals that will allow our subscribers to profit from the down market the same as they would in an up market.
So hang in there!