July was quite a month! We started the month making new highs and continued with market averages pushing higher despite falling price momentum. Finally as the month progressed global risks overtook strong earnings and combined with falling price momentum to push stocks lower over the last several days of the month.
These late month losses erased gains in most major market averages.
Here is how the major averages finished:

For many investors, this has to be a shock to see the market averages in the red. Such monthly losses has been the exception….not the rule since 2011.
I believe this time could be different. Intermediate term divergences between stock prices and basic indicators, slowing momentum and technical price breaks below prior support in several industry groups could lead to a more normal 10%+ correction here.
Stock-Signal.com Performance
Since the month started strong, we spent the first half long most of our seven indexes. We started getting some sell signals around the second and third weeks of the month. These signals help to insulate us from significant declines (on average), but only partially offset indexes that did not give sell signals and sustained monthly losses (i.e. the S&P 500 and Nasdaq Indexes).
The bottom line is our index and sample portfolio performance was mixed, but better than the overall markets on average in July. We have still been beaten up on a year-to-date basis by the high degree of range bound trading by most indexes in 2014, which has not allowed us to really capture any great trends or market moves.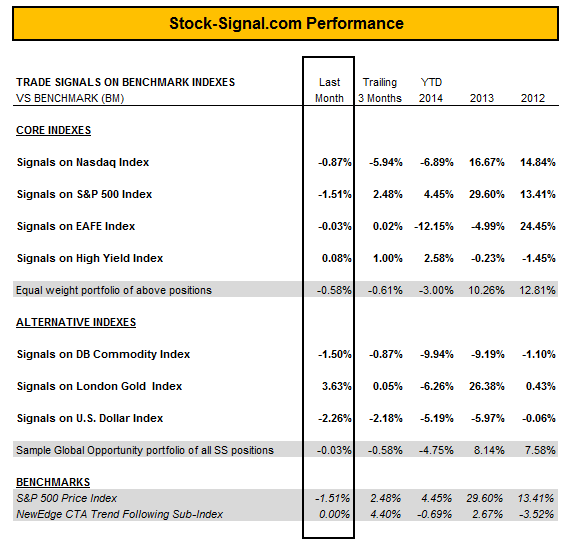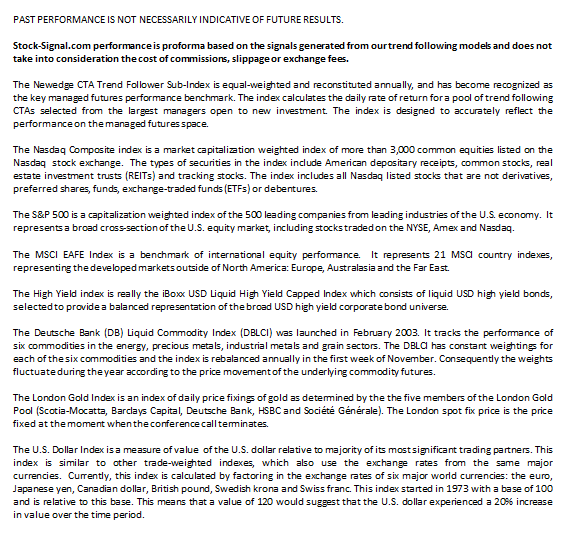 Our Market Forecast
Every month we try to give a hint at our thoughts about where the markets are headed and every month since the 2007-2008 Financial Crisis, the Fed has made this exercise a true guessing game. However, the impact of Central Bank intervention in the markets is lessening and the true strength of global growth without such intervention is not enough to keep global markets moving higher, in our opinion.
What we are probably witnessing currently is just an overdue correction, but it bears close watching. It could reflect a turn in the market or at least a warning shot across the bow that we are close to that turn.
Our guess is the Central Bankers will find a way to prop up the markets and the actual turn will be delayed until later in the year or early in 2015.
Don't be caught unprepared! The next Bear Market will likely be another nail bitter! Why not give Stock-Signal.com a Free Try?