The Nasdaq volatility index double bottomed yesterday and quite frankly I was not the first to notice this yesterday.  It seems in today's high tech world that its tough to be first on anything. 

Even technical patterns that have long been the private tools of macro investors like myself are now broadcast nationally by CNBC within minutes of their formation.  A great example is the "head and shoulder" pattern that is still be trumpeted by many including us.  However, the more investors are familiar with the pattern, the less comfortable I am that it will work.

Wikipedia defined the VIX as a popular measure of the implied volatility of S&P 500 index options.  It is not backed by anything and positions held are merely a prediction of a future. A high value corresponds to a more volatile market and therefore more costly options, which can be used to defray risk from this volatility by selling options.   The VXN is the implied volatility measure for the Nasdaq Composite.

We can see the double bottom of the Nasdaq Volatility Index below.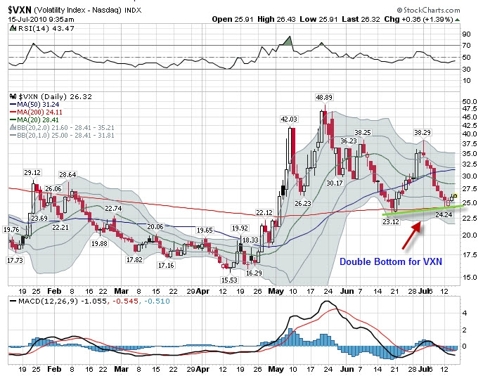 However, what stood out to me is that this is a consolidation pattern in the VXN similar to the one that we saw following the January market declines and leading up to the corrective moves in May and June.  It is also interesting to note that the VXN never pulled back to the level of volatility prior to the February spike.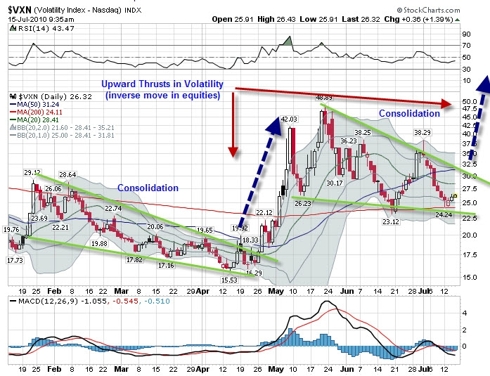 So if this is indeed a consolidation pattern, then we can probably expect a similar move in volatility to occur.  In the case of the February-April consolidation pattern, this was a break higher in volatility and a move lower (inverse) in equities.  It should be noted this pattern in also in the VIX, just not as pronounced.
Disclosure:
No Positions