The Euro has been all over the place as of late, unable to find any type of momentum on either side. Staggered in the range trading zone, the Euro is anticipating more information to come to the market place. Currently retail traders are net short the Euro, according to the latest Commitment of Traders report. Nonetheless, the picture might be changing in the upcoming future as latest US government extended tax cuts as well as a probability of QE2 being extended past initial $600 Billion has intensified. Overall, the fiscal and monetary actions by the US authorities put a negative notion on the future prospects of US Dollar. Nonetheless, the Euro is continuing its slide to the downside as rare positive data in the United States has pushed the greenback to the upside. Unemployment claims has slid to the lowest level since August 2008. Unemployment claims have been on the downtrend projections for considerable time now. This bodes well for the US economy which has seen labor prospects in shambles.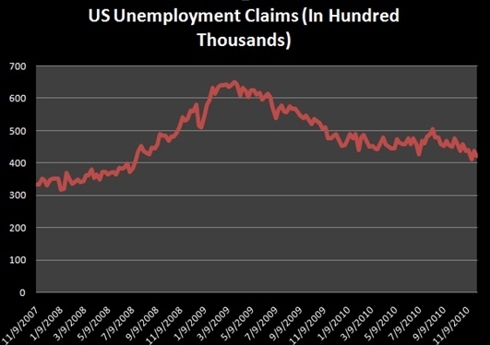 Fed Chairman Bernanke has commented that in order to gain all of the lost jobs during the latest downturn of the economy will take approximately 4 to 5 years. Furthermore, the latest NFP figures did not paint a rosy picture as merely 39,000 jobs were added while unemployment escalated to 9.8%. Bearing the negative notions about labor market, a drop in unemployment claims is the first positive notion for the US economy, allowing a steady rally in the greenback. Nonetheless, a negative notion still persists in the market place as wholesale inventories rose to 1.9%, suggesting that the upcoming Holiday shopping season might be in trouble. Slow or negative growth in retail sales can be detrimental to further US Dollar weakening.
Disclosure:
I have no positions in any stocks mentioned, and no plans to initiate any positions within the next 72 hours.