There was no good news from Europe last week.  Even Deutsche bank CEO went on the record to let his opinion about Greece ability to repay debt known.  One always wonders why a person, who obviously can move the markets, would publicly announce his opinion and undermine desperate efforts of the European politicians last week to stop the crisis from escalating.  Is it possible that Deutsche bank was trying to cover short EUR positions in proprietary accounts last week without moving the markets?  One can only speculate, but his statements do not pass the smell test.
Despite of all the gloom and doom coming out of Europe, I think short-term long Euro trade may present good risk-reward opportunity.  Don't get me wrong, the fundamentals for the currency are pretty dire, but markets rarely go down in a straight - line fashion.  I think the technical pullback next week is possible for two simple technical reasons:
Extreme bearish sentiment for Euro
From technical standpoint Euro approached major support

 

level at high velocity.

 

I found this pattern to be reliable for multiple instruments and for multiple time frames; therefore, I believe the odds are in favor for Euro to appreciate in a very short term or at least to consolidate at the current level around 1.235.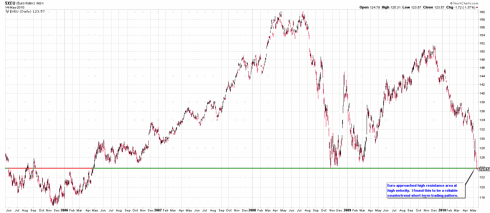 I will certainly trade this setup in my model account and will post screenshots of the execution reports to keep things transparent.
Also, if Euro starts appreciating from this level, my theory is that it may spill over into US equity markets for a day or two, which may appreciate as well under this scenario.  Temporary Euro bounce may be viewed as "the worst is over" signal by the equity market participants.
Disclosure:
None