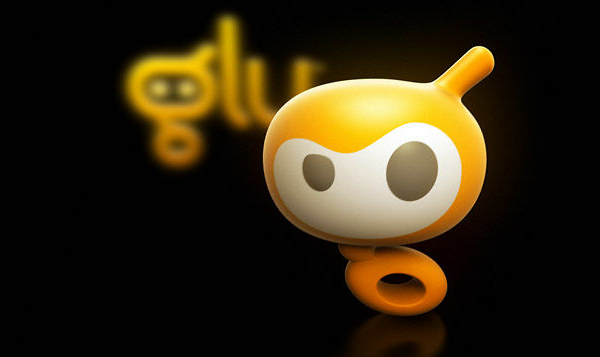 (NASDAQ:GLUU) Glu Mobile, Inc. has had a wild past 5 days as well as most stocks in the technology sector. Glu has risen roughly 30% in the past 5 business days as seen in the chart below.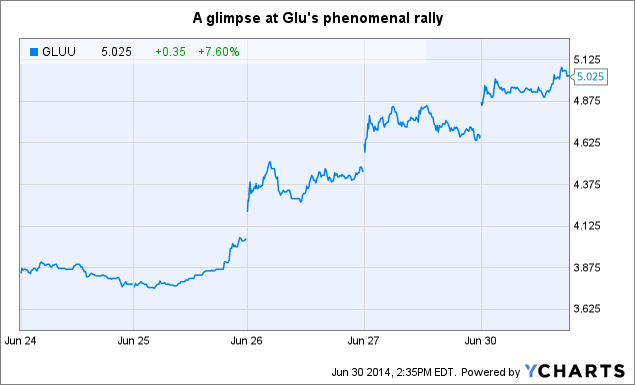 Now this sudden surge from Glu may frighten many investors. Why? Glu exploded over the past week and many investors are wondering how much more room is there to grow. If it just rose 30% in 5 days how much more room is there for actual significant growth? There are 4 critical factors that investors should be aware of which make Glu a buy.
A) Knowing the competition
B) Earnings and Revenue
C) Operations of the company
D) The NASDAQ
Lets start with (NYSE:A) the competition that Glu is facing. Two of Glu's top competitors are Zynga (NASDAQ:ZNGA) and King Digital (BATS:KING). Zynga has seen a dramatic fall since mid March of 2014 when it was trading around $5.80 per share and took almost a 50% nosedive in a 3 month span. Furthermore, King Digital is still trading approximately 2$ under the IPO price of $22.50 despite a huge rally today for the company and for tech stocks. King Digital and Zynga are facing similar problems which Glu is not. King Digital and Zynga heavily rely on their apps in the app store to generate revenue. This isn't good because in modern times like today people get bored from a game and move on to the next. Zynga's 2013 revenue had 54% of it coming from just three titles (Words with Friends, Zynga Poker, and Farmville). In addition, King Digital the creator of Candy Crush Saga accounted for almost 80% of King Digital's revenue. Why is this a problem for companies like King Digital and Zynga? Many people think these companies are one hit wonders, meaning they create a few phenomenal titles and the company takes off but as soon as the hype dies down about their games, the companies are going down to. If these two companies accumulate such a large amount of revenue from such few things, it is not a positive sign. These games can't keep these companies going forever and need further innovation. As these are Glu's top two competitors, it seems like the competition is dwindling for them which is always a positive sign.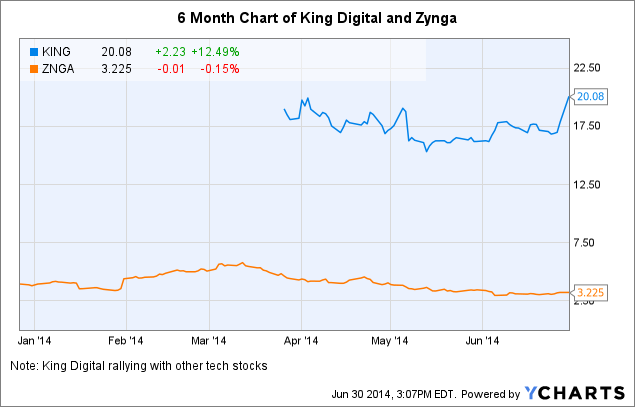 Now that we are aware of the competition that Glu is facing which doesn't appear to be strong, lets move onto another important factor (NYSE:B) which is the earnings and revenue of Glu. Glu in its Q1 of 2014 reported an EPS of $0.06 beating analysts expectations of $0.02. In addition, Glu Mobile also beat the analysts expectations for revenue in Q1 2014. Analysts were expecting a revenue of $39.45 million and was beat by the $44.6 million in revenue.
(NYSE:C) The operations of Glu are different then Zynga and King. Glu continues to release new games that are also popular. Some of Glu's popular game titles are as follows; Knights of Puzzelot, Deer Hunter 2014, and Frontline Commando 2. These are contributors to Glu's revenue although the company doesn't solely rely on just these games for revenue. They have many other games as well. Furthermore, Glu just released a new popular game known as Kim Kardashian: Hollywood. This new game will see many downloads because it is about a famous figure (Kim Kardashian). In the Apple App Store it has received over 25,000 reviews and is rated 5 stars. This wouldn't be a one hit wonder for Glu Mobile but it can definitely assist in raising publicity for the company and could lead to an increase in revenue.
D) The NASDAQ is extremely strong and is right around a 14 year high. With the NASDAQ prospering it definitely assists the growth of all technology companies including Glu Mobile.
Over the past year the NASDAQ has seen an eye staggering increase and there is no reason that this trend should see any imminent changes.
I think that Glu is still a buy considering those 4 important factors which could result in significant room for growth. Although Glu has rallied and some investors may have missed riding the wave, Glu isn't done growing. I set a price target of $6.50 for Glu expecting good results for Q2 2014.
Disclosure: The author is short GLUU.