I did not report on this program for the past two months. DIA stayed roughly between $128 and $132 during most of March and April and I did not trade often enough to affect my portfolio with significance. Only in May, it dipped below $125.
The performance, as of May 31, 2012, of the program trading is reported below.
| | |
| --- | --- |
| Date of inception | 8/3/2011 |
| Initial funding allocated for this strategy | $248,400.00 |
| Number of shares of DIA I own now | 500 |
| Net from trading and dividends received, from the date of inception, after commissions and expenses | $13,184.08 |
| Return on the fund allocated, from the date of inception | 5.31% |
| Return on the fund allocated, annualized, from the date of inception | 6.77% |
| Cash on hand | $197,586.28 |
| Breakeven price for the DIA on hand | $101.63 |
| Market value of portfolio | $259,436.28 |
| Market value of portfolio over fund allocated | $11,036.28 |
During the past five months (January-May), only one trade per month was made.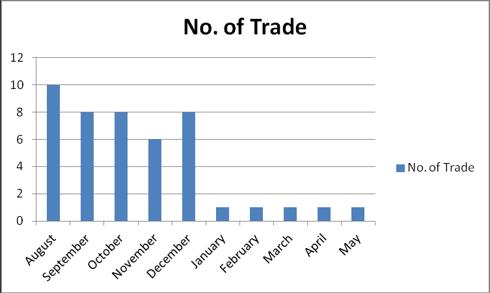 With a lack of trades, the return on the capital suffered, as shown below.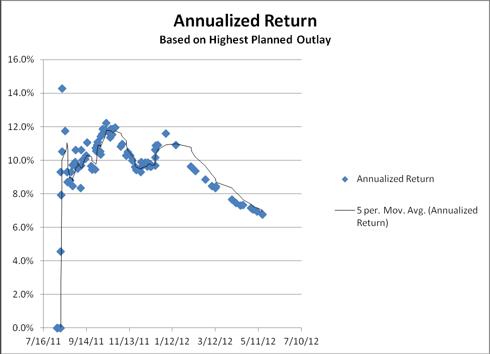 Of the 500 shares of DIA I am holding now, 200 were bought at $128.56 on 2/8/2012 just in case if DIA soars above $135. It did not happen. It is a kind of insurance or hedging.
The remaining 300 shares were bought 100 shares each at $125.00, $127.50 and $130.00. I bought them to sell at $2.50 above their buy prices. At the current level of DIA, I am still cautious and I am trading with an interval of $2.50. As shown in the figure below, at the close of the market on May 31, 2012, DIA was trading above its 20-month moving average. I intend to go back to $2.00 interval when it drops down below the moving average.

With the recent downward movement of the market, the price of DIA has come down from the latest peak of $132. This is causing a slight decrease in the market value of my portfolio. This is shown below.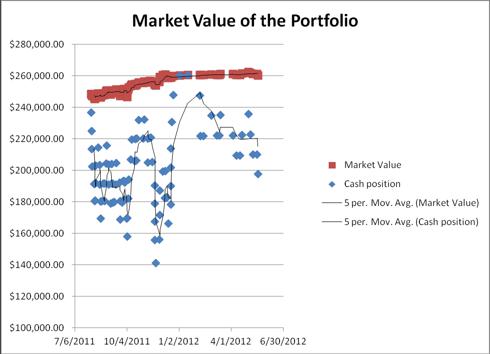 So far, this strategy has made a 5.31% return on the allocated cash since it started ten months ago. At this moment, I have $197,586.28 of cash on hand.
At this moment, the program trading is running almost on auto-pilot, with very little time and effort required from me. The program is generating an annual return of 6-7%. It is not great but it is quite decent under the present circumstances. For now, I am going to leave this strategy as is
The program trading has generated more than $13,000 of earnings in 10 months so far. If it were my sole income, according to U. S. Department of Health and Human Services , it places me just above the poverty level in most states in the U. S. The capital for generating this earning is about $250,000. In other words, if you are going to generate enough income to provide a somewhat decent living from such a trading alone, you probably will need a capital of $500,000 or more.