Continuing from my last month's report , here is the performance of my program trading of the past month. As shown below in the DIA daily chart over the past year, there was increased volatility in the market in the month of June.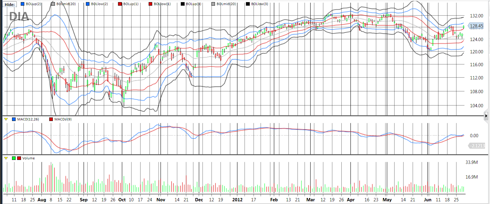 The result is I did three round trips of trade in June: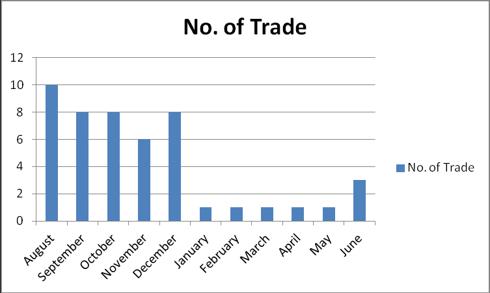 But, this did not help improve the performance of my portfolio. The inactivity during the immediate past five months dragged down the annual return, as shown below.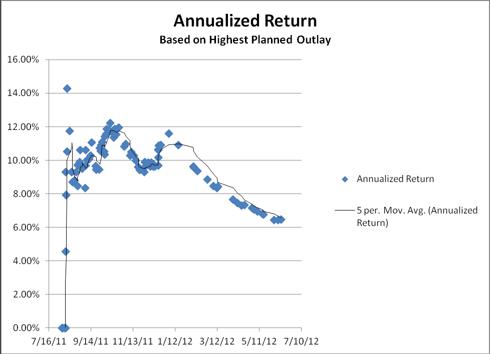 The performance, as of June 30, 2012, of the program trading is summarized below.
| | |
| --- | --- |
| Date of inception | 8/3/2011 |
| Initial funding allocated for this strategy | $248,400.00 |
| Number of shares of DIA I own now | 400 |
| Net from trading and dividends received, from the date of inception, after commissions and expenses | $14,153.28 |
| Return on the fund allocated, from the date of inception | 5.70% |
| Return on the fund allocated, annualized, from the date of inception | 6.30% |
| Cash on hand | $211,064.43 |
| Breakeven price for the DIA on hand | $93.34 |
| Market value of portfolio | $262,444.43 |
| Market value of portfolio over fund allocated | $14,044.43 |
My portfolio still holds a lot of cash, as shown below. I have been using this idling cash to make some money, making used of the strategy I outlined in my articles How to double your money. I'll report on the performance of that strategy sometimes in the near future.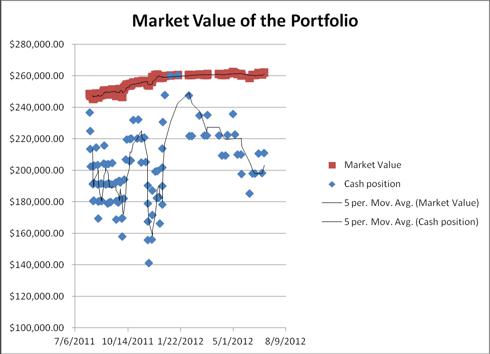 So far, this strategy has been running almost on an auto-pilot and it made more than $14,000 for me (see the figure below) with very little input from me. I am very happy about it. Also, the portfolio is projecting an annual return of about 6%. That is not bad.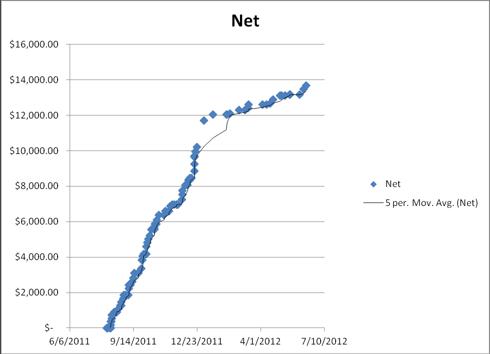 You can see from the very first figure above, DIA has been meandering roughly between $120 and $130 since the start of this year. I do care about where the market is going but I feel comfortable with its behavior (going up, down or staying put) in the near future because I think my strategy has been set up to meet the challenges to come.
Disclosure: I am long DIA, T, GLD.