The market was strong right from the start, and continued the upward momentum until the close.  Strength was present across the board.  The biotech sector broke out of its recent range today (mentioned in the Sector Watch this weekend):  CELG +2%, OSIP +5.32%, AMGN +1.78%, AMAG +3.58%, LLY +5.12%.
After the market, PALM reported better-than-expected earnings and saw its shares rise +13.41% in after-hours trading.  On the other hand, POT did not have very good things to say.  POT cut its quarterly forecast by about 50% sending its shares down, along with other fertilizers:  POT -7.12%, MOS -5.8%, and CF -4.92%.
The Dow finished up +172.54 points; SPX added +19.32 points; and Nasdaq gained +37.2 points: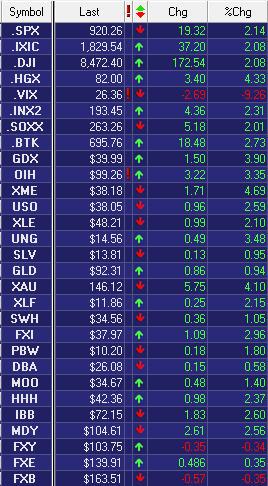 Most sectors made solid gains.  XME (metals and mining) added +4.69% and GDX (gold miners) advanced +3.9%.  USO (oil) was up +2.59% while OIH (oil services) gained +3.35%.  BTK (biotech) rose +2.73%.  GLD (gold) and SLV (silver) were both up.  XLF (financials) bounced +2.15%.  FXI (Chinese ADRs) garnered almost +3%.
SPX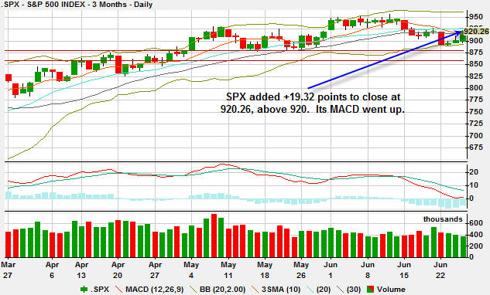 SPX added +19.32 points to close at 920.25, above its 10-day MA.  The MACD went up.
Nasdaq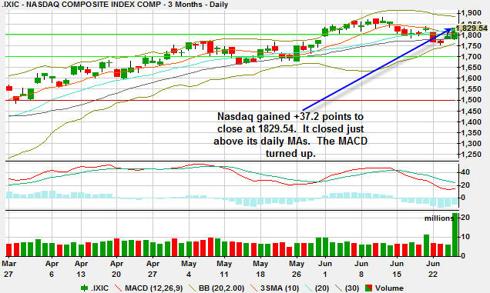 Nasdaq gained +37.2 points to close at 1829.54.  It closed just above its daily MAs.  The MACD turned higher.
Today's actions were a little more bullish.  Both Nasdaq and SPX are right back in the middle of the recent trading ranges.  Nasdaq cleared above its daily MAs, while SPX closed just above 920.  Both MACDs turned up.  VIX sank below 27 and can start a new leg down (mentioned in the Market Forecast this weekend).  Biotechs are looking stronger and stronger.  Internet stocks are bouncing back up after last week's retreat.  Financials are doing a little better, but, still on the bearish side.  SPX 950 is still the resistance to break if the market were to push higher.
Good night and HappyTrading! ™