Last weekend, in my Market Forecast, I wrote:
"Although this rally looks to be struggling, I'm not necessarily convinced that it is done.  We are mostly in cash and will be prepared to trade on either side.  If the market indices break the support at the 30-day MA, we may see the slide accelerate.  SPX 875 will be an important support level; for Nasdaq it will be 1650.  The actions this week could be very important in determining the market's next move."
Indeed, the rally was not done; although it was a very volatile week!  Monday was a holiday.  On Tuesday, the market jumped after a surprise surge in consumer confidence.  Techs led the rally, but, the market still closed within the recent range.  On Wednesday, the market was spooked by slumping bond prices and gave back much of Tuesday's gains.  On Thursday, the market ended higher in choppy trading.  On Friday, the market repeated a similar pattern as the day before, fluctuating for most of the day and pushing higher for a surprisingly strong close.
The market ended the last week of May with a solid gain, and, we wrapped up another "fabulous month" (click here) to see the trades!  The Dow ended the week up +223.01 points (just above 8500!); SPX added +32.14 points; and, Nasdaq jumped +82.32 points (highest level since early November 2008!).  Once again, the market is at the high end of its recent range.  Let's see where the market indices stand after Friday's close:
SPX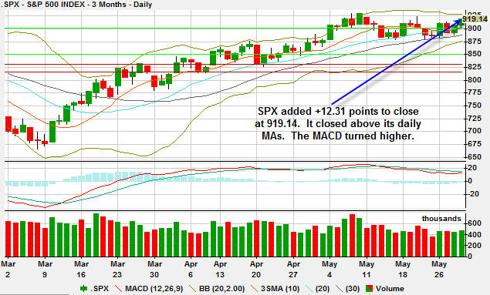 On Friday, SPX added +12.31 points to close at 919.14, above its daily MAs and the 910 level that it fought with all week!  The MACD turned up.
Nasdaq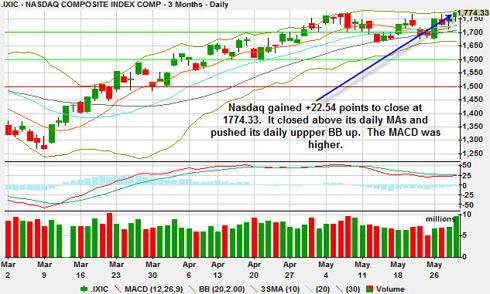 Nasdaq gained +22.54 points to close at 1774.33.  It closed above its daily MAs and pushed its daily upper BB open.  The MACD was higher.
SPX finally fought through 910 and closed at nearly 920, its highest level in more than 2 weeks.  Nasdaq experienced a even strong jump, closing at a 6-month high.  VIX sank back to below 30.  SRS (real estate ultrashort ETF) closed near its all-time low, while SKF (financial ultrashort ETF) slumped back into the low 40s.  For the new week...
To read the rest of of this article, please subscribe to HappyTrading "Premium Articles" by going to the Premium Services (click here) page.  If you are already a subscriber, please click here: Market Forecast 6/1/09.