Last weekend, in my Market Forecast, I wrote:
"For the new week, many sectors are starting to look toppy.  But, the financials still have not really broken out.  XLF is still unable to break above $13.  The market might start out the week slowly.  We could see some more profit-taking in the techs and the miners, both of which have gone pretty far.  Biotechs, however, seem to have finally woken up!
We're in mostly cash and there's no need to go on either side of the fence in a hurry.  If VIX breaks below 28 and starts a new leg down, it will be a signal to squeeze higher.  If SPX were to break 950, it'll probably need strong help from the energy and financial sectors."
Indeed, many sectors did look toppy, and really didn't go anywhere all week.  The market did start out the week slowly.  In fact, the market traded in a tight range all week.  The market opened lower on Monday, as we saw more profit-taking.  On Tuesday, the market was flat again, but, the techs were strong.  On Wednesday, the market again traded in a tight range.  When VIX broke down below on Thursday, SPX broke above 950 with energy and financial sectors as leaders.  Friday was not that much different, as the the market kept treading water.  We traded lightly this week, but, still came away with some great trades, including a +209% win on BLK.
For the week, the Dow was up +36.13 points; SPX added +6.12 points; Nasdaq gained +9.38 points.  Although SPX went above 950 again, it was not able to hold it.  Nasdaq also seemed to have found a resistance around 1860.  VIX tried very hard to keep its support at 28.  Let's see how the market looks after Friday:
SPX (click on the image to enlarge)


On Friday, SPX added +1.32 points to close at 946.21.  It managed to stay above its 10-day MA.  The MACD was flat.
Nasdaq (click on the image to enlarge)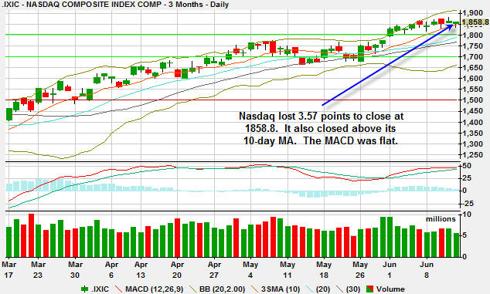 Nasdaq lost 3.57 points to close at 1858.8.  It also closed above its 10-day MA.  Its MACD was flat.
The market continued to be range-bound.  Commodity sectors have gone up fast and hard, and now look toppy.  Financials stocks have not been able to break out of its range for the past month.  Techs had tried to push higher, but, without the commodities and the financials, the overall market seems tired.  The Asian markets are mostly in the red tonight, but, not too badly.  For the new week, it's the options expiration week...
To read the rest of of this article, please subscribe to HappyTrading "Premium Articles" by going to the Premium Services (click here) page.  If you are already a subscriber, please click here: Market Forecast 6/15/09.