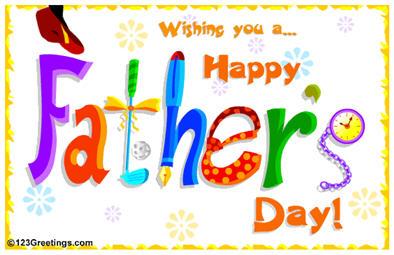 Last weekend, in my Market Forecast, I wrote:
"If the indices close below the 10-day MAs, it could draw more profit-taking.  As mentioned before, VIX is trying hard to keep the support at 28.  But, it is still below 30; so, there is still not a lot of selling pressure, at least not yet!  There really needs to be some external forces to push the market one way or the other...  We do have to be careful with the possibility of the market simply being stuck in a tight range.  Since the market has been on an extended recovery run, but, sidelined money seemes to just keep on coming in, the market might no go anywhere.  The lower support to watch is the 10-day MA on the market indices.  The higher resistance levels are SPX 950 and Nasdaq 1860.  We're mostly in cash and should not feel the need to trade in a hurry"
The market was indeed stuck in a tight range.  It started with a big down day on Monday, pushing the indices below the 10-day MAs.  But, after Monday, the market basically did not go anywhere.  On Tuesday, the market slid a little more.  But, it spent the rest of the week climbing back up.  The trading was volatile and tight.
For the week, the market did end lower.  The Dow was down 259.53 points; SPX lost 24.98 points; Nasdaq fell 31.33 points.  Both oil and gold fell slightly.  Commodity sectors were especially weak.  Agricultural stocks took a big tumble.  Most energy stocks also suffered a solid drop.  Financials and techs were weak early in the week, but, made some bounces later.  Health care and some select biotechs bucked the trend and broke out higher.  Let's see where the market stands after Friday's close:
SPX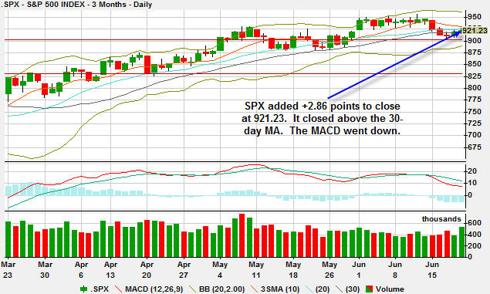 On Friday, SPX added +2.86 points to close at 921.23.  It closed above the 30-day MA.  The MACD went down.
Nasdaq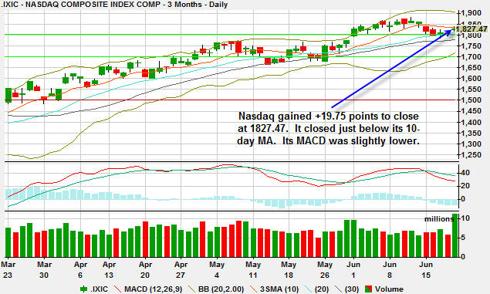 Nasdaq gained +19.75 points to close at 1827.47.  It close just below its 10-day MA.  Its MACD was slightly lower.
After a 3-month rise and a quick 3-day drop, the market bounced back to more neutral grounds within the recent tight range.  During the week, VIX bounced almost to 33, but, closed back down below 28.  SKF (financial ultrashort ETF) went above $45 and closed below $42.  SRS (real estate ultrashort ETF) managed to closed just above $20.  Asian markets are trading higher at the time of this writing.  For the new week, we have the...
To read the rest of of this article, please subscribe to HappyTrading "Premium Articles" by going to the Premium Services (click here) page.  If you are already a subscriber, please click here: Market Forecast 6/22/09.