Taking a look back at the week, it seems negative numbers aren't so awful anymore
Existing home sales fell 5.1% in June versus expectations for a fall of about 10%.
This figure follows May's 1.9% decline.
Both of these declines reflect the tax credit benefit that expired on April 30 since June closings were mainly based on contracts signed in April or earlier.
Separately, housing starts in June fell about 5% on both a monthly and year-over-year basis, and missed consensus, even if this decline was not "as bad" as May's 10% decline.

And Then There's the Good
So long as these numbers don't reflect the 2011 production and income pull-through expected by some to avoid the looming tax hikes, a number of companies put up impressive numbers this week.
AT&T, Caterpillar, UPS, and 3M each posted great quarterly reports and the latter three raised guidance for 2010.

The Ugly
Back to the NAR report for a few more facts on the housing market in June.
Inventories of unsold homes

rose 2.5% to 3.99 units, representing an 8.9 month supply and the highest level since August 2009.

The trend in inventories has been moving in the wrong direction, or up, for several months now, tax credit and all.

NAR's chief economist, Lawrence Yun, indicated that inventories will pass 10 months and this will put downward pressure on prices. 

In addition, Yun believes we won't see the real health of the housing market without the government stimulus until August or September since Congress recently extended the period by which a tax-credit benefited contract must close to September 30 from June 30.
Also ugly: our "unusually uncertain" times.
The first point was what brought such initial cheer to the markets yesterday, and yet, when I look at the numbers, yawn, it reminds me of categorizing certain euro-zone auctions as "successful" just because they didn't fail.  The second point got lost in the shuffle and perhaps rightfully so. It should not be overlooked, however that a 3-week streak in the "right" direction, or down, was broken. 
The euro-zone purchasing managers' index (PMI)

rose to

56.7 in July versus 56 in June versus consensus at 55.5. 

Initial unemployment claims were up 37k at 464k versus consensus at 445k for the week ending July 17.
This gives us a little "look-see" at the future of the housing market and I don't think I like the look of what I'm seeing.
The Pending Homes Sales Index, which represents contracts signed without the tax credit benefit, fell off of a cliff in May, declining 30%. 

This double-digit decline will show up in closings or the Existing Home Sales in the coming months.

Separately, home builders are less confident with the sentiment index at a 15-month low.

This gauge may be more in-tune with what's happening out there considering it's  broadly-based tapped into current traffic through the models, conversion of prospects into buyers, and discounting demands.

 
I think the Fed Chairman captured it rather well with what will go as his defining line or his "irrational exuberance".  This is what it looks like in charted form.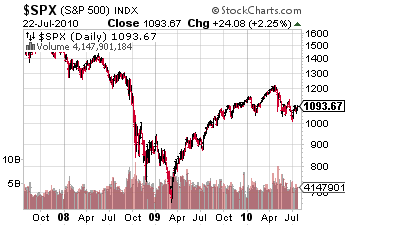 In two words: not good.  Put otherwise, the S&P 500's primary trend is down.
Disclosure:
Disclosure: No positions