Summary:
Zhao Ming sold Triumph Fund A (TFA) to KSE for HK$ 1,805 million (in convertible notes)
Zhao Ming pocketed more than HK$ 3,800 million by exercising the Convertible Notes and selling the shares or by selling the Convertible notes directly.
TFA organic and acquisition growth over the past 3 years:
Hengtai Operations have more than doubled (all free CF has been invested into the Coal Mine; NO dividends have been distributed to shareholders).
Liaoyuan Coal was acquired at a consideration exceeding HK$ 600 million.
TFA (subsidiary) entered the Funds Management Industry.
2013, we do believe that Zhao Ming / Puda Group are trying to get back TFA for less than HK$ 360 million.
Since KSE acquired TFA and Mr. Zhao Ming got involved, KSE shares have lost 88.33 % (from HK$ 3.00 to HK$ 0.35).
Market Capitalization loss:
From Peak (04-26-2010) >> HKD 8,064 Million (>> US$ 1,040 Million)2
Since Day 1 after TFA Acquisition: HKD 3,528 Million (>> US$ 455 Million)3
King Stone Energy Group Limited, an investment Holding Company, engages (as of January 2013) in funds management, mining and selling coal in the People's Republic of China. Through Triumph Fund A Limited (TFA) it owns and operates the Hengtai coal mine and the Liaoyuan coal mine in Inner Mongolia. The Company was formerly known as Yun Sky Chemical (International) Holdings Limited and changed its name to King Stone Energy Group Limited in February 2010. King Stone Energy Group Limited is based in Central, Hong Kong.
Brief Overview of TFA business expansion
(Shares data are adjusted for the June 2011 1:25 split adjusted)
2009-12-21 KSE completes the acquisition of TFA from Mr. Zhao Ming at a consideration of HK$ 1,805 million. Mr. Zhao Ming received HK$ 1,805 million worth of Convertible Notes (with a conversion price of HK$ 1.25, representing a 58% discount to the 2009-12-21 closing price ($HK 3.00) of the Company's shares). Mr. Zhao Ming was entitled to convert its Convertible Notes into up to 1,444 million shares of KSE. TFA Group had HK$ 3,017 million in Total Assets and a Net Equity of HK$ 743 million
http://663hk.com/attachment/2010021812000317_en.pdf
http://663hk.com/attachment/2010021811485117_en.pdf
2011-06-02 A subsidiary of TFA enters in a JV with CITIC Trust and Shanxi Minerals to form a Fund Management Company.
http://663hk.com/attachment/20110602194701001217354_en.pdf
2011-07-25 A subsidiary of TFA completes the acquisition of a 90% + 10% interest in the Inner Mongolia Liaoyuan Coal Mining Company Limited (内蒙古燎原煤业有限责任公司) at a consideration of approx. HK$ 602.41 million.
http://663hk.com/attachment/20110725181701001244401_en.pdf
2010 - Present: Under the KSE ownership, the Hengtai Coal Mine did experience a major expansion (as confirmed by the satellite pictures available on Google Earth).
KSE acquisition was announced in September 2009 and completed in December 2009.
The following Picture shows the Hengtai Coal Mine as of October 10, 2009 (Pre-KSE Acquisition).
The following pictures show the expansion occurred at the Hengtai Coal Mine since KSE acquired it:
June 06, 2010:
October 4, 2010:
July 4, 2012:
July 19, 2013:
As you can see, the Hengtai Coal Mine has doubled in size since when it was acquired by KSE in 2009:
(click to enlarge)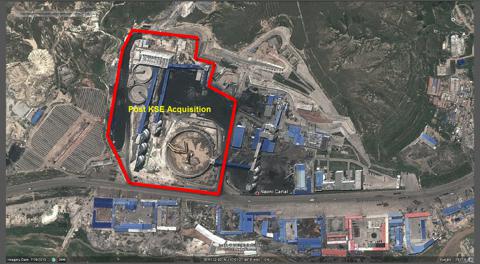 Click to enlarge
2010 - Present: Mr. Zhao Ming has converted his KSE Convertible Notes in Shares of the Company and subsequently sold them. We estimate that Mr. Zhao Ming pocketed more than HK$ 3,800 million from the various sales of his KSE Shares
Here is a snapshot of Mr. Zhao Ming Trading activity during the Period ranging from Dec .... .... .... read more at: