Positive Implications:
- Probably put an end to the ATM financing facility
- Give the Co. more financial flexibility ... Should put its cash position in the 80-120m range
- Looking at past Convertible Preferred deals arranged by MVL & Co. the 2-3 month effect on PPS is usually positive (however, at the end of the day ... it's all about the Company and about how it's managed. Modigliani would say ... "Financing? .... who cares").
Negative Implications:
- It could mean that PPHM was not able to find a partner willing to Fund the ongoing/upcoming Clinical trials
- Possible Dilution (everything depends on the "Conversion Price")
in similar Transactions ... Pricing has been announced within 5 business days from the first Announcement (or ... usually ... concurrently).
We should know more in the coming days. A 20% pop would not surprise me. Unfortunately ... there is no guarantee .. and the pop could be short lived ... if not backed by some fundamental announcement by the Co ... regarding its core Business.
An example of what could happen.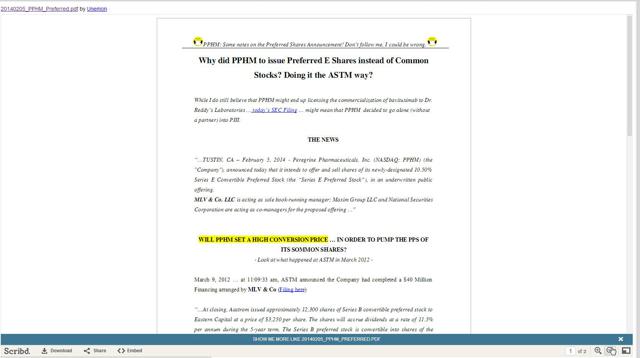 http://unemon.com/ResearchEasy/20140205_PPHM_PREFERRED.html
... if you look at ASTM today ... you will see that at EOD ... ... technology & fundamentals are the only things that matter over the long run.
Disclosure: I am long PPHM.