Company background
CARBO Ceramics (NYSE:CRR) was founded in 1987. It is the world's largest supplier of ceramic proppant for fracturing oil and gas wells; provider of the world's most popular fracture simulation software; and a provider of fracture design and consulting services. The company also provides a broad range of technologies for spill prevention, containment and countermeasures, along with geotechnical monitoring.
Not only is Hydraulic fracturing used for gas-direct activity but also is used for oil-directed activity. In the past few years, hydraulic fracturing technology has unlocked a huge new source of energy supply including natural gas and oil. Potential Gas Committee estimated in April 2012 that America is now sitting on a 100-year supply of natural gas. Regardless of its accuracy, with record low price of natural gas, it is expected that more natural gas will be used for electrical power generation and industrial demand. More drilling activities will likely happen in spite of the recent slow-down.
How was company's capability to make money and grow?
In the past 15 years, it didn't lose money in a single year and grew roughly 16.3% per year on average. (See the table below.)
In the past 10 years, revenue grew from $137M to $626M, a 5 times increase while EPS grew from $0.85/share to $5.62/share, a 6.6 times increase. Although it does not grow as steadily like Walmart or IBM, investors should be satisfied when they consider that it is in a very volatile energy industry. This long-term track record provides proof to investors regarding the proven business model execution and the capability of the management.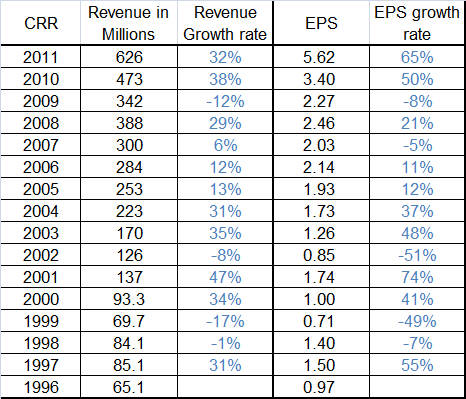 Financial Strength
CRR has very solid balance sheet. Current ratio is more than 3 with excellent liquidity. In the past ten years, there is no long term debt. This had helped the company go through many downturns with no debt load, get itself prepared and come out of the down cycles stronger.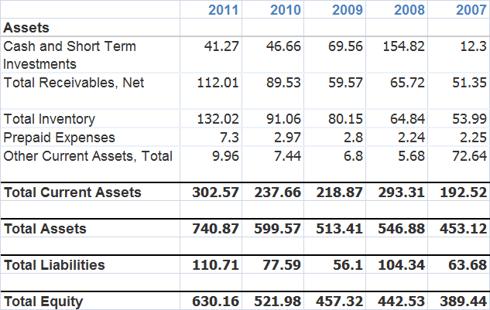 CRR did need to spend money to grow its business. Its capital expenditures is fairly reasonable with a range of 25% to 90% of the operation profit to support growth.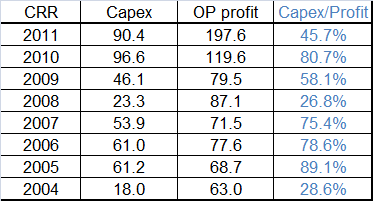 Can CRR weather the current slow-down?
To answer this, we can check how the company and executives did in the previous downturn.
In 2009, the widespread economic downturn and tight credit conditions caused a precipitous drop in drilling activity. The number of gas wells drilled in the U.S. dropped from 35,000 in 2008 to less than 19,000 in 2009 - the lowest level in seven years.
Despite a 42 percent drop in the overall North American drilling rig count, CARBO's proppant sales volume only decreased by 10 percent. CARBO accomplished this by fulfilling the exact needs of their clients - save money with efficiency. In general, CARBO gained clients by demonstrating its product advantages and then getting the businesss. Based on what CEO released during a recent quarterly conference call, they achieved roughly 50% of the conversion rate during field trails. They will focus their efforts on expanding client base during this downturn as well.
What can go wrong?
Firstly, it's important to ask if fracturing technology can still be popular and dominant going forward. With strong objections from environmentalists or perception caused by documentary such as Gasland, what impact will those negatives make in government regulation? Can fracking be banned temporarily or permanently? Can any other proven technology replace fracking? With the hunger for cheaper energy and the lack of the competing drilling technology now, the chance of this technology to be derailed or stopped is small.
Secondly, the company's ability to grow in the international market is unproven. Based on the annual reports from 2007 to 2011, management had committed to expand the international market. They even have one plant in China (100M plbs plant) and one in Russia (another 100M plbs). However, the percentage of the international revenue to the total revenue had dropped from 36% in 2007 to 21% in 2011. In terms of pounds of material sold internationally, it is from 123M plbs to 131plbs in 4 years. This is no growth at all.
Thirdly, executive ownership is small. Insiders (directors and all executives) do own around 14.5%. However, two board directors, William C Morris owns 11.8% and Robert S. Rubin owns 2%. This leaves all others including CEOs own only 0.7%. It is ideal that executives could own more shares and be more incentivized through equity ownership. Nevertheless, two directors on the board should be motivated enough to watch their shares of the company and perform their duty, which is to hire and fire the CEO.
What price is a bargain?
CRR has recently hit 52 weeks low at $71.56. Its earning estimate is around $5.45 for 2012 and $6.81 for 2013. The stock has been traded between PE of 12 to 30 in the past 10 years. $71 is starting to be attractive. It can potentially go down to $65 or lower. Buying a growth stock which is #1 in its industry with PE 12 and 16% revenue growth is a good bargain. Once the market recovers, it can go much higher from here.
Disclosure: I am long CRR.