All my planning from last night came to naught today when SunPower's stock (NASDAQ:SPWR) gapped down at the opening bell and continued to slide all day and closed at the low of the day @ $7.63. I never got a chance to sell my SPWR March 16, 2013 CALLS, Strike Price $6.00 as I had planned and outlined in my blog post last night...
However, I was, as planned, able to use some of the available cash to add to the 108 CALL contracts Sprint (NYSE:S) May 18th, 2013 CALLS, Strike price $6.00 currently held in the account:
Purchased: 55 CALL contracts of Sprint's May 18. 2013, Strike Price $6.00 @ 22¢
Total Cost: 5,500 x $0.22 = $1,210 + $52 (brokerage commissions) = $1,262
Current Positions:
Sprint (S) May 18, 2013 CALLS, $6.00 Strike Price: 163 Contracts
SunPower (SPWR) March 16, 2013 CALLS, $6.00 Strike Price: 80 Contracts
MEMC Electronic Materials (WFR) April 20, 2013 CALLS, $3.50 Strike Price: 61 Contracts
Cash Balance in the Account: $2,077 - $1,262 = $815.00
kp
P.S. I have included Ameritrade's real time image of the Option table with the appropriate purchase price highlighted in magenta: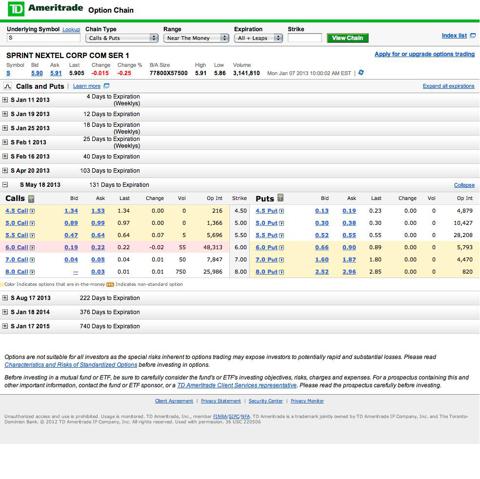 DISCLAIMER: All postings made here are strictly for my personal record keeping and in no way, shape or form, am I even remotely suggesting others to follow my Buy and Sell moves. Trading options is definitely not for the faint of heart as one's portfolio can move up, or down, anywhere between 10%-30% during a single trading day. Feel free to follow my progress here, but PLEASE do not follow my moves. However, if, in spite of all my exhortations, should you decide to do so, be advised that you, and ONLY YOU will be responsible for any losses that you may suffer...In other words, the onus is strictly on you.