As I had expected and mentioned in my original post on this subject here on Sunday, SunPower (NASDAQ:SPWR) did make the 3 box reversal on the Point and Figure chart (yes, my prayers were answered!), thus allowing me to triple my option position in SunPower at a more favorable price.
Here is what the PnF chart looks like now, after the 3 box reversal: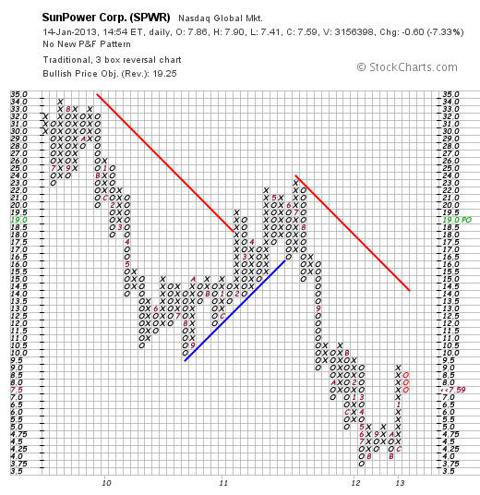 Should SPWR price goes down even further and extends the reversal to say 4 boxes, then I will use some of my cash to buy even more...I truly believe that SPWR is as safe a bet as I can find anywhere in the stock market and should there be a Blue Light Special on this stock, it will be a gift from Heaven and I sure will not turn that down...
:-)
Let's see how the stock plays out in the next few days and weeks...should be a lot of fun...
kp
DISCLAIMER: All postings made here are strictly for my personal record keeping and in no way, shape or form, am I even remotely suggesting others to follow my Buy and Sell moves. Trading options is definitely not for the faint of heart as one's portfolio can move up, or down, anywhere between 10%-30% during a single trading day. Feel free to follow my progress here, but PLEASE do not follow my moves. However, if, in spite of all my exhortations, should you decide to do so, be advised that you, and ONLY YOU will be responsible for any losses that you may suffer...In other words, the onus is strictly on you.