When I started this public portfolio at the start of this year, Monday, December 31 to be precise, one of my original purchases was Sprint's May 2013 $6 calls...the original position was established, and subsequently added to, based upon a chart pattern called Cup and Handle...of course, there was due diligence involved but only after I saw that beautiful pattern...
On February 17th, in a post tilted "The Most Beautiful Cup and Handle Ever," I said that in my 20+ years in the equities business, I had never seen a more perfect Cup and Handle chart...
seekingalpha.com/instablog/6566781-optio...-ever
Well, that pattern, sprinkled with lots of patience, paid dividends and yesterday, Sprint stock broke out with a vengeance and paid me quite handsomely for my patience...Here is that breakout chart...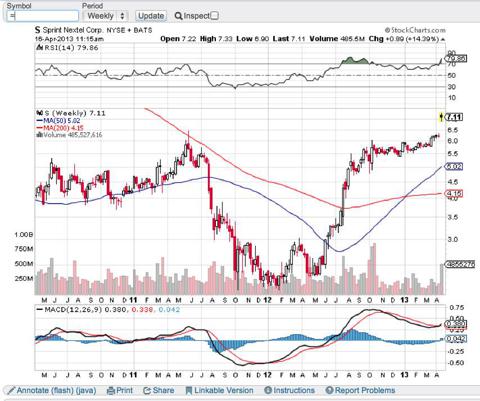 Today, I will exit out of most of my Sprint position and establish a new position in a another company called GT Advanced Technologies (GTAT)...I still have the $10,000+ cash that I was going to use to buy more SPWR yesterday, but being busy at work, I was not able to deploy that cash...
The markets open in 2 minutes...will be back later with the updates...
kp
DISCLAIMER: All postings made here are strictly for my personal record keeping and in no way, shape or form, am I even remotely suggesting others to follow my Buy and Sell moves. Trading options is definitely not for the faint of heart as one's portfolio can move up, or down, anywhere between 10%-30% during a single trading day. Feel free to follow my progress here, but PLEASE do not follow my moves. However, if, in spite of all my exhortations, should you decide to do so, be advised that you, and ONLY YOU will be responsible for any losses that you may suffer...In other words, the onus is strictly on you.