When I started this portfolio back on December 31, 2012, I had mentioned that this public portfolio will be a 6 month experiment that will end on June 28th, 2013...
Since less than 2 months remain in the life of this public portfolio, I need to ensure that in the remaining days of its life, I should do my very best to maximize its gains...
This week has been pretty good for my portfolios, both my public portfolio here on Seeking Alpha and my real life portfolio that Options2Wealth mimics...And even though I am pretty comfortable with the positions that my portfolio currently holds, however, to help maximize its returns in the next 50+ days, I have decided to make the following moves...
About 2 weeks ago, I had initiated 2 positions in GTAT CALL options: One position was in its deep in the money, September $2.50 strike price CALLS and the other was in its out of the money September $5.00 strike price CALLS...At the time I initiated my positions, I had opined that GTAT was getting ready to break a very important Triple Top resistance on its Point and Figure chart...Well, it did just that on April 30th and here is what its PnF chart looked like then:
(click to enlarge)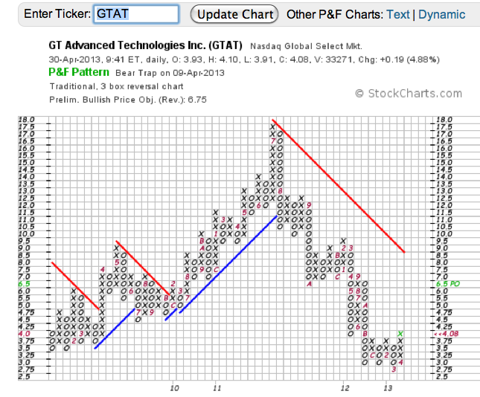 Click to enlarge
On Wednesday, after the markets closed, GTAT announced earnings and even though the company handily beat on its bottom line, however, its quarterly sales came in short of expectations...Since on the PnF chart, the stock has broken a very important resistance, I fully expect the stock to continue to climb up..Unfortunately, it's movement going forward, at least in the near term, will be slow and since this public portfolio has less than 2 months remaining to perform its magic, I have decided to exit out of my GTAT positions and increase my holding in WFR CALL options...
The markets are getting ready to open...I will execute my trades and update my portfolio either later today or definitely over the weekend...
kp
DISCLAIMER: All postings made here are strictly for my personal record keeping and in no way, shape or form, am I even remotely suggesting others to follow my Buy and Sell moves. Trading options is definitely not for the faint of heart as one's portfolio can move up, or down, anywhere between 10%-30% during a single trading day. Feel free to follow my progress here, but PLEASE do not follow my moves. However, if, in spite of all my exhortations, should you decide to do so, be advised that you, and ONLY YOU will be responsible for any losses that you may suffer...In other words, the onus is strictly on you. On the other hand, if the move(s) result in a profit for you, I am open to discussing a split. ;-)