This was an exhilerating, but also tiring week...My Options2Wealth portfolio almost doubled in value, thanks to the Power of Leverage...My core holding, SunPower, played according to script and made a very strong move, up 21% for the week, on heavy volume...a very good sign...
Normally I update my portfolio on weekends, but since this is a very busy weekend for me, I decided to do the update today (Friday evening) instead...
I will be very brief...This week's closing value of the Options2Wealth portfolio is $367,778.68. To-date, the portfolio is up 3577% from its original, starting value of $10,000 on December 31st, 2012...Here is a screen shot of the Excel spreadsheet listing all the holdings, along with their respective closing "Bid" price(s):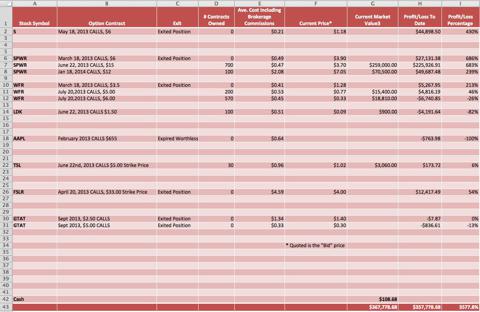 Next week should be equally doozy...
:-)
kp
DISCLAIMER: All postings made here are strictly for my personal record keeping and in no way, shape or form, am I even remotely suggesting others to follow my Buy and Sell moves. Trading options is definitely not for the faint of heart as one's portfolio can move up, or down, anywhere between 10%-30% during a single trading day. Feel free to follow my progress here, but PLEASE do not follow my moves. However, if, in spite of all my exhortations, should you decide to do so, be advised that you, and ONLY YOU will be responsible for any losses that you may suffer...In other words, the onus is strictly on you. On the other hand, if the move(s) result in a profit for you, I am open to discussing a split. ;-)