When I established a large position in SunPower options, my exit plan was based on an intermediate price target of $23 for the underlying stock (NASDAQ:SPWR).
However, when looking at it's Point and Figure chart, I could see that if it were to go to $23, it will have printed 23 Xs on the chart...In PnF charting system, normally 18 straight Xs is somewhat of a red flag...meaning, that the stock should be getting ready to make a correction to remove some of the froth and weed out the weak hands...
As can be seen from SPWR's yesterday's PnF chart, it has already printed 19 Xs...Yesterday, again on very heavy volume, the stock, at one time during the day, went as high as $19.50, up $1.50 but ended the session with a gain of 73¢...
(click to enlarge)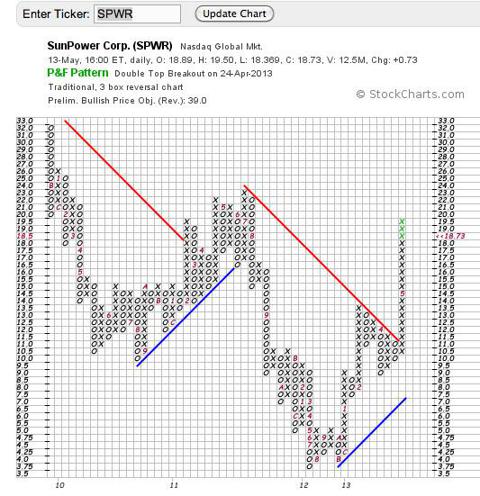 Click to enlarge
In order for the SPWR to switch to Os on its PnF chart, it will need to print $18, which will be the 3 box reversal (imho, a much needed reversal) that I have talked about here on the thread...In other words, SPWR only needs to go down 73¢ to $18 to make the reversal...
Thanks to Solar City (NASDAQ:SCTY) missing the so-called "whisper" earnings estimate, the stock is currently down about 10% in pre-market trading and the entire solar sector is acting a little weak this morning...This is a P-E-R-F-E-C-T opportunity for SPWR to pull back and make the 3 box reversal today and position the chart to not only reach my intermediate target of $23, but in fact exceed the target and go past $25 and try and make a mad dash towards $30...I sincerely doubt that it will print $30 this month, but the possibility cannot be discounted...As I have pointed out in one of my earlier posts, last time a solar company had an Analyst meeting, its stock made a 45% move in one day...And compared to that company (NASDAQ:FSLR), SunPower is on its way to becoming a behemoth in the white hot solar sector...
The markets are about to open and you can count on it that I will be praying for SPWR stock to come down today...Should it do that, and I promise you that this pullback will be quick and short lived, the stock will be perfectly positioned for yet another 3 box reversal, this time back to Xs and then a big move up tomorrow during and after the company's analysts' shindig...
Let's see how the drama unfolds...
kp
DISCLAIMER: All postings made here are strictly for my personal record keeping and in no way, shape or form, am I even remotely suggesting others to follow my Buy and Sell moves. Trading options is definitely not for the faint of heart as one's portfolio can move up, or down, anywhere between 10%-30% during a single trading day. Feel free to follow my progress here, but PLEASE do not follow my moves. However, if, in spite of all my exhortations, should you decide to do so, be advised that you, and ONLY YOU will be responsible for any losses that you may suffer...In other words, the onus is strictly on you. On the other hand, if the move(s) result in a profit for you, I am open to discussing a split. ;-)